• Sovereign local and corporate foreign currency EM debt have enjoyed the highest growth
• Sovereign debt in local currency is relatively well shielded from rises in the dollar
• Commodity exporting corporates are less affected as earnings and debt costs are in dollars
• Corporate debt where earnings are in local currency is most vulnerable
Anxiety is growing about emerging market debt (EMD). US rate rises and the potential for a stronger dollar mean that EMD may be heading for turbulent times. Losses seem to validate these fears, with the asset class down about 9% from the start of the year to early June.
The problem has been amplified by the growth of the asset class – both absolutely and in terms of the allocations of institutional investors: "There have been an awful lot of buyers for hard currency EMD over the past few years," says Kate Hollis, senior investment consultant at Willis Towers Watson. "Between 2010 and 2015, the credit rating of many EM issuers improved, accompanied by a lot of demand driven by the thirst for yield. After 2015, credit ratings deteriorated to some degree because of the fall in demand for commodities, but there was still demand from foreign institutional buyers."
Both the Argentinian peso and Turkish lira have plummeted relative to the dollar; Turkey also has the largest ratio of non-domestically held debt to GDP, according to Bloomberg. Brazil, Mexico and South Africa are on the sick list, and the opacity of China's debt markets are a concern to many. Taken together, that constitutes a lot of the index.
Whereas state and private debt relative to GDP in developed markets has been relatively stable since 2008, in emerging markets the ratio has ballooned from $4.47trn at the end of 2008 to $8.25trn at the end of last year – the result of what Bloomberg soberly describes as a "decade-long debt binge". Almost $1.7trn of bonds and syndicated loans matures next year, threatening increased refinancing costs (see figure).
However, Nicholas Hardingham, portfolio manager, Franklin Emerging Market Debt Opportunities, sees the expansion as not necessarily negative. He arges that "it has been through a broader borrower base. Alongside this, the higher growth rates of emerging markets allow them to afford a measured increase in debt-servicing costs." Nevertheless, he concedes, "if there is an unanticipated spike in rates, this would be a serious risk".
But all EMD is not created equal: the asset class breaks down into sovereign debt in foreign (or 'hard') currency, sovereign in local currency, corporate hard currency debt and corporate local currency. The latter, though, is much smaller and considered a niche play.
While EMD was once mainly a dollar-denominated asset, local has increasingly overshadowed foreign currency issuance. Lewis Jones, lead portfolio manager for EMD local currency at NN Investment Partners, says: "In the GBI index, whose members have the option to issue in dollars opportunistically – for instance, when spreads come in – the proportion of dollar issuance has shrunk every year. Locally-denominated debt as a share of outstanding debt has increased, and the cost of financing in local currency has come down. The majority of these countries have deep local markets and are less reliant on foreign buyers."
There has also been a broadening of the market, giving investors more ways of playing sovereign debt, as Hollis explains: "The local currency market has changed as foreign demand made it possible for issuers to extend their maturities. In the past, many bonds were three months to two years, but now many countries have full yield curves, some with maturities going beyond 10 years, as a result of overseas demand."
While the rise in the dollar since the end of March has created debt-servicing issues for those with their debt denominated in the greenback, many EM sovereigns are net long the currency. "There's more of a concern at the corporate level, where they don't have access to dollar reserves and are seeing debt-servicing costs increase," says Hardingham.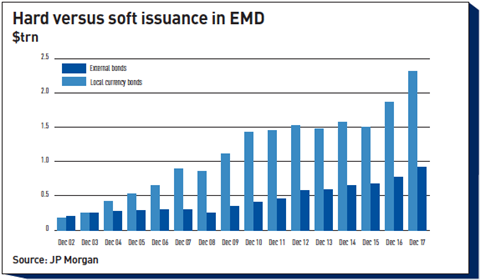 If local currency issuance has come to characterise the market, so has the growth of corporate debt. And this has been mainly a hard-currency game. While Hardingham concedes that this carries a risk as rates rise and/or the dollar appreciates – "bankruptcies are always a factor of corporate EMD" – he does not see it as a systemic one, instead situating it in the context of a broader creditor base: "Historically, such companies would have had their debt in short-term debt, which represented a concentration of risk in a handful of local and international banks."
For commodity exporters, dollar issuance makes sense where they can get all of their revenue in dollars. At the other extreme, those companies borrowing in dollars and earning in local currency will be experiencing problems.
Hard or local denomination makes a difference, as Hollis explains: "There has been a bifurcation in the returns of hard and local-currency denominated bonds, driven by beta. When the dollar goes down, local currency managers outperform hard currency managers in dollar terms, and when the dollar rises the reverse is true, whereas the returns of dollar bonds are driven by credit spreads and US duration. The differences can be quite significant."
So even with the growth of local issuance, a lot still hinges on the direction of US rates. "Our expectation is for US rates to rise a little faster than consensus, at about 25bps a quarter – possibly more," says Jones. "While it is not our base-case scenario, we are concerned about the risk of the US Treasury curve steepening, expressing less of an appetite for risk or a sharper rise in inflation expectations."
Does this mean it is time to bail? Hardingham says not: "We don't see a risk of spreads widening significantly so long as rate rises are well telegraphed, which is what the Fed has been doing."
Jones agrees, arguing that while a rising dollar does increase the cost of financing, "in general these countries are in a much better shape than before. We see little risk of contagion from sell-offs in Turkey and Argentina. Our main concerns are with these countries as well as US dollar-debt issuers where external balances are very weak such as Venezuela and Ukraine." He says NN has been decreasing risk by funding some active exposures in local currency debt out of developed market currencies rather than dollars, having become more cautious on the latter.
Hardingham at Franklin Templeton has been running his domestic issuance exposure towards the lower end of the portfolio range "because we want to manage the higher volatility that comes with domestic issuance. We are also biased towards those countries that offer a higher spread," which provides more of a cushion against further US rate rises.
This is an asset where selection – hard or local, corporate or sovereign, country by country – is key.