Public markets are shrinking while private markets are attracting huge amounts of capital. But it is still not clear which is the better bet
Key points
Private markets have attracted huge inflows as public ones have shrunk
The public markets face an increasing regulatory burden
It is arguable which is better suited to ESG and impact investment
Investors in listed small-cap companies can invest in many of the same drivers as private equity
The publicly listed equity markets, in theory at least, are dependent on private small-cap companies. Such firms represent the cutting edge of capitalism as they eventually list in public markets to form the seed corn for larger firms to emerge. But over the past decade or two there has been a dramatic shift towards private markets that raises questions about the rationale for public markets.
Private and public equity markets have long been seen as two distinct asset classes with different types of investment managers acting in them. Yet whether a company is listed or not might not necessarily have any bearing on its risk and reward characteristics. Traditionally, listed equity markets have dominated institutional equity investment and that remains the case today.
"I have always viewed private markets as smaller markets than public, and if there is a swing towards private markets, I view it as a marginal movement of capital from one place to another," says Mark Rogers, head of research at Montanaro Asset Management, a specialist small and mid-cap asset manager.
But according to Jim Strang, head of Europe at Hamilton Lane, an alternative investment management firm, there used to be 1,600-1,700 publicly listed companies in the UK 20 years ago, so there was a huge tail of small companies below the FTSE350. "That has shrunk to around 1,200 now, so the number of listed small-cap companies has come down significantly while, at the same time, private equity has grown massively," he says.
The reasons for listing a company today appear to be less obvious compared with 20 years ago. In the early to mid-1990s, the private equity market was tiny. The deals that were being done and the liquidity mechanisms available then were different to those available today. "Back then, there was a better sense of what advantages there were in going public and why a company would want to do so," says Strang. Key reasons for listing included: shareholder requirements for liquidity; risk capital to be injected to fund future growth; and larger companies wishing to spin out divisions. Today, all of these can be done easily in the private equity markets in Europe and the US.
While the private equity markets have become more sophisticated, with liquidity available now through well-developed secondary markets, the public markets appear to be facing underlying structural problems.
"There is an increasing regulatory burden in the public markets which you don't see in private markets," says Tony Dalwood, CEO of Gresham House, a specialist investment manager. High-quality individuals can earn far more working for companies in the private markets than the public. "They are not in the public eye, while in public markets, companies are accountable to a variety of other stakeholders with more transparent agendas such as environmental, sustainability and governance," he says.
For investors, argues Strang, another problem is that a high proportion of smaller companies that a fund manager invested in 20 years ago remains small. "There is a lack of a graduating class in the small-cap universe – a large proportion of these firms seem to stay about the same size," he says.
Cost pressures
In the US, costs and regulatory pressures, such as those brought on by the implementation of the Sarbanes-Oxley Act of 2002, are key reasons for private companies deferring a listing until they mature, says Manuel Kalbreier, director, alternative Investments at Wellington Management. His team sees the changes in the late-stage growth segment of the private equity market as here to stay. "Companies have been using private capital to shore up their balance sheets and provide additional financial flexibility so they can choose to go public at the right time," he says. "Not having to report earnings each and every quarter provides the freedom to try new things by expanding into new markets or launching new products."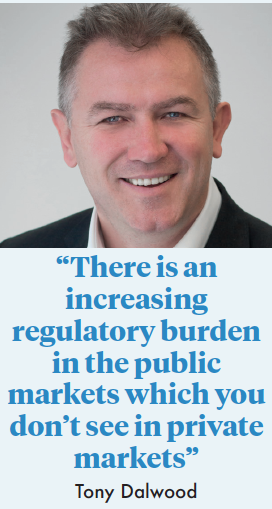 Wellington argues that as companies remain private for longer, they can hone their business models outside of public scrutiny and reduce the risk of 'flaming out' after an initial public offering (IPO). This means that investors in late-stage growth private equity strategies could potentially realise more pre-IPO growth since they are among a limited constituency which is willing to provide that patient capital.
It is not yet clear whether private equity provides better returns than investing in listed small-cap. "I have this notion that you get slightly better returns in private markets than public. But you have to do so many risk-adjusted calculations to get the true return numbers that I don't know whether it is a significant difference or not," says Rogers.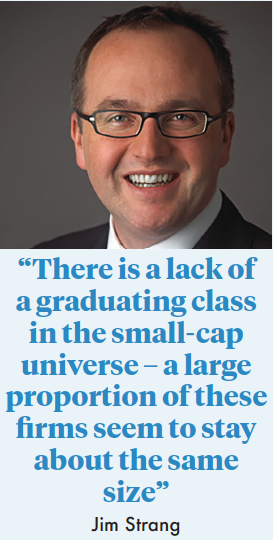 Strang maintains that while there may still be a negative sentiment towards private equity in the marketplace, investors should look at the net returns. "PE is expensive, but it is easy to replicate. What price should investors be willing to pay for the net return they are getting? The substantial growth of private equity in the last several years tells you that investors are willing to pay the price for the outcome."
Moreover, he argues, one of the secrets of private equity is that it is the only asset class where the insiders with better information make the liquidity decisions.
Where private equity also scores highly is on governance. Even the largest mainstream managers of listed small-caps would not own, on average, more than about 2-3% of a firm's capitalisation. In contrast, points out Strang, private equity managers may own 80-90% on average, so they are in a much better governance position. "As a small-cap public manager, you would have very little influence and no access to information outside the public domain, so you are fundamentally at a disadvantage from a governance perspective."
ESG implementation
Given today's focus on ESG and impact investing there is a debate to be had on whether private or public markets are better suited to such an approach. A private investor may be satisfied with a 12% internal rate of return rather than 15% because of the positive social impact. As private markets have no daily valuation mechanism, investors will not see the potential value destruction. But, points out Rogers, a public market, with a daily valuation mechanism, is arguably a more difficult place for altruistic investors to invest because as soon as they pressure the management to do what they would like in terms of social good, the price comes down. "But on a fundamental level there is no difference between the two," he says.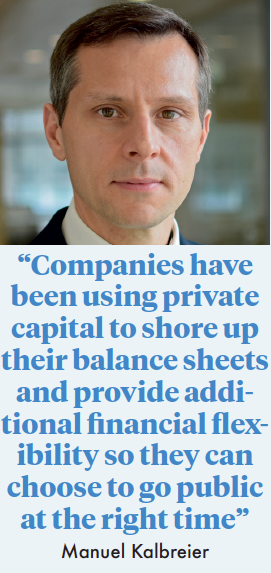 The UK Alternative Investment Market (AIM) market was meant to be typically a stepping-stone towards full listing for higher-growth companies. But Dalwood points out that there were 1,600 companies listed on it 10 years ago while today there are just 900. "There is a lack of liquidity and MIFID II has not helped as the number of brokers and research coverage have reduced," he says. But that also has created opportunities for some managers who can bridge the gap between private and public markets. "Currently, there is a lot of private equity capital chasing deals and the ability for PE firms to differentiate themselves is difficult – the only differentiation often is in the price they are willing to pay," he says.
Gresham House attempts a private-equity approach in its Strategic Public Equity investments strategy, typically owning between 5% and 25% of a listed company, with usually a representative or a nominee they introduce on the board. "We can help the business grow, for example with a five-year plan, more communications with the stock market, aligning incentive schemes with shareholder value," says Dalwood. Portfolio construction is also closer to a private equity fund, with concentrated portfolios of 10-12 companies typically accounting for 80% of a fund.
Listed small-cap investing can provide an alternative approach to investing in many of the same drivers of return that investors are seeking in private equity. Yet private equity is attracting huge inflows. These may or may not be justified but if they are, the public listed markets need to examine why.
Small & mid-cap equities: Public or private markets?
1

Currently reading

Small & mid-cap equities: Public or private markets?

2

3