An initiative to raise money to provide low-cost finance for rural female entrepreneurs
Key points
Women in India can, for the first time, access loans through a World Bank/UN Women social impact bond
Such bonds aim to help catalyse national-level institutions to raise resources from capital markets
The bonds disprove investor perception of high risk among women's SMEs
Rural women entrepreneurs in India will this year, for the first time, access loans generated through a social impact bond.
The bond, launched by the World Bank, UN Women and the Small Industries Development Bank of India (SIDBI) in February, is a rare event in India for another reason: such bonds, usually characterised by a 'pay-for-success' model of finance, are commonplace only in developed economies. The social impact bond coincides with a social bond also aimed at improving women's standard of living in Asia and issued by IIX in Singapore (see box).
One of the objectives of the institutions launching the social impact bond is to solve a problem specific to India. "The initiative has emerged out of the need to address a huge gap of the 'missing middle' in the credit market to help rural women entrepreneurs access more financing at much more competitive interest rates," says Vinay Kumar Vutukuru, senior agriculture and rural development specialist at the World Bank. That missing middle is perceived by banks as too small or risky, and the women affected often face limited access to credit or interest rates at over 24%. At the level below the missing middle, people may borrow in groups.
Currently, that is how women running rural businesses borrow money from commercial banks or microfinance institutions. However, some of these women could graduate from group borrowers to individual borrowers to access loans beyond the range of INR50,000-100,000 (€650-1,300). This has so far been the maximum available to them through the group route. The women's livelihood bonds will give them a step up as individual borrowers accessing a higher range of finance at INR50,000-500,000 to scale up their enterprises.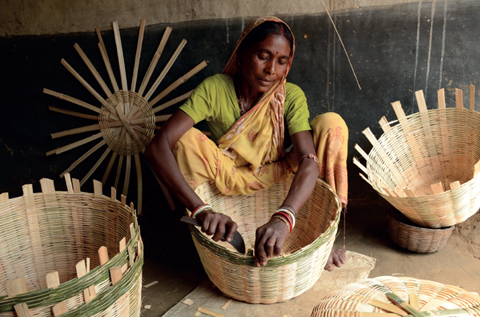 The proposed multi-tranche bond will be raised by SIDBI (a bank established by the government of India specialising in AAA-rated leading to micro, small and medium enterprises) through a private placement to undisclosed impact investors. It will be an unsecured, unlisted bond with a fixed coupon rate of 3% per year and five-year tenure. It is expected that INR3bn (€39m) would be raised through multiple tranches. This could make a significant difference to rural economies.
Some of the biggest wealth management agencies in India such as Aditya Birla, Ambit, ASK and Centrum reached out to high-net-worth individuals and impact investors to raise funding. The money provided by the impact investors will not take the form of grants and is to be returned. "Investors are giving up part of their interest earnings in the hope that this will enable women entrepreneurs at the bottom of the pyramid to access credit at highly competitive rates. This is what makes this initiative innovative and unique," says Vutukuru.
IIX, based in Singapore and founded by Bangladeshi entrepreneur Prof Durreen Shahnaz, helps businesses providing development solutions to scale up through innovative finance. The organisation is launching, in the second quarter, a new publicly listed bond in partnership with the Australian government's Department of Foreign Affairs and Trade.
The aim of the bond, which is a more conventional instrument than the World Bank bond, is to improve women's small business development. The bond consists of a $100m series providing a million underserved women in Asia with sustainable livelihoods, and will be sold in three tranches – the first in the second quarter of 2019.
It follows a first issuance in 2017 and is part of IIX's group of financial instruments that pool a group of impact enterprises to issue a collective bond. Unlike social impact bonds, the social bonds both mobilise private sector capital and are listed on social and traditional stock exchanges. The earlier social sustainability bond was issued and listed on the Singapore Exchange.
According to IIX, this makes it "the first publicly listed impact investing instrument to place women front and centre of capital markets". That four-year bond is paying a coupon of 5.65% to its investors.
The money raised will be lent to rural women entrepreneurs at 13-14% a year – considerably lower than typical street-corner rates. SIDBI will channel funds through participating financial intermediaries to women's entrepreneurs. A corpus fund at SIDBI backs the bond and is mobilised through contributions from the company's corporate social responsibility budgets and through grant support from the UK's Department for International Development (DFID) via its programme with SIDBI. The corpus fund will act as first loss default guarantee (FLDG) and also help monitor and track the programme outputs.
"The World Bank would now want to play a catalytic role to help a national-level institution like SIDBI to raise resources from capital markets. We believe that this is the future in the terms of mobilising financing that would help women entrepreneurs access higher-order financing," says Vutukuru. At the same time, he says it allows the women to shift from development assistance towards more market-financed programmes.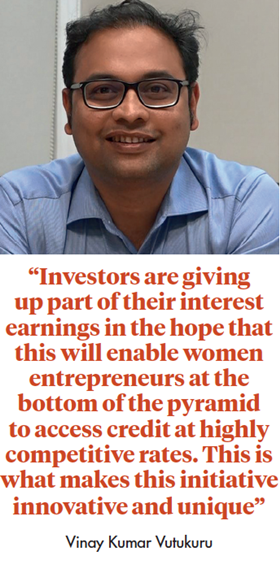 But the bond is innovative for a couple of other reasons. First, businesses in India usually borrow money through traditional microfinance loans. "As it is the birthplace of microfinance, many organisations are involved in microfinance loans in India but they normally go through a fund structure without issuing bonds," says David Uzsoki, senior adviser in sustainable finance and infrastructure at think-tank the International Institute for Sustainable Development.
The World Bank and its partners might thus also pilot the bond to compare performance and results with conventional microfinance. "Microfinance loans are expensive at the user level [in terms of interest rates] but what the investor gets is much less due to cost issues such as currency risk," he points out.
Second, it is an unusual international interchange. "India is actually quite advanced in terms of international integration, and trades in Rupee-denominated bonds quite a lot. But the impact sector does not have much presence in the capital markets," Uzsoki says.
Nevertheless, such transactions have disadvantages. Development campaigners might argue that direct grants are more beneficial because they could reduce the presence of intermediaries and improve direct accountability. But they have benefits in lowering risk to the donor. "Such bonds are a very interesting experiment but still an experiment. In transferring the performance risk from donor country to investors, costs are added, while identifying the right types of investor is difficult," says Uzsoki. As a result, he suggests that financial instruments such as social impact bonds might have lower appeal than, for example, green bonds mimicking the traditional bond market.
Commenting on the bond, Jenn Pryce, president and CEO of Calvert Impact Capital, a non-profit investment firm based in Maryland, US, suggested it would challenge market perceptions. "This is a World Bank development play to leverage more philanthropic and high-net-worth money and prove that women can be a good investment. The perception is that women are high risk but the real risk is lower," she says.
Tricky, but worthwhile
1

2

3

4

5

6

7

8

9

Currently reading

Social Impact Finance: Bonds to help Asia's 'missing middle' women