The Indian subcontinent is adjusting to the realities of the new administration in Washington, writes Joseph Mariathasan
There is much talk about President Donald Trump's relationship with China. But other countries in Asia are also wondering what the impact of the new administration's policies will be on them. India in particular had been enjoying a romance with the US that has lasted over a decade. How that relationship will develop is causing anxiety throughout South Asia.
While China may have the largest trade surplus with the US, South Asian countries also have surpluses which could be subject to dispute. In April the president signed an executive order calling for a 90-day country-by-country and product-by-product study of the US's $500bn (€470bn) global trade deficit. US secretary of commerce, Wilbur Ross, in an article he wrote for the UK's Financial Times a few days later, emphasised the Trump administration's focus on bilateral rather than multi-lateral trade balances.
Trump has indicated that he is not inclined to follow former President Obama's highly touted pivot to Asia. The administration's scepticism towards climate change could create conflict with India which was looking to the US as a critical ally on that question. On the political front, the US ambassador to the UN, Nikki Haley, has said the US seeks to play a role in the India-Pakistan dispute over Kashmir. For India, which has always rejected third party involvement in the dispute, that would raise concerns over possible tilts towards Pakistan. Trump's stance is also in contrast to that of his predecessor – Barack Obama had maintained that Kashmir was a bilateral issue between the India and Pakistan.
To appreciate the context it is worth remembering that India was closer to the Soviet Union than the US during the Cold War. Washington backed Pakistan as a counterweight to Soviet influence in India. The roots of the distrust, argues a Sri Lankan expert, go back to India's first prime minister, Jawaharlal Nehru. Fabian socialism-inspired third world nationalism, which fostered Afro-Asian Solidarity, was a striking part of Nehru's political philosophy. It was the foundation of India and China's formally established relations in 1954. That led to a general distrust between India and the US which was exacerbated by the US support for Pakistan.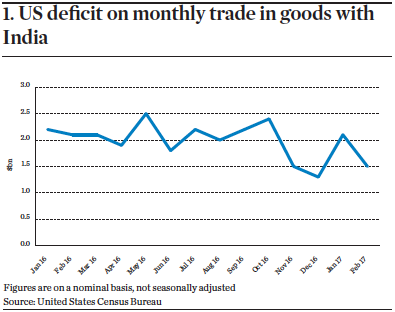 In 1971, India signed a friendship treaty with the Soviet Union which further deepened the chasm between India and the US. During the 1971 Indo-Pakistan war that led to the creation of Bangladesh, the US under President Richard Nixon supported Pakistan. In 1998, US President Bill Clinton imposed sanctions on India following its nuclear tests, although only Japan joined the US.
The remarkable change that occurred though, was from 2004 onwards, when after the sanctions, US policy reversed with the creation of what amounts to an almost strategic partnership between the world's most powerful democracy and the world's most populous. Relations between the two have become so close that some have argued the US has delegated its foreign policy in the region. But Trump's views of the region seems to many to be mired in confusion. Many American foreign service officers in south Asia are reportedly critical of the administration's foreign policy. Such criticism of a sitting president is unusual. Some newspaper articles and foreign policy journal essays have suggested that the Trump administration is considering significant reductions in the State Department budget with the largest cut being in USAID, the agency responsible for administering civilian foreign aid.
"It takes more capability to understand what clients require, enter into complex contracts with them, and manage teams in India that deliver the work"
Ajay Shah
To many critics, the State Department appears rudderless. What is worrying to him and many others in the region, is that the US/China rivalry may lead to a variant of the Cold War. one scenario has it that India, Japan and Australia may assist the United States to counter any Chinese moves in the Indian Ocean region that they deem hostile to their interests. Even under Obama, the US left China out of the proposed Trans-Pacific Partnership trade agreement.
Apart from the impact on geopolitics, two key issues over the Trump administration for South Asia relate to the impact in students and the impact on trade. India is second only to China in the number of students it sends for further study in the US, and the number rose by 25% in 2016 to 166,000. But in a survey of US academic institutions conducted in late 2016, 52% noted declines in international student enrolment. Reports in India itself and from the US are indicating signs of a sharp decline in applications from Indian students since the Trump election. This has been attributed by some to news reports of hate crimes against Indians in the US, and anxiety about potential changes to visa policies by the Trump administration. One educational expert points out that the US faces competition from Australia in attracting students from the region, with a dramatic increase after 2006-07 in the numbers applying to Australia.
Students undertaking a four year degree are able to obtain permanent residency and Australian citizenship. They are also allowed to work and study at the same time. In the US, students can only work on the campus and need to leave after their degrees and cannot come back for a period of two years. Tightening of student and work visas may win votes, but, as many would argue, having international students has many longer-term knock-on benefits in increased trade flows, for instance.
One area where the restrictions on visas is likely to have a dramatic effect in India is in the 'body shopping' of Indian IT staff in the US. In this activity, as Ajay Shah, a professor at the National Institute of Public Finance and Policy, New Delhi, explains, local engineers in the US at $10,000 (€9,400) a month are replaced by Indian engineers at $5,000 a month with the trade enabled by work visas, which are given to Indian companies that specialise in offering this service.
The Trump administration is said to be working on restrictions to this type of activity. While this will cause an existential threat to some software companies, Shah says that in the long term, it will be to India's advantage. As he argues, undertaking outsourced IT activities in India is higher value-added business when compared to body shopping: "It takes more capability to understand what clients require, enter into complex contracts with them, and manage teams in India that deliver the work," says Shah.
Shah predicts that in India, market share will shift in favour of IT companies that know how to manage teams in India, and deal with the complexities of management and contracting with customers far away. It is still early days and the Indian stock markets are marking down the prices of companies that depend more on body shopping. But Shah says capital is shifting to the more productive firms. More American companies will invest directly into India, building operations they directly control, which will further diffuse management knowledge into the Indian labour market.
What is worrying for South Asia is the Trump administration's focus on bilateral trade deficits, which seems to reflect a mercantilist view of global trade. The concern is that a narrow mercantilist approach to trade, which seeks to ensure a net zero balance of trade with countries the US trades with, will be detrimental to both large and small countries in the region.