Sovereign wealth funds (SWFs) and central banks are preparing for an end to the current business cycle by increasing fixed income allocations, according to Invesco Asset Management.
The asset manager's latest SWF survey – which covered 139 sovereign investors and central banks with $20.3trn (€18.1trn) in assets – revealed that the average fixed income allocation rose from 30% to 33%, while equity holdings fell from 33% to 30%.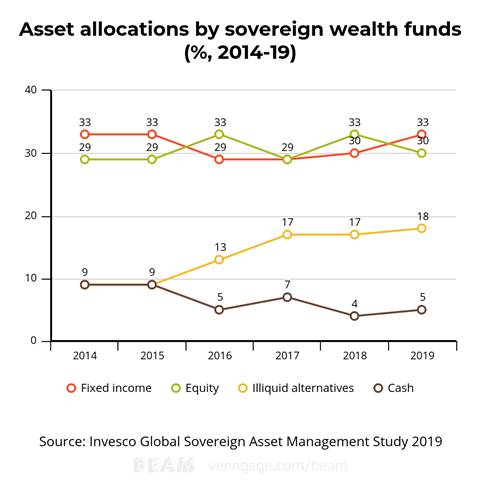 The survey was conducted immediately after the global equity sell-off in the fourth quarter of 2018.
Alex Millar, head of EMEA institutional distribution and sales at Invesco, said a number of respondents to the survey had said they expected the end of the business cycle was imminent.
"Public market volatility has combined with late cycle concerns to lead sovereigns to defend, diversify and explore new opportunities," he said.
The majority of sovereign investors polled by Invesco (89%) said they anticipated the end of the economic cycle within two years.
Invesco also highlighted that sovereign investors were diversifying their asset allocations, most likely in an effort to protect themselves from a future downturn. Allocations to "illiquid alternatives" – including private equity, real estate and infrastructure – rose to 18% on average and have steadily increased in the past five years.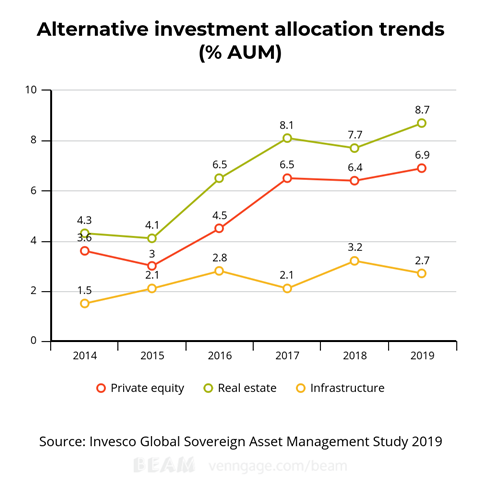 China beats Europe as investment destination
Within equity allocations, Invesco reported an increase in allocations to China. Despite trade war tensions between the US and China, the attractiveness of China as an investment destination increased according to Invesco's measurement, with respondents rating it 6.1 out of 10, compared to 5.2 in 2018's survey.
Roughly 90% of investors that already had China exposure held Chinese equities, which Invesco said demonstrated that the country's efforts to open up its capital markets were "bearing fruit". Fixed income allocations were also likely to rise, Invesco added, with Chinese bonds being added to global benchmarks and access improving through the Bond Connect programme.
Millar said: "The shift toward China, at a time when trade wars are adversely impacting equity markets, demonstrates sovereigns' ability to look past short-term geo-political skirmishes driving the news agenda and capitalise on core dynamics, in this case the continued maturing of the world's second largest economy."
In contrast, respondents were negative towards Europe, Invesco found. Almost a third of investors cut their allocation towards Europe in 2018, citing concerns around Brexit and the rising influence of populist political parties.
Just 13% of investors said they would put more money into Europe this year, while 40% said so for Asia and 36% for emerging markets.