Gail Moss assesses investment trends for Spanish pension entities, which have recorded their second successive year of high returns

'East or west, home is best' is a saying that has certainly proved true for Spanish pension fund investors over the past year. Spanish occupational pension funds boasted an annual return of 10.25% to 30 June 2014, up from 8.37% for the previous 12 months, according to Spain's Investment and Pension Fund Association (INVERCO). And the bulk of that return is thanks to domestic bond investments.
These results bring the annualised return for the three years to 30 June to 6.31%.
Meanwhile, the country's fragile economic recovery continues to strengthen. The economy grew 0.6% during the second quarter of this year, giving a year-on-year increase of 1.2%.
And while exports are still increasing strongly, growth is now shifting towards domestic demand. Manufacturing has been growing steadily, and in August there was a sharp rise in new business, with the fastest rate of expansion since April 2007, according to Markit Economics.
The economic good news has resulted in successive upgrades in Spain's sovereign rating, leading to the big investment story of the past year – the collapse in its government bond yields. In August this year, 10-year yields dipped under 2.2%, the lowest in history.
At a glance
• Spanish occupational pension funds made over 10% on investments for the year to end-June 2014, with domestic fixed-income and equities performing well.
• Two-thirds of pension fund assets are invested in Spain.
• Spanish government bond yields have dropped dramatically and pension funds are looking for alternative yield elsewhere.
Aitor Corral, manager in the global investment practice at Aon Hewitt's Madrid office, says: "The risk premium fell from 600bps in July 2012 to 140bps in July 2014, enabling Spanish long-term bonds to obtain an impressive return of nearly 20% during 2013. However, during 2014, the increase in bond values has not been so steep."
The biggest single component of pension fund portfolios is invested in Spanish government bonds – 34.7% as at the end of June 2014, according to INVERCO, with a further 20.3% in Spanish corporate bonds. Other domestic assets include an 8.7% segment in equities.
Álvaro Molina, investment consultant at Towers Watson Madrid, says: "The first signs of economic recovery have led to the second consecutive year of high returns from Spanish assets, which account for 67% of portfolios. Besides government bonds, other very popular fixed-income assets were also a major contributor, such as Spanish covered bonds or those issued by the Spanish regions. As rating agencies have increased the country's sovereign rating, the dramatic yield compression in government bond yields has extended to other assets."
"Spanish equities obtained a total return above 40% year-on-year, which contributed substantially to the double-digit total returns," Molina adds.
However, Spanish government debt still provides the mainstay of portfolios.
In fact, says Ángel Martínez-Aldama, director-general of INVERCO, the percentage in Spanish corporate bonds has actually gone down over the past 18 months, making up 20.3% of portfolios as at end-June 2014, compared with 22.6% at end-2012.
In 2009, Spanish corporate bonds made up 30% of pension fund portfolios, compared with 20% in Spanish government bonds.
But Xavier Bellavista, principal at Mercer, Barcelona, warns that pension fund managers are now resting on their laurels in terms of Spanish fixed-income. "They've been taking profits from reducing yields, but not preparing themselves for when coupon rates go lower, closer to the rates on other European government bonds," he says. "If Spanish coupon rates go very low, they will find themselves without the opportunity of a spread in Spanish government bonds, and with low duration paper."
He concludes: "Many pension funds and managers expect interest rates to go up. Maybe they are right, but they should also be considering a scenario of low interest rates in Europe for a long period and, as some funds and managers are already doing, buying higher duration bonds."
Mercer's own figures from the Pension Investment Performance Service (PIPS) show that the average occupational pension fund returned 4.8% over the first six months of 2014. The average return for equities was 5.9%, while fixed-interest returned 5.7%. Alternatives and real estate posted much lower results, depressing the overall return. But Bellavista warns: "If coupon rates in Spain go down further, in future the returns will be 1%, not 6%."
However, there is evidence that some managers are looking for yield elsewhere in the fixed-income universe. "We are seeing increased interest in alternative credit by fiduciary managers," says Molina. "With 10-year Spanish government bonds at historical low yields of 2.2%, managers are looking at new assets that could compensate the expected low yields of portfolios for the upcoming years. The general perception is that the risk premium of Spanish government debt is not that attractive at this level, and investors are starting to look for alternatives among other asset classes."
Towers Watson is working with some of its clients and their fiduciary managers in introducing a diversified alternative credit allocation in their portfolios, including high-yield, loans and emerging market debt. These are understood to provide good risk-adjusted returns, and the diversification benefits of an increased portfolio diversity in terms of risk premia.
"There is a preference for Spanish state and regional government debt because of the difference in yields, with core European countries now showing almost negative real returns," says
Nora Ruiz, senior investment consultant at Novaster. "On the other hand, there is concern about the irrationality of the risk premium, which has gone down too fast, with no real support in the fundamentals. However, most fixed-income portfolios are overweight Spain, anywhere between 30% and 60%."
Bellavista says some pension funds are diversifying into corporate bonds, and into foreign fixed income assets. There has also, he says, been a significant increase in non-euro fixed-income holdings, from zero a few years ago into 5% of assets over the past 12 months. Assets include fixed-income from non-euro-zone European countries, the US and emerging markets.
"We expect the trend to continue because not all managers have significant investment in these areas," he says. "However, funds are trying to marginally reduce fixed-income as a whole."
As for equities, he says they are well-diversified geographically. Historically, euro holdings have normally outweighed their non-euro counterparts, but pension funds have been rebalancing their portfolios since 2012. Nowadays, euro and non-euro holdings are broadly equal, with around 15% of portfolios in each class, according to the PIPS survey.
Ruiz also sees a more global spread than previously for equities, with the IBEX 35 – the benchmark index of the Madrid stock exchange – having almost disappeared as a benchmark for pension funds. She says most asset managers are now tactically overweight in Europe versus the US or emerging markets.
While figures from INVERCO show a slight increase in the allocation to foreign assets – 17.4% at present, compared with 16.7% a year ago – this is far from pre-crisis levels, when foreign assets represented over 25% of total portfolios.
Corral points to a significant overweighting of non-euro European assets – mainly in the UK and Switzerland – during 2013.
But he says: "As regards US investments, the market continues to wait for an improvement in the dollar versus euro, making them reluctant to increase their US allocation."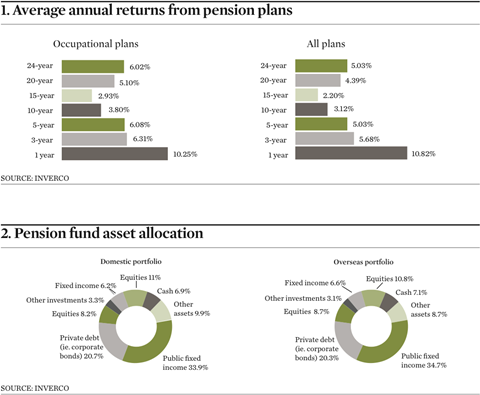 Over the next 12 months, Molina says the reduced return expectations of traditional assets means pension funds will start to move slowly towards increased diversification, but there will be no rush into alternatives.
"Fiduciary managers are cautious about introducing new asset classes," he says.
"Governance levels in Spanish occupational funds are low, and the inclusion of assets such as private equity and hedge funds calls for control committees to be educated about their risks and potential benefits."
Corral reiterates the general consensus: "The double-digit performance of Spanish debt is not going to continue, so analysts and managers should look for new investment opportunities to add extra return. High-yield, emerging markets and alternatives can offer both extra return and diversification, but we need to analyse them correctly on a risk/return basis to give added value to clients."
Spain: Home is best
1

Currently reading

Spain: Home is best

2

3

4