---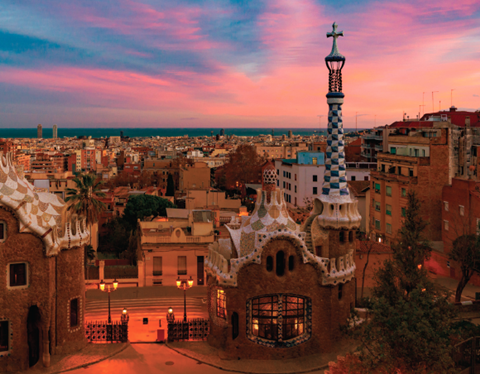 Spain has experienced recent constitutional turmoil, yet it is the politics of Italy that is troubling pension funds. How will this affect asset allocation?
Key points
• Despite Spain's political woes, Italy is seen as a greater financial risk for pension investors
• Alternative asset allocations continue to grow
• Non-euro-zone equity holdings are close to parity to euro-zone equity allocations
The past year has been torrid for Spanish politics. A year after the referendum in which Catalans voted for independence from Spain, the fall-out remains.
Extradition is being sought for the former Catalan president, Carles Puigdemont, in self-imposed exile in Belgium, with some of his colleagues in prison in Spain. The new Catalan president Quim Torra is also a secessionist.
Meanwhile, in June, Spain's then prime minister, Mariano Rajoy, was removed over a corruption scandal involving members of his People's Party. The appointment of a new government, led by the Socialist Party's Pedro Sánchez, has failed to provide stability, however with pundits predicting a snap election because of the perceived parliamentary weakness of the government.
So is this affecting asset allocation of occupational pension funds within Spain?
According to INVERCO, Spain's Investment and Pension Fund Association, 52.6% of fund portfolios were invested in domestic assets at 30 June 2018, this includes individual savings plans and workplace schemes.
"Investments in the Spanish market account for a high proportion of both equity and fixed income asset classes within Spanish occupational pension fund portfolios," says Ricardo Pulido, executive director investment, Aon Hewitt. "However, although tensions regarding Catalonian independence are still there, we find enough upside in Spanish bonds to compensate for such political risk."
But the problems in Italy are causing unease, he suggests. The country's general election last March was followed by three months of chaos before a coalition was formed.
"Since the election, we have noticed that concern about the political situation in the country has become a key issue among our clients," says Pulido. "Many Spanish pension funds, searching for higher yields in Europe, have invested large amounts in Italian bonds. But Italian bonds still compensate for the assumed risk, which in our opinion is minimal."
"In 2018, the political uncertainty had a bigger impact on Italian than on Spanish bonds," says Xavier Bellavista, principal at Mercer. "However, funds have not significantly changed their allocation to these asset classes. With Italy, some managers are not investing again when bonds mature, but we have not seen any other specific exit movement."
Slow shifts
Meanwhile, Brexit negotiations are not a factor in pension funds investing in the UK. Jon Aldecoa, director at Novaster Investments, notes that while he considers the allocation to the UK has been reduced, "The question is not sterling or the possible lack of a deal – the main question is the uncertainty about the future of the UK economy."
While there have been no big shifts in terms of asset allocation over the past 12 months, certain trends are discernible, particularly an increased interest in alternatives.
Aldecoa says: "Some of the big pension schemes are continuing to increase their allocation to private equity and real estate private equity. In real estate, they are building diversified portfolios, by geography, company size and secondaries."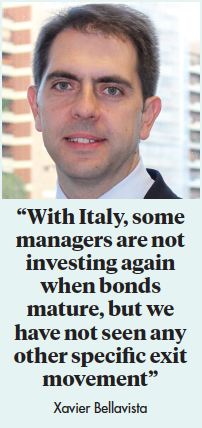 In addition, he says, schemes have begun to invest in direct lending funds.
"Alternative assets are the main bet nowadays," agrees Pulido. "Because of low yields, particularly from bonds, clients are turning to other assets trying to reach more attractive return/risk ratios.
"And while some clients bet on private equity to achieve higher levels of returns, other funds may have illiquidity limitations which make them look for opportunities in liquid alternatives," he says. "Furthermore, besides a higher return compared with fixed income securities, alternatives provide better efficiency (return/risk) ratios, minimising the exposure risk of a fall in equity markets."
Olivier Cassin, head of institutional distribution for Europe at BNY Mellon Investment Management, says: "There was an interest in increasing allocations to emerging market debt at the turn of the year, but we have seen a reduction in interest more recently."
According to Mercer's Pension Investment Performance Survey (see figure), over one-third – 36.9% – of Spanish occupational pension fund portfolios was invested in euro-zone fixed income, and 13.6% in non-euro-zone fixed income, at 30 June 2018.
Euro-zone equities made up 18.2%, and non-euro-zone equities 19.0%. Investments in alternatives formed 3.8% and real estate 2.5%, of portfolios, with 6.0% in cash.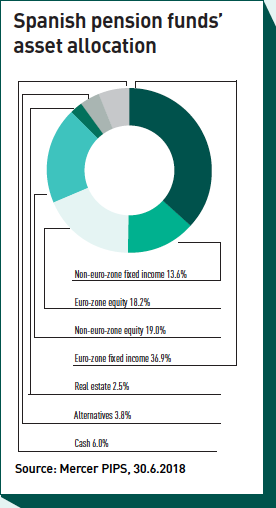 "The main changes for 2018 are the reduction in euro-zone fixed income, and in cash," says Bellavista. "In contrast, the increase in non-euro-zone equities means that that asset class now carries the same importance as euro-zone equities, while alternatives have also risen."
In terms of performance, it is a tale of away advantage. "For the year to date, Spanish equities have depressed returns for those pension funds with a higher home bias," says Cassin. "Those funds with higher US equity weightings have tended to do better over the same time period. In the fixed income space, Spanish pension funds typically hold high exposures to domestic government debt, and this has also been under pressure since the start of the second quarter."
Mercer's figures show that funds made a negative return of 1.4% for the first quarter of 2018. "Since then, mainly driven by non-euro-zone equities, pension funds have recovered most of their negative performance," says Bellavista; the return for the year to 30 June 2018 was a fall of 0.5%. The best performance came from real estate, which returned 1.1%. Non-euro-zone equities returned 1.0%, with negative returns for euro-zone equities and both euro and non-euro fixed income.
Currency matters
According to David Cienfuegos, head of investment, Spain, at Willis Towers Watson, one of the key factors has been currency exposure. "Obviously most pension schemes tend to hedge their currency exposure to the US dollar, but as interest rate differentials have reached material levels of almost 3% per annum, hedging US dollar exposure in more globalised portfolios has become a headache," he says. "Thus, you can see pension funds showing up a 1% performance for the year to date, compared with the average pension fund somewhere around the minus 1% mark." In addition, he says that emerging markets and credit spreads caused by Italian concerns have had a negative impact on portfolios.
Meanwhile, interest and inflation rate risk weighs on the minds of pension fund managers. "Concern about interest rates and inflation is offset by the concern about equity market performance in the near future," says Cienfuegos. "Most pension schemes would normally increase investment risk in order to cope with rising inflation expectations. However, doing so might actually turn out to be the wrong call if equity markets turn the corner and start trending downwards."
Cassin says: "Most of our clients are positioned for a very gradual rise in interest rates and inflation. They have to balance the requirement to match long-term liabilities with an often more tactically cautious approach to duration and/or interest rate risk."
"Spanish pension funds, searching for higher yields in Europe, have invested large amounts in Italian bonds"

Ricardo Pulido
Aldecoa adds: "Pension funds are expecting a rise in interest rates. The consequences are a reduction in maturities, an increase in the cash position and a management which is very cautious about the equity portfolio."
However, other, less conventional, risks have also come into play, in particular, the trade war between the US and China. "Although equities were the most profitable asset class back in 2017, investors are starting to take a risk-off approach and decrease their position because of the trade war, in favour of alternative conservative assets," says Pulido.
"Furthermore, funds are analysing positions that can protect them if a trade war escalates," he says. "Non-directional hedge funds are a strong bet to consider in this environment, thanks to their low correlation with traditional asset classes such as equities or government and corporate bonds."
Turning to the likely trends of the next year, Aldecoa says: "A few pension schemes are investing, or considering investing, in impact environmental, social and corporate governance (ESG) funds, usually in listed equity or ESG fixed income. Microfinance funds are also becoming increasingly popular."
"Some industry leaders have quite developed socially responsible investment programmes and are starting to consider how to include climate change impact in their investment strategies," agrees Bellavista.
And he says that a significant percentage of funds in Spain are actively using options strategies to protect their equity investments. "Currency hedging is also part of the on-going debates among pension funds," he observes. "Funds with a significant exposure to non-euro assets have some kind of hedging in place to protect between 50 and 100% of the currency exposure."
Spain: Unintended outcomes
1

Currently reading

Spain: Unintended outcomes

2