If people ask Peter Branner why he moved from Sweden to the Netherlands to become chief investment officer of the asset management arm of APG, the country's largest pension provider, he might tell them that he is in effect chief investment officer for more than a quarter of the Dutch population. APG after all manages pensions for 4.6m people in a population of 17m.
As Branner puts it: "You can work for millionaires or you can work for millions of people like I do here, and I think that has a very attractive purpose for me." While moving to APG brings with it a clear sense of career mission for someone who has previously worked for commercial asset managers, times have been tough for the Dutch pension sector and those conditions look set to continue.
For APG's largest client, the public sector pension scheme ABP, the last 18 months have been bumpy.
A volatile close to 2018 saw the scheme post a negative return of -2.3% for the year as a whole. Despite a cumulative 10.7% return in the first half of 2019, the coverage ratio still languishes at 95.3%. A lot is at stake for ABP's 3m members: pensions will have to be cut if the policy ratio and the trailing 12-month average are below 100% at the end of 2020.
While the Netherlands came top in the annual Melbourne Mercer Global Pension Index last year, the Dutch themselves are less trusting of their pension system or hopeful that their pension fund will provide an adequate income than people in other countries.
APG
● AUM: €459bn (end-2018)
● Dutch pension manager
● Seven pension fund clients including ABP
● Total participants: 4.6m
● Annual implementation costs per participant €69.40
● Location: Amsterdam and Heerlen
Peter Branner
● CIO of APG since September 2018
Previously:
● CEO & CIO, SEB Investment Management, Stockholm
● CIO, Fortis Investments' multi management division, London
● Managing director, IKANO Fund Management, Luxembourg and other investment positions within the IKANO Group
● BSc, economics, Copenhagen Business School and an MSc inbusiness administration
The ING Super Savings Survey 2019 found that the Dutch over-save for retirement, but fear that they are saving too little. According to a Mercer study in 2017, one-in-three Dutch citizens are dissatisfied with their pension fund.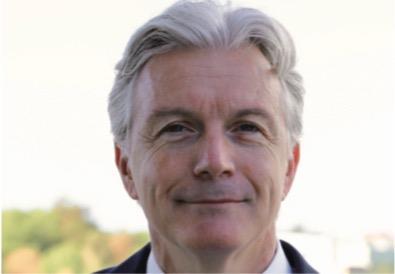 In part this is due to the bitter experience of accumulated pension entitlement cuts over the years. The country has adopted a defined ambition system in which pension schemes must target coverage ratios, and intergenerational solidarity has been a prime goal.
At the beginning of 2012, in an IPE interview with Angelien Kemna, Branner's predecessor from 2009-14, a key issue was whether Dutch pension funds would maintain their exposure to peripheral European government bonds. Low yields were thought to be a temporary, cyclical phenomenon but have turned out to be a secular trend.
Since then, for most pension funds in Europe, the single most defining financial trend of the last decade has been the structural decline in yields. And this looks set to persist given the latest economic indicators and pronouncements from the European Central Bank, but now with fewer places to search for yield than before.
For Branner, who has been at APG since September 2018, this means looking for yield in areas like infrastructure, or alternative sources of return in other geographic areas, like Asia. And against a backdrop of persistent negative interest rates, with the global stock of negative yielding debt at more than 20% of the total outstanding, or in excess of $14trn (€12trn) as measured by the market cap of the Bloomberg Barclays Global Negative Yielding Debt index.
Speaking at APG's Amsterdam offices in June, Branner told IPE: "I think it's fair to say that the return expectations in Europe are of course very much linked to the fact that we have negative yields, and every asset class is, somewhat, feeling the gravity of that fact. So, for sure it will be a challenge in liquid asset classes for the foreseeable future. And for demographic reasons, Europe will not be the place where you see global growth, for sure."
Is there a chink of light? Branner seems to think so, seeing sustainable investment opportunities in green technology, where he says Europe is at the forefront in areas like wind turbines.
"That means that we will continue to invest in infrastructure in Europe, an area where I think Europe is in high demand. And even with the gravity to negative yields there is still quite a good yield on those deals. I think that it makes perfect sense in Europe to focus on that area, whereas, if you look at the liquid markets, maybe our eyes are more focused on going further east towards Asia."
Branner continues: "Right now I think we see a huge drive towards alternatives, so that's where we are investing people, money, and technology. The push with ultra-low interest rates towards alternative types of assets will remain for the foreseeable future, because of that fact."
Is the CIO concerned that APG's scale may be sub-optimal in alternatives like private equity? Here, dry powder exceeds $2trn, according to Preqin. And sourcing the right deals in private markets generally can require intensive and costly sourcing, due diligence and legal resource, all of which can make it hard to effectively deploy the capital required.
Branner replies: "The interesting observation I make is that when you get up to super-size, yes, the opportunities may become more limited, but you are also in a much less crowded space. So there are some similar investors to us globally but we can count them in tens, not in the thousands.
"Also, I think that the deal size that we can now provide is an area where few can compete with us. This balance between those that are able to invest and the number of deals that we see is still quite attractive. Of course, there's a lot of dry powder, in particular in the private equity space. And of course, money has been flowing into private equity vehicles.
"There, admittedly, I think there are maybe more pronounced problems with deploying capital, but in infrastructure and real estate I still think it's quite decent and the deal flow I see at my table every week is kicking and ticking quite well."
Two entities, one pension
Reforms in 2008 separated ABP as a public sector pension scheme from APG, acting as management and execution arm. ABP remains the majority shareholder although APG merged with Cordares – the administration and asset management arm of the Dutch building sector pensions scheme BpfBOUW – later in 2008. The care sector scheme PFZW went through a similar demerger process with its administrator PGGM at the same time.
As such, APG is a professional investment manager and pensions administration provider now serving seven pension funds – ABP, bpfBOUW, SPW, BPF Schoonmaak, PWRI, SPMS, PPF APG, and the Pension Fund for Architects' Practices.
This is in stark contrast to international practice, where the likes of ATP, Ontario Teachers Pension Plan or USS have always operated as integrated schemes, administrators and asset managers.
Separating schemes from execution was intended to make the relationship between asset owner and manager clearer and more distinct. Today, the central issue in Dutch pension funds and particularly for ABP, is that of the coverage ratio and whether future pension entitlements will have to be cut for participants.
Corien Wortmann-Kool, ABP's chair, said in the press release outlining returns for the second quarter of 2019: "The likelihood that we will be obliged to reduce participants' pensions in 2020 has increased considerably and there continues to be a very real likelihood of a reduction in 2021." So the challenges continue.
Asia is a focus in terms of illiquid assets, Branner explains, and APG has recently invested in shopping centres in China. "I think it's fair to say that more of the deals we see in infrastructure and real estate will come from Asia. That's why we are also beefing up our presence in Hong Kong."
In 2016, APG entered what was described as a "knowledge sharing joint venture" with Guangzhou-based E Funds Management, which has around €170bn under management. In 2017, APG committed €250m to what it described as the first ESG-focused China A-shares fund.
With clients like ABP under intense scrutiny, ESG is a key consideration, particularly in the sensitive area of exclusions. Here, APG is driven by what its clients want in terms of ESG criteria, but in line with other pension and asset managers it has taken its own stance in recent years and has integrated ESG in portfolio management.
In terms of ESG, as Branner puts it, "the whole investment organisation is basically doing it". He explains: "Maybe I'm talking the obvious here, but I think it's so important that sustainability is embedded in the investment process. Because if you don't do it, it becomes an overlay and it doesn't necessarily benefit our ultimate clients. Whereas if it is integrated in the investment process, some of these sustainability themes work to the benefit of the companies that we invest in, and we think that they will become long-term winners by doing it. That will be to the natural benefit of our investors and our pension holders."
Branner also tempers his natural inclination to engage with problematic companies, where there is a shared agenda, with the possibility to divest to remain aligned with sustainability objectives. He recognises that there is no "algorithm" to determine when this watershed has been reached, or when to recognise when to give up.
Branner also sees APG as a setter of standards as a representative of asset owners, with an ability to take a lead in integration of the UN Sustainable Development Goals (SDGs) and their translation into investable opportunities.
Tech and ESG: a happy marriage
Branner describes himself as a "tech guy", and technology has also been an area of focus for APG. This has been underlined by the creation of the GroeiFabriek innovation lab and the acquisition last year from Deloitte of Entis, a sustainable investment focused data analytics team. But in an era of data proliferation, does the value lie in the data or the interpretation?
For Branner the answer is clearly the latter and Entis represents an investment to retain an 'edge' in investment – in sustainable investing but also in quant generally, where the APG is looking to integrate ESG in quant credit investment approaches, for instance.
"I think technology and digitalisation will play a big role in all parts of the investment process, and the whole value chain of what we offer here," he says. Taking ultimate control and ownership of data is the key aim, in his view.
"I do not think that is something the COO or the operations or the IT people should do. It is actually something that has to happen at the very front with our portfolio managers. This is why there is also a strong
link to workforce planning and the future requirements for portfolio managers."
Branner views data exactly as he views sustainability: the two should be fully integrated within the competences of the teams.
"They all have to have a certain element of skill in this area. It's like languages. They all need to speak English; now they also need to talk a little bit of digitalisation. Or at least to be able to set requirements for how they see their data being digitalised fully. I think that has happened across the company. Then you have an extremely powerful proprietary data warehouse that you can use to benefit clients in the investment process."
Blockchain represents a balance of hype and hope for Branner. "I see some experiments with blockchain and I think given the hype with Bitcoin and other things, that there are some areas where I have my doubts that it's ever going to work, or whether it should work. But I think blockchain and the technology is interesting if it can really help us to STP [straight-through process] more parts of the process."
Speaking nine months after his appointment, Branner reflects on his goals. "My role is to help the organisation to be able to be long-term investors," he says. "I see it as a very important part of my role to give people space to be long-term. For organisations that can be secured in several ways. One way, very intuitively, is to have a diversified portfolio investment teams, so that you will always have teams that are struggling due to volatility, and you will always have teams that are shining due to volatility. And hopefully, the aggregation of that gives you a stable business where you're not forced to divest from people, or reinvest in people at different times, but where you can have stability.
"I really think that a professional investment organisation is dependent on two things: hiring a lot of investment talent, and then keeping it together for a long time. It sounds simple, but what is talent changes over time. Really, to attract and keep talent on board is top of my agenda. To make that happen, you need to create a certain level of civility and trust in an organisation. What we can call psychological safety, for employees to feel that they can act within this long-term.
"I take the challenges from clients, and regulators, and from other stakeholders, but always with the objective to do what is in the best interest of clients long-term. And preventing short-termism. I think that's a very important part of my role and my management team."
Markets and geopolitics are outside Branner's control, as is the future design of the Dutch pension system. But, it is certain that in moving to Amsterdam to take this role, both that Branner occupies a key role in Dutch public life and that he has a vision of how to help APG improve the retirements of 4.6m people.