Edinburgh-based Aegon Asset Management UK made a nod to its home city when it changed its name to Kames Capital in 2011. Henry Home, Lord Kames was a leading figure in the Scottish Enlightenment and in some ways very different from his asset management namesake. Whereas Lord Kames had a go at law, philosophy, anthropology, history, agricultural theory and literary criticism, Kames Capital has forged its reputation in a couple of well-defined areas.
"We are very clear about what we do and where our strength lies," says CEO Martin Davis. "We are not a waterfront player, we don't try to do everything, but in credit fixed-income and ethical investing we have built a reputation for being at the top end of the league tables."
Kames is not a fixed-income boutique, but three-fifths of its £55bn (€78bn) in assets are in bond mandates and Davis contends that, despite their already fantastic run, these markets will enjoy continued importance in investors' strategies for the foreseeable future.
"When I joined 18 months ago, there was a lot of talk about a 'Great Rotation' out of fixed-income," he recalls. "Remember that? Having seen things from the customer's side over the previous 10-15 years in different parts of the value chain, I didn't buy that for a moment."
Demographic forces imply a relatively low-inflation, low-rate environment on the one hand, and a cohort of retirees in need of supplementary income on the other, he argues. This is why, despite valuation concerns voiced by Janet Yellen and the oil price collapse both contributing to volatility in high-yield markets in 2014, outflows were relatively modest and short-lived: investors simply have nowhere else to go.
"Fixed-income isn't going anywhere," says Davis, who sees huge opportunity as more savers watch their growing pension pots ever more closely, and the accumulation-to-decumulation cliff edge getting shallower as people work into old age and defer annuitisation.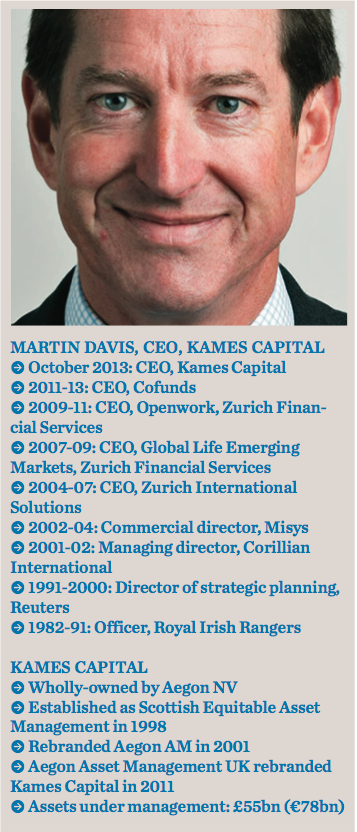 "We think everyone is going to have a part of their portfolio dedicated to generating regular income, regardless of where they are in the pensions-saving journey," he explains. "We launched our Diversified Income fund in March 2014, which pays out income monthly. That's wickedly difficult because income tends to come in big quarterly or half-yearly slugs, but we worked hard on smoothing it out because we identified a growing demand for this sort of solution."
No doubt the roots of this expertise are in Kames Capital's history as a life insurance asset manager – it was established as a dedicated investment business within Scottish Equitable in 1998, the same year that Aegon raised its 40% stake in the insurer to 100%. However, with this kind of client moving away from higher-yielding assets and high-margin active strategies, Kames is now reducing its dependency on its parent's assets for the sake of both profitability and the continued exploitation of the expertise it has built. From 65% two years ago, Aegon represents 50% of Kames' assets today, and only 30% of its revenues.
Optimising the mandate mix for profitability explains why Davis is relaxed about the fact that his firm's AUM has not budged much over the past few years: as low-margin business flowed out, high-margin business flowed in, pushing profits up by 30% over the past two years. This sounds cut-throat, but to show the benefits working both ways, Davis offers the example of how Kames swapped a low-revenue mandate with a big third-party client for an active property mandate with the same client, generating about the same revenue on a fraction of the assets.
"The client pays us to add value rather than sit on a bunch of assets not doing much for them," he reasons.
AUM is growing slowly because legacy business is falling away, but also because the high-margin, high-alpha mandates are more capacity-constrained. Davis reckons there is five years' growth to be had from today's core products, but to get beyond that Kames has already begun to build capabilities in property – its UK Active Value Property fund just closed at £275m, 18 months after launch – and equities.
"Our ability to generate cash-plus-2% consistently in fixed-income won't persuade investors of our ability to deliver 12-15% buying and selling buildings – we'll have to earn our spurs in other markets," says Davis. "But there are common investment philosophies that can be transferred across the teams. One area where flows are taking us close to capacity, and we are building new products in adjoining spaces, is absolute return. You can only go so far with absolute-return bonds, but you have many more options when you move into equities. We added two market-neutral funds to our offering in December."
All of this was an important reason for the 2011 rebrand. Davis sees it as drawing "a real demarcation" between Kames and its parent. But it was also about appealling more to the UK retail investor than the institutional Aegon brand could. Four years on, the emphasis is changing again.
The firm has been making its operational processes more institutional client-friendly for the UK market, and recently hired Peter Ball, who brings experience from both JLT and JPMorgan Asset Management, as director of institutional business. The work he has already done consulting for Kames yielded good results through 2014: two buy ratings from top-five consulting firms and 23 new mandates from the likes of the West Midlands Pension Fund, Kent County Council, Kensington & Chelsea Borough Council and the Leicestershire Country Council Pension Fund.
Ball was also appointed head of business development at Aegon Asset Management. That overlap points to a desire to make the regional businesses – branded Kames in the UK and Aegon AM everywhere else, with multi-manager outfit TKP Investments also present in the Netherlands – work more closely together.
"At the moment, no-one else sells Kames and we don't really sell the group's other capabilities," says Davis. "Our Dutch operation has a market-leading mortgage product that we are talking about now because our clients have a real appetite for that type of exposure. In addition, we have a very strong emerging market debt capability in the US and very little here. Our relationship with the Unilever pension schemes in the Netherlands, the UK and elsewhere is a good example of how this will work: we sell to them as Kames Capital, but we'll increasingly be taking a global view as Aegon Asset Management, so that a client like Unilever takes some of capabilities from us, some from the US, some from the Netherlands."
The result should ultimately look a bit like an international multi-boutique, where businesses that have evolved specialisms for their home markets are able to distribute them through one another – ideally resulting in a wide range of strategies with no dilution of expertise. Perhaps Lord Kames, a Renaissance man from a time of Enlightenment specialisation, was the right namesake, after all.