Howard Marks is the co-founder and co-chairman of Oaktree Capital Management, known in the investment community for memos to clients which detail distressed debt, credit and other investment strategies, insights into the economy, as well as for his distinctive investment philosophy. Long a fan, Buffett enticed Marks to condense his views into a book with the offer of a cover blurb. So when The Most Important Thing appeared in 2011, it carried Buffett's pithy plug: "When I see memos from Howard Marks in my mail, they're the first thing I open and read."
That is high praise from the Oracle of Omaha. So what is the most important thing? For investment success, says Marks, the priority is to learn to think about the relation between an asset's price and its intrinsic value, how that relationship changes over time, and what the balance is for a given asset at any particular time. While theoretical training is necessary, the prescription for investment success today is a healthy dose of psychiatry because despite modern portfolio theory's claims to the contrary, the one thing you can count on is that people are not objective, non-emotional actors when it comes to buying and selling financial assets.
Marks described Oaktree's investment philosophy, his approach to risk and liquidity and the increasing difficulty of finding inefficient niches at the sixth annual investment conference on behalf of Make a Difference Wisconsin, a Milwaukee non-profit making foundation that teaches financial skills to high school students. Founded by David Einhorn an activist manager and Milwaukee native, the foundation's annual conference has become a must-attend event, affording a rare, on-the-record view into the thinking of some of today's most innovative – and successful – investors, such as Bill Ackman of Pershing Square Capital Management, Jim Chanos of Kynikos Associates and Rick Rieder, head of fixed income at BlackRock.
The focus on intrinsic value is the heart of Oaktree's investment philosophy. "There's no such thing as a good idea or a bad idea until you talk about price," Marks says. But striking the right balance between value and price is particularly tough in today's markets. "All assets are highly priced today. Interest rates are artificially and generationally low, and everything looks high yielding." As a result, "there are no bargains – there's nothing you can buy below intrinsic value."
That represents a formidable challenge to institutional investment managers – one that Oaktree overcomes with disciplined thinking about prevailing market conditions and consensus forecasts. "What you really need is psychiatry," says Marks. The prevailing view that asset prices reflect all available information is useful, but the assumption that all investors are acting rationally all the time does not square with practical experience. "I do believe the market price reflects the consensus, and what most people think an asset is worth," says Marks. "I don't believe the market price is right all the time," he adds. "There are mistakes all the time in prices, but most people can't take advantage of them."
Some of the biggest sources of mispricing result from fundamentally misunderstanding risk, potential return, and liquidity. Risk, for example, is defined as volatility, for the simple – but misplaced – reason that volatility can be measured, says Marks. But that conception of risk misses the mark. "I never heard anyone say 'I might buy that except that I think it might be volatile.' Investors say 'I might buy that except that I think it might lose money'," he says. "Nobody I know is concerned about volatility – we're concerned about losing money. And you can't measure the probability of losing money."
In a similar vein, the presumption that the ability to sell an asset quickly means investors can rely on something called liquidity as protection against loss is a misplaced source of comfort. "Liquidity is not a feature of an asset," Marks says. "It's a characteristic of a security today that might be different next week. You can't say a stock is liquid on a given day – that can change. It depends on what you want to do, and what does everybody else want to do." The prevailing belief that most assets are sufficiently liquid that investors can get out of positions at any time," he says, "is not a good way to invest."
Marks developed Oaktree's philosophy during a career spent pioneering investment in several asset classes that are now mainstays of institutional asset allocation. But those expecting to hear a tale of Marks starting to read prospectuses at the age of eight will be disappointed. While some investors may have done so, "I didn't," says Marks.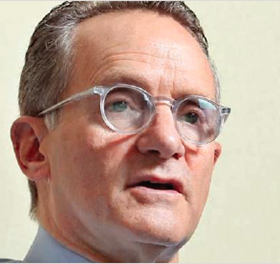 Howard Marks
Co-chairman, Oaktree Capital Management
• 1995: Co-chairman, Oaktree Capital Management
• 1985-95: TCW, responsible for distressed debt, high yield and convertibles
• 1969-85: Citicorp Investment Management
BSEc, Wharton School, University of Pennsylvania; MBA, Booth School of Business, University of Chicago
"I didn't have a philosophy then, when I started," he says. "I knew I wanted to do something in finance, but I wasn't very specific," he says. That was 1969, and there were no famous investors for graduates to emulate. So Marks, fortified with a finance degree from the Wharton School of the University of Pennsylvania and a University of Chicago accounting degree, interviewed in half a dozen fields. Having enjoyed a summer job in Citibank's investment department, he signed on. "There was nothing remarkable about the investment field at the time," he recalls. "All six jobs paid between $12,500 and $13,500 – a year, not a month."
At Citibank in 1978, Marks was tasked to meet Michael Milken to hear about his novel approach to fixed-income investing. Milken held that the best way to invest in debt was to buy unrated or low-rated bonds after analysts eliminated those most likely to default on their payments. The survivors would rise in price, generating superior returns to investment-grade bonds, which, by definition, could only deteriorate if the issuer's financial performance suffered over the term of the bond. Marks launched the first junk bond fund after the meeting. "I'm a great believer in luck," he says. "And luck is not distributed equally."
After a stint at TCW, Marks in 1995 co-founded Oaktree with TCW colleague Bruce Karsh. The new firm was organised to invest according to a single philosophy, rather than a variety of approaches for different products in a multi-line firm. Today Oaktree works diligently to drive losers out of the portfolios it manages, which now include over $99bn in strategies ranging from distressed debt and corporate debt to convertible securities, real estate, and private equity control investing. The firm limits its investing to niche markets where it believes the potential for reward outweighs the risk entailed.
Marks did not start writing missives to clients until he had more than two decades of investment experience. One of the most critical developments in investing over that time has been the rapid increase in the efficiency of virtually all asset markets, he says. "It's really hard to find inefficient markets," says Marks. "It's harder to beat the market," he adds, and as competing investors move rapidly into new opportunities, "the margin of superiority will shrink".
The difficulty of beating benchmarks has resulted in a years-long flow of institutional assets into low-cost passive vehicles. "But investing is a funny, paradoxical thing," Marks says. While "it's extremely easy to do the average", market-beating performance only results from making correct non-consensus forecasts – which are hard to make, harder to make consistently, and hard to act on.
Nevertheless, the desire "to beat the market will still be in demand". To have a fighting chance to do so, the most important thing investors can do is look past any one thing going on this quarter, and cultivate an unconventional way of thinking to generate ideas about asset values that differ from most other investors' ideas. From that perspective, a psychiatrist's couch may be a more valuable tool than a Bloomberg terminal.