What doesn't kill you makes you stronger. The phrase from nineteenth century German philosopher Friedrich Nietzsche has achieved cult status. However, it is probably under appreciated how much it has applied to the investment world.
The roots of much systematic thinking about investment can be traced to the October 1929 Wall Street crash and the resulting Great Depression. What we know as value investing and growth investing were devised during that period. The motivation for both approaches was to find more rigorous ways to manage risk.
Robeco's origins are as a Dutch response to the same trauma. Only a few weeks after the Wall Street crash, a group of seven Rotterdam businessmen set up the Rotterdamsch Beleggings Consortium. The start was inauspicious, with the group losing half its assets in the first two years. But from the start, Wim Rauwenhoff, the group's first director, placed a heavy emphasis on research.
This legacy is still apparent today with the group describing itself as "investment engineers". Gilbert Van Hassel is keen to underline this point in his description of the firm. "We have extremely smart people," he says. "If you have a computational degree, or an economics or econometrics degree, and you're at the top of your class, and by preference you have an advanced degree or even a PhD, and you like chess, then you're for us."
He points to the group's close ties to Rotterdam's Erasmus University to substantiate his point. Robeco recruits from the best students and many of its staff teach at the university for half a day or a day a week. "We are really part of this society and it creates a culture of excellence and scientific backgrounds," he says.

This emphasis on research is clearly reflected in the proportion of assets accounted for by quant-based strategies. At present, these comprise €48bn out of €147.3bn in assets under management. ESG criteria are integrated into most investment processes. Van Hassel sees these as central to Robeco's mission for several reasons including enhanced risk management and seeing sustainability as a long-term force for good. He also points to strong demand from millennial clients.
The priority the group gives to research is reminiscent of Dodge & Cox, the San Francisco-based firm profiled in this section in February. That US company was also founded shortly after the Wall Street crash.
However, there is an important difference. Whereas the American group had a large domestic market and investment universe it could tap into, Robeco's market was relatively small. For that reason, it has always taken a highly international approach. For example, it was investing in South American stocks as early as 1930. It also expanded rapidly to Europe, North America and the Netherlands East Indies (now part of Indonesia).
Today, the group remains highly international. In that respect it is true to the international character of a city which is Europe's largest container port. It runs Asian equities out of Hong Kong and regional bonds out of Singapore as well as managing its relations with global financial institutions from London. It also has a Chinese presence in Shanghai although this is more in the hope of future business rather than immediate returns. "China is still more of an opportunity than a real business but it is an area we don't want to miss out on," says Van Hassel.
There is another respect in which Robeco is global. Its ultimate owner, the Orix Corporation is described as a Japanese leasing company. However, Van Hassel argues this is an imperfect description. In his view it is more like "a financial services company that looks a bit like a private equity company". The group owns about 1,000 companies of which perhaps 700 have substance. However, unlike a private equity firm, its goal is to earn revenue from the firms that it owns rather than focusing on the best time to exit.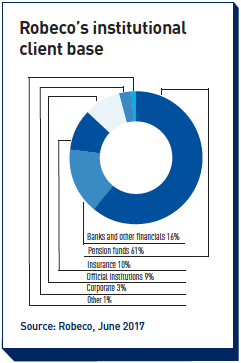 Van Hassel, who lived in Japan for seven years during his time at JP Morgan, argues that Orix is different from the typical Japanese company in other ways. "The people at Orix, especially at the senior level, are quite direct," he says. "In that respect, it's far more Anglo-Saxon than most Japanese companies."
In between Robeco and Orix is the holding company, RGBV. This includes Robeco plus several other autonomous fund management companies – Boston Partners, Harbor Capital Advisors, Transtrend, RobecoSAM and Canara Robeco. In total, the group has €282.2bn in AUM, of which 49% is institutional.
Given its international character, it may come as a surprise to some that Van Hassel argues the firm is insufficiently global. "We have been relatively late in developing our distribution system and we have been relatively late in doing it in the biggest markets," he says. About 85% of its client base is European, with the rest split evenly between the Americas, Asia, and the Middle East and Africa.
Nevertheless, he argues that the Dutch market will remain important. Apart from its distribution relationship with the big Dutch banks – ABN Amro, ING and Rabobank – it maintains ties with the country's pension funds. In relation to the latter, Van Hassel is critical of those that have assumed the giant Anglo-Saxon fund groups must be better. "A lot of these pension funds are starting to realise that a couple of billion is not a big deal for somebody who manages trillions," he says. "For us, contrary to the trillion-dollar companies, a couple of billion is a big deal."