The COVID-19-induced market crash of 2020 has battered investors, and in particular the fans of value investing. In the first quarter, value lagged growth by nearly 14% in the US and 13% globally, exceeding quarterly shortfalls at the trough of the global financial crisis. These losses are second-worst among all quarterly outcomes in over four decades, eclipsed only by the runaway tech bubble in the fourth quarter of 1999, as growth soared and value stalled.
Many pundits and investors are declaring value dead
A value rebound will eventually come, even if it is hard to predict the exact turning point
Value investors should keep calm and maintain the long view
Pain and volatility should be viewed as faithful friends
That value stocks have suffered in both euphoric and crashing markets only exacerbates investors' frustration. When the broad global market soared by 26.6% in 2019, value trailed growth by 11.4%. When the broad market tumbled by 21.4% in last quarter's take-no-prisoners crash, value lagged growth by 13%.
Many long-time value investors may have grown weary. This bruising quarter follows a 13-year span of underperformance, putting value investing in its deepest and longest drawdown in a history spanning over a half-century. Understandably, many pundits and investors (and even academics) claim that value investing is dead.
My colleagues and I analysed the latest travails of value investing. Our research confirms that the structural engine of value investing remains resilient. Value companies are generally less profitable than growth companies, but the gains from rebalancing into value meaningfully and consistently surpass the losses from any profitability differences.
As with any rebalancing discipline, value investing fulfills a fundamental tenet: buy low and sell high. The act of adding newly deep-value stocks offering improved potential yield (buying low) and shedding lower-yielding stocks that no longer qualify as value stocks (selling high) has rewarded generations of patient investors.
So if value investing is not broken what explains its latest woes? Value has underperformed by becoming cheaper. Value has lagged growth by more than 5% per year since 2007, but it has been getting over 6% cheaper relative to growth per year. Imagine if the valuation spread between growth and value had remained steady; value would have won by over 1% per year. Imagine if the trend reverses, and value reverts towards past relative valuation norms at that same 6% annual pace; value would theoretically outperform growth by 7% per year.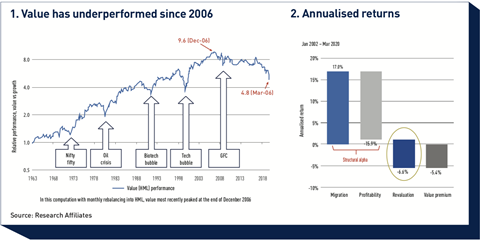 I am often asked what catalysts will trigger the rebound in value investing. It will be hard to be perfectly right on the turning point, but do not wait for good news, just until the pattern of bad news lets up. It is too bad we do not call the equity risk premium the 'equity fear' premium because the risk premium is at its best when fear is at a peak. I strongly believe we have not seen the last bout of peak fear.
We draw comfort from history: when valuations are extreme, turns become nearly inevitable. Valuation matters. Economist Benjamin Graham liked to distinguish a temporary loss of value from a permanent loss of capital. The former is a rebalancing opportunity. The latter is a disaster. COVID-19 will create many of the latter, but our government leaders, regardless of party, will not likely permit large numbers of the most visible and most connected public firms to fail.
The inherent discomfort we have in buying those assets most out of favour – which requires us to act contrary to human instincts shaped by evolution – may be why the capital markets are the only large segment of the global economy in which customers hate a bargain.
So, in uncertain and frightening times, what can value investors keen on achieving sustainable investment success do?
First, maintain discipline and take the long view, which are both in short supply. The pain leading up to the turn can test the patience of the most disciplined investors. Investors tend to lose patience when buying whatever is unpopular and selling whatever is popular does not quickly add value. The short-term crowd of performance chasers ultimately funds the success of the long-term investors. As the French sculptor Auguste Rodin said: "Patience is also a form of action."
Second, beware of nowcasts, which are narratives that explain the recent past, masquerading as forecasts. Nowcasting can feel intuitive, resulting in cogent explanations of the past, but they are rarely useful as forecasts. Nowcasting can be costly when used to confirm unfounded beliefs or encourage us to abandon our investment philosophy at inopportune times, turning temporary setbacks into permanent losses of capital.
Finally, view pain and volatility as faithful friends, which give us chances to reassess newly formed opportunities. With a long history backed by compelling theoretical and empirical support, value investing has underperformed, simply by getting cheaper and cheaper. By some metrics, value stocks are now trading at their most compelling relative valuation levels ever.
Value investing is bruised but not broken. Let others invest in comfort. We win when we apply the courage to stay the course, even taking on more discomfort when it is most frightening – and most profitable – to do so.
Rob Arnott is the founder and chairman of the board of Research Affiliates