The COVID crisis has brought profound changes to the credit markets
Key points
The pandemic has hit the credit market in several different ways
Substantial intervention by the authorities has kept markets functioning
The European primary market has seen a record level of new issuance
The COVID crisis has brought a renewed focus on ESG
The COVID-19 pandemic is a prime example of a 'preventable surprise' but one that should have been addressed by governments as well as corporates. Investors in all asset classes are facing uncertainties and risks that throw into question the survival of companies and industries that once seemed solid. For investment-grade debt investors, the world may have changed, but there is still hope and opportunities for the future.
Several shocks have hit the global investment-grade credit markets. First, points out David Lloyd, head of institutional portfolio management at M&G, there is the course of pandemic itself. This includes the various government responses to the medical emergency – most notably the lockdown measures that have confined entire populations within their homes.
Second, there is the policy response to collapsing economic activity – with governments and central banks around the world aggressively loosening fiscal and monetary policy. "The crisis shocked the entire European economy on a scale the financial system was not prepared for, which has led to credit shortages as lenders are reluctant to extend credit due to the likelihood of higher default rates," says Sonal Desai, chief investment officer, Franklin Templeton Fixed Income.
Third, markets are being driven by the differing impact of the pandemic on sectors and individual companies and their prospects for recovery.
The initial shock of the pandemic and the associated oil price collapse caused spreads in the credit markets to reach records highs. That led to significant liquidity risks and the risk of completely dysfunctional credit markets. When all trades are one way, liquidity becomes a challenge.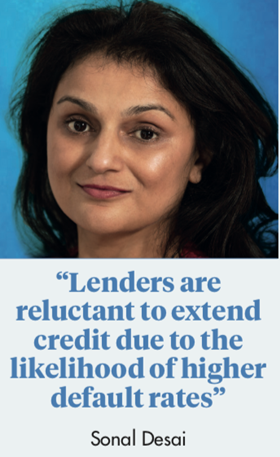 In the US, corporate bond exchange-traded funds (ETFs) which were meant to be following an index fell to discounts of more than 7% as investors rushed to exit. "Bid/offer spreads on trades doubled from 5bps to nearer 10bps, corresponding to 50 cents in cash prices,'' says Lionel Pernias, a portfolio manager at AXA Investment Managers. However, as he adds, for those investors looking to buy bonds in the sell-off, liquidity has not been a problem.
The massive spread rises meant that implied default probabilities ballooned on both bonds and derivatives. Central banks reacted quickly, though, with a strong message to investors that they would do whatever is necessary. "The European Central Bank announced it would undertake QE [quantitative easing] using corporate bonds so that investment-grade spreads fell back to 200bps," says Grégoire Pesquès, head of global credit at Amundi.
In the US, corporate five-year BBB spreads had widened 250bps by 23 March when the US Federal Reserve made its historic announcement that it would begin providing support to the US corporate bond and loan markets, says Andy Sparks, head of fixed income research strategies at MSCI. That included buying bond ETFs for the first time ever.
Monetary and fiscal policy measures have been especially helpful in restoring liquidity in the bond market, as governments assume credit risk, says Franklin Templeton's Desai. "Conditions are attached to get access to government support, such as dividend cuts, which is an overall positive for the euro investment-grade debt market."
By mid-May, there had been $200bn (€177bn) of downgrades of investment-grade credits to 'fallen angel' status in the high-yield market, most in the US, says Tim Crawmer, global credit portfolio manager at Payden & Rygel. "A big part of that is that oil exploration and production companies have been downgraded on the back of lower oil prices. In addition, Ford immediately became one of the largest high-yield issuers when it was downgraded in late March. These companies also issued in euros, which had an impact on the European credit markets, along with companies like Renault, Kraft and Pemex."
As of mid-May, about $150bn of European investment-grade bonds were rated as high yield by at least one rating agency, or were rated BBB- and on a negative outlook, so could be downgraded to high yield, says Crawmer.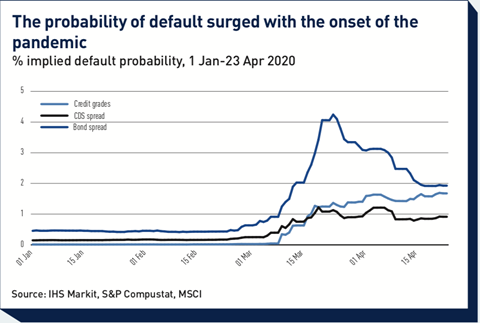 Much of that was subordinated debt issued by European banks such as Deutsche, along with autos, infrastructure and some oil companies as well. "As the total size of the European high yield is around €350-400bn, an overhang of another possible €150bn represents a considerable chunk," he says.
For the investment-grade market as a whole, as Desai concludes, most issuers have the financial flexibility to deal with short to moderate-duration business disruptions, although some companies in the most badly hit industries will face significant challenges. "The timing and progress in restarting economic activity will be an important factor in determining how badly individual corporate issuers are hurt and how quickly they recover," she says.
The willingness of governments and central banks in the US and Europe to support companies has helped ensure the investment-grade market, and to a certain extent the upper end of the high-yield market, were able to fund themselves and that these credit markets were functioning, says Henrietta Pacquement, head of investment grade for Wells Fargo Asset Management.
In the US, the Fed was grandfathering support for 'fallen angels' – the companies that had fallen from investment grade to high yield. The Fed was willing to purchase high-yield debt issued by companies that had been investment-grade prior to a cut-off grade, Ford being a good example, having been investment-grade in January and reduced to junk as a result of the crisis, "Investment-grade companies tend to be large employers in sectors of national interest like autos, airline construction with Boeing and Airbus," Pacquement says.
The substantial backstop introduced by unprecedented central bank purchases has led to record issuance levels in both euros and dollars, says Yannik Zufferey, CIO, fixed income, at LOIM. In April alone, over $83bn was raised by European investment-grade-rated companies, according to Refinitiv data. That underlines the ample demand that is still present within the asset class to provide liquidity to corporations. "Many issuers from the more challenged sectors, particularly automotive, have taken the opportunity to tap new issue markets often with a significant premium," Zufferey says.
The European primary market ran at a record pace and by mid-May new issuance as a whole was up 23% year-over-year, although financials were issuing less. "Following the ECB's announcement of the Pandemic Emergency Purchase Plan, the euro investment-grade bond market saw a high volume of new issuance by ECB-eligible corporates that was rapidly followed by ECB-ineligible corporates, including reverse yankees," says Desai.
She explains that while, initially, companies prioritised funding access over cost, with deals relatively price-insensitive but with a high level of oversubscription, there was a decrease in new issue premiums which by mid-May were almost back to normal. The US also saw a surge in issuance, as companies across a wide variety of industries accessed markets to bolster liquidity or extend near-term debt maturities in the face of Covid-19 uncertainty. By the end of May, the $1trn mark had been raised for this year, double the rate seen in 2019, according to Credit Flow Research.
"Issuers from the more challenged sectors have taken the opportunity to tap new issue markets often with a significant premium" - Yannik Zufferey
Clearly, the pandemic has hit some sectors much more severely than others. As Lloyd points out, hospitality, travel and leisure has been hit not only by an almost total cessation of revenue, but by concerns that a 'back to normal' recovery will take a considerable time – if it happens at all. "Airlines, for example may see a structural shift away from lucrative business travel as companies permanently adopt the patterns of working and client interaction that the crisis has forced upon them," he says.
Other sectors that already had existing structural problems have also been hit hard, with autos being a prime example coming into the crisis with high debt loads, huge capital spending requirements (to pivot towards electric vehicles) and facing the impact of trade tensions on their global supply chains.
Slowing global growth also hurts sectors that are highly correlated to economic activity such as energy, metals and mining. "Within these sectors, companies with the strongest balance sheets outperformed more leveraged players," says Lloyd. Rental income is under threat for property investors but less affected sectors include telecoms, technology and utilities where revenues are significantly less impacted by the lockdown and for some companies might even have increased.
The markets may look very different after the crisis. "It was clear that the risks in the energy sector were not being truly priced in, while systems and technology have enabled flexibility and survival for sectors such as real estate and retail," says Pesquès. The world will show an acceleration in the transition to new working practices in such sectors. Perhaps of most significance will be a change of view regarding ESG and sustainability.
Desai points out that the COVID-19 crisis has brought new focus on social issues such as labour relations, employment levels and the ability to keep both employees and customers safe. Good governance, especially the ability to steer a company through unprecedented and unexpected conditions, has never been more important.
Credit: Investment grade credit markets in a pandemic
1

Currently reading

Credit: Investment grade credit markets in a pandemic

2

3

4