COVID-19 has hit many emerging markets (EMs) hard. In addition to the growth shock, many have suffered capital outflows, collapsing commodity prices, falling revenue from tourism and a depreciation of their currencies against the dollar.
KEY POINTS
Emerging markets have been hit harder than their developed counterparts
Countries are facing rapid changes and uncertainties
The impact on ratings and outlook has been profound
The rapid growth of the pandemic created immense challenges for the rating agencies struggling to keep up with the rapidly worsening economic impact. This was against a backdrop of huge uncertainties on the timetable and efficacy of treatments, whether vaccines or anti-viral drugs.
Most emerging markets, with the significant exception of China, are still facing a prolonged battle against an increased spread of the COVID-19 virus. They also face challenges in implementing measures to shore up their economies. "If weaker EMs try to implement quantitative easing, then there would be simply an exit button from their own currencies so they don't have so much policy flexibility," says Ed Parker, head of EMEA sovereign ratings, at Fitch Ratings.
Their actions in terms of tightened containment measures, delaying phased openings or re-introducing selected measures to contain the spread of COVID-19 cloud the recovery outlook, according to analysts at S&P Global Ratings. They also point out that the rising threat of a second wave of COVID-19 in developed markets also poses a downside risk to EMs. Their attempts to contain it could result in another bout of pessimism towards global demand, trade, and commodity prices, slowing their recovery.
Given the backdrop, it will not be a surprise to EM debt investors that 2020 has turned into a record year for downgrades. By July, Fitch Ratings, for example, had made 28 downgrades of EM sovereigns – the highest ever annual total, says Parker.
In addition to downgrades, there has also been a record change in outlooks, with Fitch showing a negative balance of 31, from five at end-2019, signalling further downgrades are inevitable.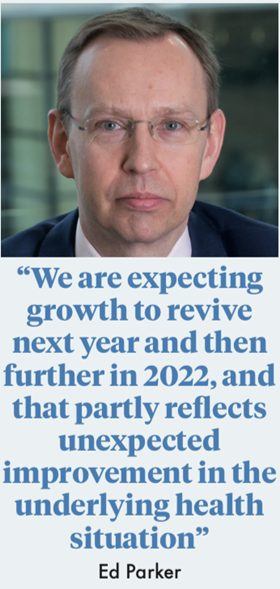 Four sovereigns had defaulted by August 2020. These were Argentina, Ecuador, Lebanon and Suriname and it is clear that others will follow. Four countries have seen more than one notch of rating downgrade – Gabon, Aruba, Seychelles and Oman. Two of these are tourist destinations and two are oil producers, which illustrates that these two key EM sectors have been hardest hit by the pandemic.
China is the exception to the general pattern in emerging markets. Its recovery is the result of both its success in managing the virus and its support package, which may hold lessons for others, argues Fitch analyst Andrew Fennell. Industrial activity and policy-driven parts of the economy bounced back quickly, followed by a strong recovery in property sales and development.
By contrast, consumer activity and services took longer to revive, with retail sales appearing to have reverted to growth only in June. "Highly discretionary consumer categories such as catering, entertainment, hospitality, and travel remain well below pre-pandemic levels, whereas staple goods have already rebounded," says Fennell. He suggests that manufacturing economies, such as Vietnam, might recover more quickly than those that are more service-based, such as Thailand or, even more so, Singapore.
For EM corporates, the downturn in headline GDP growth has also had a pronounced credit impact. By August, the latest high-frequency indicators such as retail and automobile sales, tourism inflows and industrial production were generally showing steep, double-digit declines across the board, says Rahul Ghosh, senior vice-president, emerging markets research and outreach at Moody's. "In general, the pullback in consumption and expected slow recovery trajectory will continue to damage earnings and revenue prospects for rated EM companies, leading to material credit stress for those lower down the credit-quality spectrum," he says.
In mid-August, about a third of the 734 EM non-financial companies that Moody's rates, carried either a negative outlook or were on review for downgrade. Three-quarters of those with a negative bias are rated below investment grade.
Given the huge uncertainties on the timing and even the potential efficacy of vaccines, rating agencies cannot be expected to incorporate a rapid end to the pandemic via a vaccine-led solution. Instead, as Parker explains, Fitch does not try to predict exactly when an effective vaccine will be produced but, rather, to reflect more of a broad understanding of the expected path of the underlying situation: "We are expecting growth to revive next year and then further in 2022, and that partly reflects unexpected improvement in the underlying health situation."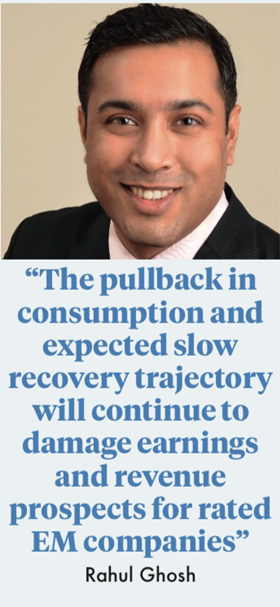 From a credit differentiation point of view, debt sustainability is an important criterion for both sovereigns and corporates, argues Lale Akoner, senior market strategist at BNY Mellon Investment Management.
Dealing with the pandemic fallout has meant debt levels ballooned, making the future unwinding of this liquidity tricky. Gauging debt sustainability, Akoner says, is reliant on a number of metrics including debt as a share of GDP, flow of debt from rising fiscal deficits, real GDP growth, and level of interest rates to be paid on debt. It is also important to monitor fundamentals for countries on three fronts – growth, inflation and current account profiles, as well as the availability of fiscal and monetary space to fight the pandemic's hit to markets and economies.
For sovereigns, political stability, adherence to reform agendas, credibility and independence of central banks – especially as several EMs are implementing QE-like policies – are also important to monitor.
How have the rating agencies performed? Anupam Damani, head of EMD at Nuveen, says they have, on the whole, done a good job in trying to focus on the transmission channels for the pandemic – how the COVID-19 shock is affecting economies, the financial buffers available and the macro-economic response. Where the value proposition of the rating agencies is particularly high, says Damani, is in the EM corporate world. As Damani points out, almost 50% of them do not have an equity listing dramatically reducing the publicly accessible data: "That is also true for smaller countries in regions like Central America and the Caribbean where there have been a lot of rating downgrades."
The future still looks grim and the rating agencies are clearly looking at worst-case scenarios. S&P analysts point out that if downside risks materialise, corporations will remain pressured, many small to mid-size enterprises could go bankrupt, unemployment will rise, and financial institutions could take a hit as nonperforming loans increase. Such a scenario would result in further downgrades and defaults.
For fund managers the challenge is pre-empting rating changes since, as Damani points out, you can start seeing a rally take place prior to a rating change because the market has already moved ahead of the ratings.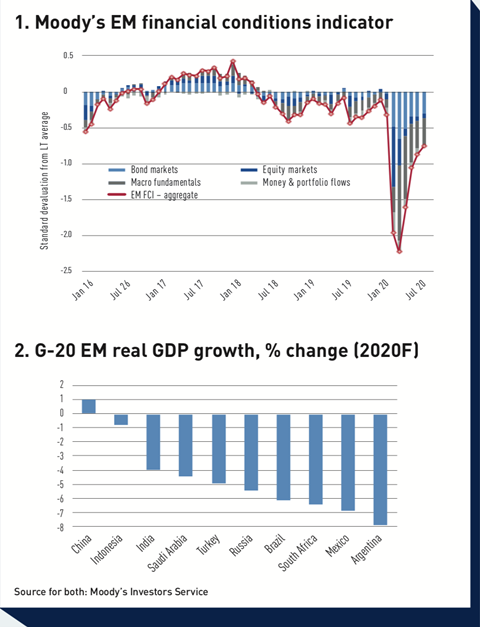 Damani says: "Rating agencies are struggling with similar issues to us over the huge uncertainties. But, as market participants, we can be possibly more optimistic regarding vaccines. I'm not sure rating agencies are building that into their framework as yet". It is not only investors that are hoping progress on vaccines will soon lead rating agencies to have the confidence to do that.
Emerging Market Debt: Downgrade deluge
1

Currently reading

Emerging Market Debt: Downgrade deluge

2

3