India and China offer a template to understand future perspectives in light of COVID-19  
Key points
Using a single lens to view divergent emerging market economies has its drawbacks
Comparing India and China may illustrate the two ends of a spectrum of strategies
Emerging economies will survive despite the tribulations
How should we look at emerging markets in the midst of a pandemic? Perhaps today, more than ever, the drawbacks of adopting the single moniker of 'emerging markets' to describe such a heterogenous universe is becoming blindingly obvious.
While it may be many months before we can say anything with certainty, the contrasts between India and China may provide an illustration of the extreme ends of the likely impacts. While the two Asian giants have similar population sizes, with China having a population of 1.4bn and India 1.3bn, the impact and likely course of the coronavirus on their populations and on their economies appear be strikingly different.
The coronavirus pandemic that has been rapidly destroying the global economy started in Wuhan, the capital of central China's Hubei province. China imposed a drastic lockdown in Wuhan on 23 January this year, which had dramatic effects on the Chinese economy and stock markets. The rest of the world appears to be following China's path, albeit lagging by different degrees.
Italy was just a few of weeks behind and has fared worse than China. The US under Donald Trump dropped the ball completely and is now living with the consequences. But China's hard-line approach appears to have stopped the epidemic in its tracks, at least for the time being. Assuming that it can maintain a very low rate of new cases – and recent infections appear to have all been associated with outsiders entering the mainland and Hong Kong, as of end March, the hopes are that China's economy might resume 80-90% of normality by May.
That could leave China as one of the most attractive major economies in which to invest, in a period when the rest of the world is struggling to cope, with whole sectors staring at bankruptcy.
"The only certainty these days is uncertainty," says Yoram Lustig, head of multi-asset solutions, EMEA, at T Rowe Price. Although he can only postulate scenarios, Lustig sketches out three: a good scenario would be a v-shaped recovery where the global economy takes a hit in Q1 but the panic then subsides, with a slowing rate of new infections or a vaccine for the coronavirus, meaning we could envisage a sharp recovery soon.

A second, less attractive, scenario would be a u-shaped recovery that could linger for a few months, with policy makers doing what they can through monetary and fiscal policy to stimulate the global economy, which could start to recover after a few months.
In a third scenario, the virus takes a tremendous toll on the global economy. If investors lose confidence in the ability of policy makers to alleviate the problems we could see a Japanese-style slump globally. "This could see the Japanification of developed markets, which would then have an impact on emerging markets," Lustig concludes.
And within individual emerging economies, the scenarios look likely to differ strongly between emerging economies including China, Taiwan and South Korea, on the one hand, and other emerging markets. What may be seen as authoritarian regimes have had the advantage of being prepared to impose draconian restrictions on personal freedoms that have appeared to stop the progress of the virus in its tracks. "Test, test and isolate" is the mantra of the World Health Organization's director general, Dr Tedros Adhanom Ghebreyesus. Those regimes took that to heart.
China's GDP shrank by 6.8% in the first quarter of 2020 compared with a year ago. It was the country's first contraction in decades. The IMF forecasts a contraction of 1.2% over the whole of 2020 – a dramatic decline from the Asian giant's spectacular GDP growth, with figures expected to range from declines of 5% to 8%. But growth is expected to pick up in the second quarter, with perhaps an overall figure of 3.5% for 2020. Valuations are now below their historical averages, making this an opportune time to invest, argues Ken Wong, client portfolio manager at Eastspring Investments. The 2003 SARS epidemic may shed some light as to the possible future behaviour of China's markets.
"The Hang Seng index fell from its peak of over 10,200 in December 2002 to 8,400 in April 2003, at the peak of the epidemic," notes Wong. "But there was then a rapid bounce-back to reach its December 2002 highs by July 2003 and to over 12,500 by the end of December 2003."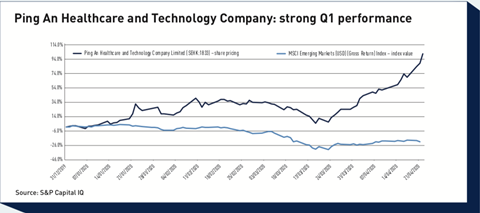 For long-term fundamental investors, there are attractive opportunities in China, says Juliana Hansveden at Nordea Asset Management. Software is one, with applications for working remotely or cloud sharing. In healthcare, some of the latest developments could be of great value to hard-pressed healthcare systems, even in developed nations. Hong Kong-listed Ping An Healthcare and Technology, for example, is the world's leading online healthcare ecosystem platform and its share price has performed strongly (see figure). Its digital consultation service, Ping An Good Doctor, provides a very cost-effective screening of patients, enabling more serious cases to be referred to specialists.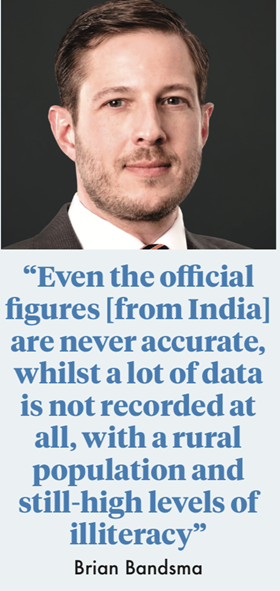 India faces a severe crisis
By contrast, India – which by mid-March appeared to show little evidence of coronavirus – was probably facing an unseen epidemic in late March with little testing undertaken. Moreover, points out Brian Bandsma, a portfolio manager at Vontobel Asset Management, it has always been difficult to get reliable data from India. He says: "Even the official figures are never accurate, whilst a lot of data is not recorded at all, with a rural population and still-high levels of illiteracy."
Population lockdown measures in March could slow the spread, but it may be too late for a society with a threadbare social security net, a population predominantly self-employed and many living in cramped conditions in city slums. The scenario there over the next few months may be grim. With a young population, the only viable longer-term strategy available may be to try and protect the elderly and vulnerable as best as possible, in the hope that collective immunity will eventually stop the epidemic. The population structure should also give rise to a lower mortality than would be seen in the developed world or in China.
The longer-term economic case for India would remain, despite the high human cost in the short term. China, by contrast, could see an economy bouncing back in the short term, but without a vaccine or antiviral drug solutions to the problem it may not be able to take the risk of opening up its borders for an indefinite period.
Pandemics are not new phenomena and this one will unfortunately not be the last. But emerging countries have reaped immense improvements in wealth through capitalism, including and especially in a politically communist China. And this pandemic could bring about a realisation that capitalism, whether in emerging or developed markets, cannot follow immutable laws like physics.
The potential collapse of major corporations throughout the world, absent state support, shows that academic or idealised representations of how capitalism and free markets should work can be completely thrown off balance by the real world.
If economics is a not a science like physics with immutable laws of nature driving it, it is perhaps an attempt at representation of the wellbeing and aspirations of masses of human beings living in a society. Decision-making, therefore, in the face of catastrophe, has to be driven by pragmatism, not ideology.
Many, if not most, emerging markets will probably be unable to implement the swift lockdown approaches to the coronavirus taken in China and in the developed world. But they will come through it eventually. In the case of India, even if it does face tribulations lasting many months, its young population and a growing middle class should help ensure a return to prosperity. The challenge for everyone will be to do that sustainably.
To read the latest IPE Digital Edition click here
Emerging market equities: India & China
1

Currently reading

Emerging market equities: India & China

2