Global high yield and loans still offer attractive returns but the worry is about the stage we are in the credit cycle
Key points
A crash and a reversal and a crash – where to now?
Pressure on shale producers is continuing
The fallout from coronavirus still represents a strong risk to investors
The global high-yield and loan markets have been the most obvious segment of the global debt markets with potential to generate attractive yields when over 30% of investment-grade debt in the world can only offer investors negative yields.
After a calamitous year in 2018, last year saw a bounce back in all asset markets including high-yield and loans. But the crash induced by coronavirus and the oil price shock has taken the world by surprise. The spread of US high-yield over Treasuries widened to well over 600bps in March this year from under 400bps at the end of February and for much of the preceding three years or so. Likewise, the cost of credit default swap (CDS) protection on US high-yield increased from under 300bps in late 2019 and early 2020, to almost 700bps in mid-March.
Grappling with the longer-term implications, means seeing beyond short-term volatility driven by market panic.
The European and US markets have very different sector compositions, with energy accounting for more than 10% of the US high-yield market and with barely a presence in Europe. That accounts for a great deal of the dispersion in results between the two, but they are also similar in some ways, argues Sebastiaan Reinders, global head of high yield at NN Investment Partners (NNIP) – they are both driven to a great extent by investor risk appetite and macro-economic factors such as central bank policies.
February spreads of 350bps were close to the 10-year low of 318bps, points out Vivek Bommi, senior high-yield portfolio manager at Neuberger Berman. The coronavirus has certainly changed market conditions dramatically and the implications could be severe: "There is lots of angst that we are in the final stages of a credit cycle and the huge increase in leverage seen globally will have ramifications on the corporate debt market," says Rob Robis, chief global fixed-income strategist, at BCA Research.
What matters, he adds, is where we are in the monetary and credit cycles. Although the increase in debt is impacting financial ratios – such as interest coverage – which in turn impact credit worthiness, easy global monetary policies are helping keep corporate borrowing costs low. This is also helping to keep interest coverage ratios above levels that presaged past recessions and the end of previous credit cycles.
High dispersion
Last year saw a rebound across all asset markets and all sectors in the high-yield market apart from commodities, particularly energy, and the auto sector was also weak. Predicting how many cars are likely to be sold over a given time period is a difficult game. NNIP does not attempt to do that, but instead, focuses on the current credit quality of a company and its likely trend going forward. The changes in the sector with increased electrification lead to changes in demand for suppliers, and so forth.
The high-yield market is also showing a very idiosyncratic and increasing dispersion, which benefits active managers, argues Kevin Thozet, portfolio adviser at Carmignac. The US energy sector has underperformed the rest of the market dramatically: "Investors are shunning energy and many independent exploration and production companies were trading at only two or three times EBITDA in February, whereas in the past it would have been 6-8 times," says Rob Cignarella, head of US high-yield at PGIM Fixed Income. Enterprise values are coming down, which is putting pressure on the more highly leveraged companies.
While energy companies were previously rewarded for increasing production at all costs even if net cashflow was negative, that is no longer the case as investors are shunning further investment, driven to some extent by the increased emphasis placed on ESG, Cignarella believes.
NNIP uses multiple measures of risk including internal ratings and outlooks and ESG scores. A key measure is the product of duration and by this metric over 20% of the overall risk is accounted for by the energy sector. It is an interesting space for active managers, given the wide dispersions within it and defaulters is obviously a key factor.
But as Reinders points out, there can also be the opportunity for capturing spread compression in companies that are upgraded to investment grade, which includes many 'fallen angels' – previous investment-grade companies that were downgraded to junk. M&A activity can also lead to acquisitions of smaller firms by companies with better credit ratings leading to rating upgrades in their debt.
Reinders says a key strategy for high-yield managers is to understand the motivation of management within companies. If they are close to a default, shareholders are better off if the company pays less to them and focuses on ensuring they can service their debt obligations.
Management can also be differentiated in terms of the reliance on volatile energy prices. Fracking and shale gas is a relatively new phenomenon, so it can be difficult to assess how management is likely to react to changing energy price levels. Taking bets on energy prices may be an attractive option for shareholders but debt holders would prefer less volatility in earnings by hedging out energy price volatility. Companies with less immediate liquidity needs might previously have been able to gamble on strong oil prices. That looks impossible in the current climate.
Loans potential
The European loan market was very resilient in 2018, says Marina Cohen at Amundi, as loans tend to outperform in a difficult environment. But they lagged European high-yield in 2019 with the market as a whole seeing outflows.
In recent years, says Neuberger Berman's Bommi, there has been more divergence between the loan and bond markets. In 2013, the US loan market was $680bn; today it is equal in size to the high-yield loan market at $1.2trn.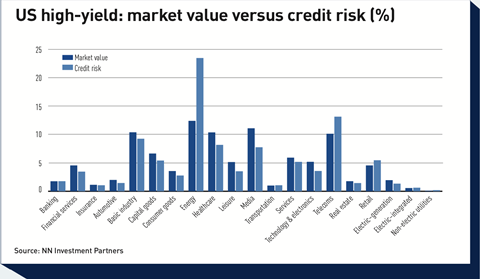 In high-yield, issues are generally seven-year bonds that are non-callable for the first three years, generally with call premiums after that so issuers have to pay a premium above par to redeem the bond. A high-yield manager investing in a credit with a given spread would benefit from a spread tightening if the credit improves. With loans, it is the exact opposite. As they are floating-rate instruments, they are issued at par and if the credit improves, the company can, after six months, reprice with a lower coupon.
If a debt issuer is sold to an investment-grade company, a bond holder would see a large upside while a loan holder would be immediately paid back at par. Issuers would prefer the maximum flexibility of being able to reprice debt if the credit improves.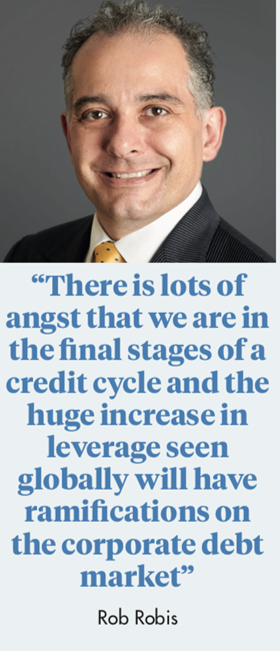 Central banks look likely to be accommodative for the foreseeable future. But the outlook for much of the economy, including the energy sector, is highly uncertain. Tail risks now dominate markets and investors will be forgiven for not increasing positions in risk assets as they take stock of the crisis and its fallout with respect to sectors and geographies. But as with 2009, as the economic picture becomes clearer, it may be possible to capture spread compression as markets snap back and prices start to reflect economic fundamentals rather than pure, naked fear.
To read the latest IPE Digital Edition click here
Fixed Income & Credit: Credit at a crossroads
1

2

Currently reading

Fixed Income & Credit: High-yield worries grow

3

4