Emerging-market local-currency corporate debt is under-explored by global investors
Key points
Emerging-market local-currency corporate debt is hardly touched by foreign investors despite offering huge potential
There are three main obstacles to investing in this asset class – withholding taxes, accessibility and liquidity
China dominates the asset class
Adjusted yields are relatively low compared with those available on offshore bonds
Is the last untapped frontier for investors seeking higher yields local currency corporate bonds? They already account for over $11trn (€10trn) and make up nearly half of the emerging market fixed-income universe. Yet the market is hardly touched by foreign investors, although the asset in general, and the domestic Chinese corporate bond markets in particular, are just too large to ignore. There are, however, still be hurdles to overcome for foreign investors and only a few fund managers have deemed it worthwhile to put in the resources to explore the asset class.
Investment manager firm Ashmore estimates that the size of the local currency corporate emerging market debt universe increased from $900bn in 2003 to $11.3trn in 2018. That may be an enticing prospect but there are three challenges that need to be overcome for foreign investors, says Gustavo Medeiros, deputy head of research at Ashmore.
First, is the matter of withholding taxes. These are absent for foreign investors buying local currency sovereign debt but investors purchasing corporate credit are subject to capital gains taxes at rates as high as 22.5% if held for less than six months. As credit spreads for Brazilian corporates are often about 100-200bps over government bonds, investors would have little to show by investing after sacrificing liquidity. Moreover, Brazilian local debt looks expensive as the market is dominated by local banks, pension funds and insurance companies, with banks often willing to accept lower yields in the pursuit of closer relationships with corporates in other areas such as M&A and even employee services.
Accessibility is also often a problem with most local currency corporates bonds requiring a framework of local banks and custodians to enable trading to take place. In China, however, access is possible both through opening a local custodian account and via a Hong Kong-Shanghai link enabling investors to use Hong Kong-based banks such as HSBC.
Finally, liquidity is reduced in the local currency corporate space as local investors such as banks and insurance companies tend to adopt a buy-and-hold policy.
'Real' China
Brazil has seen a meaningful rise in local currency corporate bond issuance in the recent years and there are small local currency corporate bond markets in India. China is the behemoth that dominates this asset class and outside these countries, the asset class is almost non-existent, points out Arthur Budaghyan, chief emerging markets strategist at BCA Research. The focus therefore has to be on China for the foreseeable future, although it is only a matter of time before other markets develop in size to become potential investment destinations.
Peter Ru, the China fixed-income strategy leader at Neuberger Berman, makes several key points in favour of onshore renminbi-denominated China bonds. First, at more than $10trn and 5,000 issuers, the China onshore market is too big to ignore.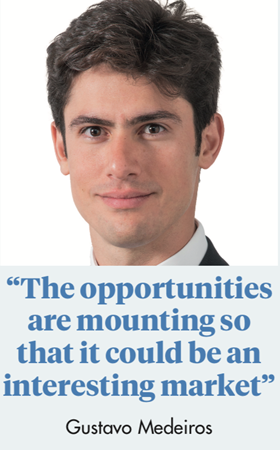 Second, it represents the 'real China' – financials, real estate and technology companies which account for almost 80% of China's offshore bond markets, account for less than 60% of the onshore market. Much of the balance is in domestically focused sectors and less than a third of the onshore market issuers also issue offshore and the rest are inaccessible to purely offshore investors.
Third, foreign investment in the market has only just begun, with foreign investors still owning less than 4% of the total market. In contrast, the average foreign ownership of other large developed and emerging bond markets is about 40%.
Ashmore does not yet have a large amount in onshore Chinese corporates. It does see attractive opportunities in the property space where there are more than 100 issuers in dollar-denominated bonds, with many also issuing in renminbi with higher credit spreads. But, says Medeiros, "the opportunities are mounting so that it could be an interesting market". Neuberger Berman also sees yields as generally attractive, especially relative to credit quality.
Finally, the China onshore bond market is a genuinely uncorrelated asset class and can provide diversification even for a portfolio of other emerging market local currency debt.
What does China's domestic corporate bond market look like? A big differentiator, says Rob Drijkoningen, global co-head of emerging market debt at Neuberger Berman, is whether the issuer is a state-owned enterprise (SOE) or a private firm.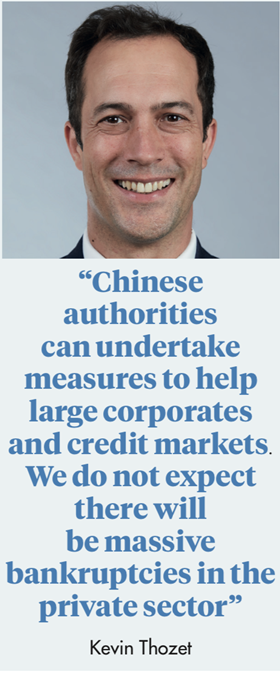 Private firms have lower protections in the event of a liquidity squeeze as they do not necessarily have access to fall-back funding from banks, for example. Owning SOEs does not necessarily mean the investor will get default protection. It depends on whether the corporate activity is economically important for the region in terms of employment. It also depends on whether companies are facing a short-term liquidity squeeze caused by problems such as the COVID-19 or whether there is a longer-term solvency problem.
Proprietary ratings
Credit ratings are clearly a key metric in assessing domestic bond issues. There are formal domestic credit ratings but, as Drijkoningen says, in China bonds cannot be issued by companies with ratings less than AA-. As a result, all bonds have ratings of AA- or higher when issued, although they can be downgraded afterwards: "We would regard AA and AA- as high yield," Drijkoningen says.
Not surprisingly, domestic ratings are seen by managers such as Neuberger Berman as having little value. Instead, Neuberger Berman produces its own ratings based on a proprietary model using financial metrics and taking into account local or central government ownership. International rating agencies such as S&P have also recently been allowed to commence onshore operations – "the historical relationship between issuers and domestic rating agencies was seen as too cosy as the rating agencies competed for business from corporates by promising them better ratings" he says.
The impact of COVID-19 is clearly a problem that investors in China cannot ignore. However, Kevin Thozet, portfolio adviser at Carmignac, does not expect it to have a large impact on China's corporate debt market. "Chinese authorities can undertake measures to help large corporates and credit markets. We do not expect there will be massive bankruptcies in the private sector," he says. "The government will make sure that insolvency issues for large corporates are looked after by banks, with the help of looser monetary policy. There was news, for example, of Chinese airlines potentially being helped by the government." On the monetary policy side there is also space for more easing in China, which will help corporates.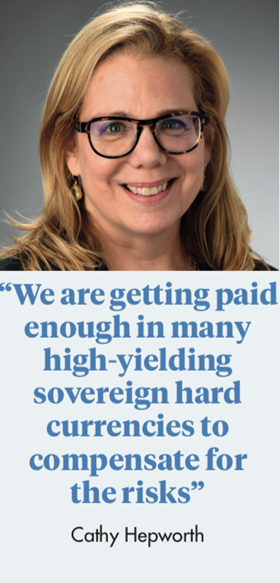 Perhaps the biggest stumbling block for Chinese local currency corporate EMD, argues Cathy Hepworth, co-head of emerging market debt at PGIM Fixed Income, is that adjusted yields are relatively low compared with those available on offshore bonds.
"What the onshore market is not doing is pricing in a premium for lower quality that international investors expect," she says. Her preference for high yield would not be in local currency corporate debt, but rather in external hard currency debt by sovereign issuers such as some in sub-Saharan Africa – for example, Angola, Ivory Coast and Nigeria offering 7-8% in dollars, or countries such as the Ukraine where yields have rallied a lot but still offered about 6% in February for 10-year maturities. "Our view is that we are getting paid enough in many high-yielding sovereign hard currencies to compensate for the risks." For investors seeking high yields, local currency corporate debt should not be ignored, but it may not be the panacea either, at least for now.
To read the latest IPE Digital Edition click here
Fixed Income & Credit: Credit at a crossroads
1

2

3

4

Currently reading

Fixed Income & Credit: Potential for adventures