The US credit market is heading for change under new President Joe Biden's administration
KEY POINTS
Credit markets are sizing up the implications of the Biden win
The new administration is likely to benefit exporters
The relatively narrow victory may help to ensure Biden maintains a moderate stance
Inflation-driven Treasury yield rises down the line remain a risk
The pre-election visions of a Democratic 'blue wave' sweeping aside much of US President Donald Trump's electoral support have proved unfounded. Although Joe Biden ended up winning the presidential race by a significant margin, the outgoing president's following remained substantial. Credit markets are now facing the task of what the change in administration is likely to mean for them.
US credit markets prospered under the Trump administration, says Jens Vanbrabant, portfolio manager at Wells Fargo Asset Management. "Trump focused on both monetary and fiscal stimulus and worked with the Fed to create a very accommodating environment for credit," he says. That, he adds, may have not necessarily been the best strategy for everyone but it definitely put a floor underneath credit markets.
Donald Trump's tax cuts, says Tim Crawmer, senior global strategist at Payden & Rygel, may have been of more value to equity holders than debt. However, there were benefits to high-yield investors because issuers were incentivised to decrease leverage owing to accounting rule changes.
A blue wave would not have been disastrous for the markets but it would have resulted in more negative market implications, says Crawmer. "Congress would have been able to push for a lot more of the radical left-wing, market-unfriendly policies." The fact that the Republicans did significantly better than market expectations will allow President Biden to stick to a more moderate agenda and not be pushed around by the far left, he adds. The new president may be in favour of higher taxes, which will be marginally negative for corporations, but the lack of a Democratic sweep of Congress means it is going to be tough to make significant changes.
What has happened, says Henrietta Pacquement, head of investment grade for Wells Fargo Asset Management, is perhaps a 'Goldilocks' solution. That is not too extreme in either direction, without necessarily as much spending likely, as could have occurred under an overwhelming Democrat administration.
The market is expecting a much more multilateral US foreign policy, including the reversal of Trump's stance on the Paris climate agreement from day one. The relationship with China that deteriorated rapidly under Trump might, however, still remain difficult.
A Biden administration, however, will be good for exporters globally, says Vanbrabant, and Europe is the biggest export region in the world. That will benefit German companies in particular. "The threats that Trump had been making to German car makers that they needed to move some of their production lines to the US have faded away," he says.
Clearly, some sectors in the US will experience more changes under a Biden administration than others. Neuberger Berman, says David Brown, the firm's co-head of global investment-grade debt, takes the view that the main effect will be in areas where executive orders can affect a sector. The energy sector is a case in point. "There are certain executive orders that can be done by the President that would limit or reduce fracking on federal lands which will have an impact," he says.
There were also concerns, Brown says, over the banking sector about who would be appointed to the Treasury as well as how the Federal Reserve may react. Some of those concerns have diminished with the announcements of Biden appointees such as former Fed chair Janet Yellen as Treasury Secretary. So the banking sector will be more affected by issues like the shape of the yield curve as opposed to regulatory shifts.
The sector that could potentially have seen substantial changes is healthcare. Important concerns were raised in late 2019 around potential sweeping changes that could have been implemented by a Bernie Sanders administration. These included 'Medicare for all'-type policies that led to the sector underperforming. But, points out Jason Shoup, global head of credit strategy at LGIM America, with the more divided electoral support, the chance of a wholesale redesign of healthcare has decreased.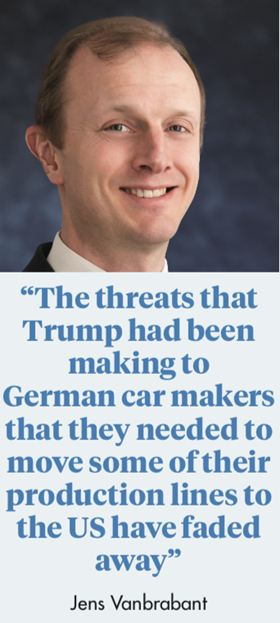 Moreover, says George Bailey, a US credit manager at Aviva Investors, the trouble with healthcare is that there is a muddy picture of how any changes affect it. Amending Medicare or President Barack Obama's signature Affordable Care Act (ACA or 'Obamacare') might result in some providers benefitting from increasing numbers of customers while others may face lower reimbursements.
Trump was not a fan of Obamacare so it will be beneficial to have a Biden administration for hospitals. But it will be marginally a headwind for pharmaceutical and healthcare insurance companies, as they are going to be put under more pricing pressure from Democrats than Republicans. Moreover, a lot of policies that were proposed at Biden's pre-election rallies will probably have to go through the Senate to be implemented.
Vaxes versus taxes
The pandemic has, of course, dominated the news. Brown says the roll out of vaccines may prove to be of more impact than the elections. It is unlikely, he says, that there will be significantly higher taxes in the short term. But there is going to be a push by the Biden administration to raise the minimum wage. That will hit certain sectors, particularly retail-oriented ones such as restaurants, as well as small businesses.
One of the impacts of the pandemic, argues Pacquement, is likely to be an increase of inequality. "Not all areas of the economy are being affected in the same way, which has exacerbated inequalities in US society, so the risk of temptation for more populist policies is something to watch," she says.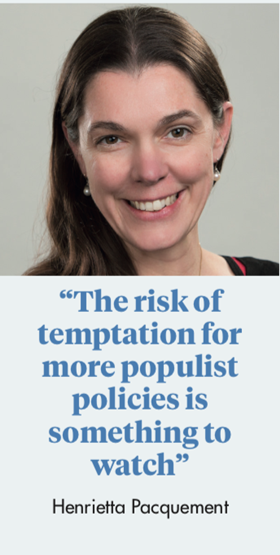 The new administration, combined with the shock and recovery from the COVID pandemic will result in a more aggressive M&A market over the next year or two, according to Brown. This will be underpinned by a tax and regulatory framework that is not going to be changing much, at least in the short term. Equity valuations remain high and capital markets are in good shape with the Fed providing a reasonable amount of liquidity.
"Companies, particularly higher-rated like single As, will be leveraging their balance sheets, dropping down into the bottom of the investment-grade ratings at BBB," says Brown. However, not many BBB companies will be leveraging further and thereby dropping out of investment grade to high yield. That is particularly the case with the Fed's direct purchase of corporate securities extending only to investment-grade securities. In contrast, higher-rated investment-grade companies moving down to triple B, would be giving up little spread in return for having access to large amounts of capital.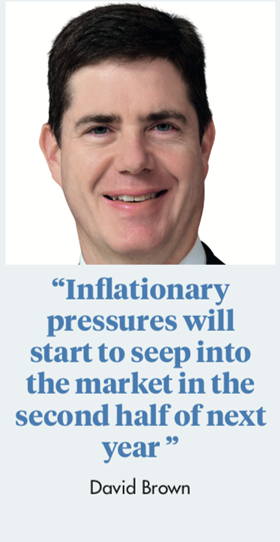 For credit investors, the future outlook may look pleasant but there might still be hidden dangers, as a lot of the good news appears to already be priced into markets. Credit spreads in November were close to those recorded at the start of 2020. That was despite all that has happened during the year with the global economic shutdowns.
Yet two big uncertainties remain, Bailey says. First, there are the long-term implications of changes in consumer behaviour that may persist into a post COVID-19 world.
Second, there are the future trade relations between the US and China. These could have a significant impact on a lot of retail consumer-tech names. But for credit investors the bigger challenge may be a rise in US Treasury yields driven by inflationary pressures.
Brown is comfortable that the Fed will be sticking to inflation goals of about 2%, as opposed to something meaningfully above that level. "Inflationary pressures will start to seep into the market in the second half of next year resulting in a steeper yield curves with 10-year Treasuries in low 1% range," he says. That may be a prediction that Goldilocks could live with.
Investment Grade Credit: Markets gauging the new administration
1

Currently reading

Investment Grade Credit: Markets gauging the new administration

2