The speed and impacts of the coronavirus pandemic have thrown up challenges for investors that will not be clear for decades
Key points
It will take decades to fully assess the impact of the COVID-19 pandemic on the equity markets
Asset owners face several challenges relating to their objectives, time horizons and solvency
Pension funds will face challenges related to the management of illiquid portions of their portfolios as well as to the management of collateral associated with liability-driven investment
It is still unclear how the crisis will affect the balance between active and passive investment
Is the world witnessing the largest financial crime of the century as shareholders in the face of the coronavirus pandemic shutdown of economies extract enormous fiscal and monetary support from taxpayers? Given the extreme generational inequalities that this is producing could it be even pulling at the fabric of democracy? These are questions raised by Zuhair Mohammed, a partner at Lane Clark & Peacock (LCP). But, as Chinese Premier Zhou Enlai is said to have replied when asked by US President Richard Nixon in 1972 what he thought about the French revolution of 1789, "it's too early to say".
It will take decades to fully assess the impact of the coronavirus pandemic on the global equity markets and the impact of that on the behaviour of institutional investors. Governments have stepped in during this crisis, as they also did during the last financial crash in 2007-08, to help out the markets. Does that mean, as Mohammed suggests, that equity investors should only worry about idiosyncratic risks as systemic risks are being borne by someone else with the taxpayers footing the bill? If so, the rational action would be to take more economic risk.
What is scary, though, for investors is that the financial industry's risk models have been blind-sided by the speed and impacts of the pandemic. Determining future scenarios is even more complicated by the lack of trust across the globe on the statistics that are being produced by governments including in China, Europe and the US.
Asset owners face several challenges. How they respond to the pandemic depends on many things, most notably their objectives, their time horizons and their solvency. For wealth managers such as UBP in Switzerland, the preservation of capital comes first, and then growth, says CIO Norman Villamin. For UBP, that means trying to establish asymmetric risk/return profiles in portfolios during heightened periods of volatility through incorporating equity market options into portfolios. Pension funds can have much longer-term time horizons combined with short-term cashflow obligations. Their size can introduce another layer of complexities with regard to establishing and implementing long-term strategy in the face of extreme short-term disruptions.
For example, the Dutch pension fund manager APG manages €533bn (as of February 2020) in pension assets for its clients, including the giant ABP pension fund, accounting for over 22,000 employers providing pensions for 20% of families in the Netherlands. As such, its actions in the face of the crisis have ramifications for the country as a whole.
Peter Branner, CIO of APG Asset Management, sees three key challenges that institutions such as APG have to deal with in the face of the pandemic. When the crisis started the focus was on liquidity because clients have a core obligation to provide pension payments. Asset allocation in the face of the severe market dislocations was also key. Finally there was, the 'alpha story' – ensuring that active strategies and risk management procedures were on top of the crisis.
Liquidity can be a challenge for many institutional investors, particularly those with large allocations to illiquid private assets. "In the short term, you can't really do anything about allocations to private assets – they are there to capture long-term capital growth and compound it," says Himanshu Chaturvedi, a managing director at Cambridge Associates. The level of allocation to private assets needs to be decided in advance, bearing in mind the potential future liquidity risks that could arise. But it is not just private assets that give rise to potential liquidity concerns. As Chaturvedi points out, many public assets may seem liquid but in reality they may not be. For example, the open-ended property funds in the UK which had to be gated to stop redemptions.
Pension schemes face two challenging aspects to liquidity in this crisis, says Richard Tomlinson, CIO of the UK's Local Pensions Partnership (LPP). As well as the liquidity management associated with their illiquid portfolios of private equity and private credit, they also have to deal with the management of collateral associated with liability-driven investment (LDI) strategies that may have foreign exchange and other derivative overlays: "What it comes down to are the schemes' net cashflow requirements – are they cashflow positive or cashflow negative, what does the liability profile look like and how sustainable are contributions?"
As Tomlinson goes on to point out, pension schemes with significant amounts of hedging would have had challenges in collateral management in March. LPP as a local government pension scheme manager, had only one client with an LDI strategy and that was for a relatively small amount. Large pension schemes such as those managed by APG can face more severe problems.
Disruptions and opportunities
The severe market dislocations have clearly had a detrimental impact on the solvencies of virtually all institutions. But the severe disruptions have increased dispersions within and across asset classes, which creates opportunities. The debate is over whether these are wide enough to justify active asset allocation.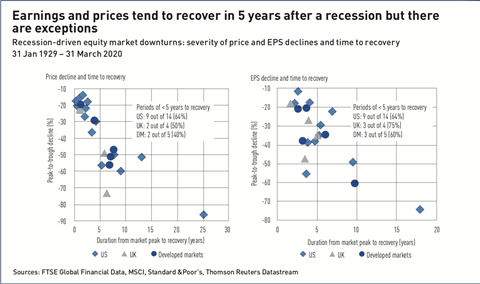 The question that Cambridge Associates is asking its clients is whether they are running the right level of risk, given what is happening. That depends on the circumstances of each institution and is heavily dependent on what level of risk and of solvency that they had prior to the market crash. "There are two types of clients when you get drawdowns of this magnitude – those with enough risk budget to take advantage of it and those with no risk budget left who need to cut risk to survive," says John Roe, head of multi-asset funds at LGIM.
Tim Dougall, head of investment advisory at LGIM, argues that governance constraints have acted as a barrier to diversification for many schemes in the past. However, recent innovation and competition in the fiduciary management market now makes it easier and cheaper for trustees to access a wider opportunity set. "Acceleration in the take-up of fiduciary management would lead to lower strategic equity allocations," says Dougall.
That, however, depends on the institution. For LPP, the returns it seeks mean that it is pointless holding sovereign debt. It has an exposure to global equities of about 40% while total equity-type risks including private equity, infrastructure and high-yielding debt is much higher, says Tomlinson.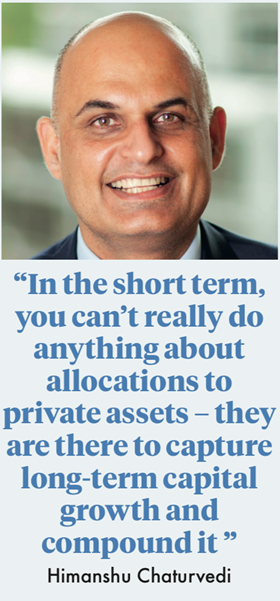 Changing asset allocations needs to be handled with care. The extreme market disruption means that not only do proposed movements have to take account of a blow-up in bid/offer spreads on previously liquid markets such as high-yield debt, but also have to ensure that decisions are not influenced by sentiment: "At the end of March, China was down 10% and Brazil down 50%. Even if you believe China has better economic prospects, you need to take the relative valuations into account," says Tommy Garvey, a member of GMO's asset allocation team.
Rebalancing should also be done gradually and into areas that have the greatest risk-adjusted underperformance and not, as some asset owners seem to do, choose a specific day to rebalance all equity portfolios, says LGIM's Roe.
However, says Mohammed, LCP finds that its clients are not making knee-jerk reactions but are taking deliberate and thoughtful decisions. LCP is not generally seeing clients increase strategic weightings to equities as yet, although rebalancing to strategic weights can mean equity purchases. This generally means selling some fixed-income investments, to bring the asset allocation back in line with the previously determined strategic weights.
Lars Dijkstra, CIO of Kempen Capital Management says: "Most of our clients have decided to do this, and we also advise them to do so. For long-term investors, it pays to stick to their strategy and to maintain a long-term view." The exception has been some endowments with cash on their balance sheets that are taking the opportunity to increase equity allocations.
Cambridge Associates' own analysis suggests that during recessions, earnings tend to decline about 30% for at least 12 months and may fully recover their previous nominal high-water mark within five years or sooner (see figure). Markets, however, typically price in recovery well before economies or earnings fully rebound. As of April, there were opportunities in equities but perhaps not strong arguments then to go broadly overweight.
Another matter Branner raises is how to ensure that APG's active strategies and risk management policies are suitably positioned for the current environment. These are matters all asset owners need to consider.
LGIM identifies six factors of importance: the fundamentals in terms of the economic shock and the policy responses to that; valuations; market dynamics in terms of both positioning and momentum; carry which is of less importance in equities; the extent of diversification or risk concentration by the addition of a new investment; and lastly, tail risk behaviour in positions such as being long of energy which, through its close links to economic activity is subject to a similar corresponding collapse: "Some portfolios have very heavy structural weightings to the US of up to 60%. Over the last decade these have done well but from a tail-risk perspective, the risk is too great," says Roe.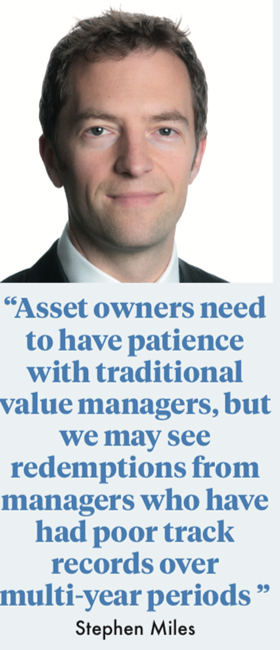 Should equity investors be changing strategies dramatically, perhaps shifting from active to passive? LGIM's Dougall argues that it has been incredibly difficult for asset owners or their consultants to pick which active equity managers will outperform an index approach. "There's been a longstanding view that market turbulence would give fund and stock selectors a chance to shine, but many investors will have found themselves disappointed that this hasn't proved to be the case," he says. LGIM manages both passive and active portfolios.
The trend towards passive investment in equities has certainly been strengthened by the crisis, says Stephen Miles, head of equity manager research at Willis Towers Watson. "Mega caps have done relatively well, especially some of the tech companies which have high allocations in market cap-weighted indices so a number of active managers have struggled to keep up with benchmarks," he says.
"Ironically, on a forward-looking basis, the prospects for active management have just got better as there are more buying opportunities outside the mega caps," Miles adds. "It is now possible for asset owners to negotiate more attractive fee rates."
Mohammed, though, says it is too early to say who the winners and losers will be in this debate, as passive market-cap indexation can be seen as just the average of active management positions.
Moreover, for many entities such as LPP with clients with specific views on ESG constraints, it becomes difficult to use passive products, says Tomlinson.
The crisis has also made the situation even worse for value managers who have had a torrid few years already. "Asset owners need to have patience with traditional value managers, but we may see redemptions from managers who have had poor track records over multi-year periods," says Miles. But he adds that the flip side is that this is the kind of environment that skilled value managers have lived for, as the simplistic flight to safety has created opportunities for those with the skills and patience to look for them.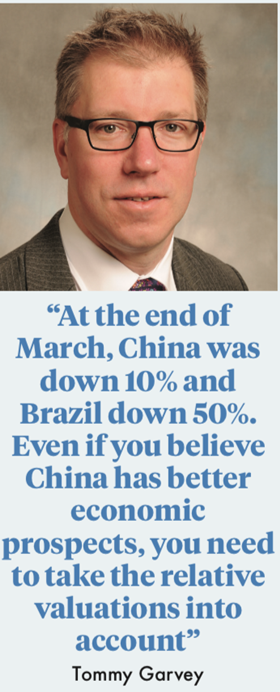 GMO, for example, a manager famed for its focus on value, is taking advantage of the disruption by launching a strategy focused on buying relatively higher-quality companies in hard hit sectors such as airlines and hotels which are likely to benefit from increased competitive advantage when economic activity resumes, says Garvey.
Long-term view
For asset managers with long-term horizons, the current market disruption certainly creates short-term problems. However, their investment horizons necessitate sticking to a strategic vision for their investment approach and ensuring they can implement it. APG, for example, intends to hire an additional 100 staff members in 2020-21, of which 70 will join portfolio management "If you are hiring staff through this crisis, it is clear that you are a long-term investor," says Branner.
Long-termism in investments Miles sees as synonymous with sustainability. For APG, risks, returns, costs and sustainability are the four factors it examines in any new investment opportunity. But Miles sees social aspects as still getting short thrift in the move towards ESG and sustainable investment – attentions may now change. He says: "Millions of staff will be laid off by firms, at times with stronger balance sheets, to the short-term benefit of shareholders. And having tightly-stretched supply chains may work for a while, but the crisis has shown their fragility."
For equity investors, what the crisis has demonstrated in dramatic fashion is that the notion of sustainable investing cannot be ignored any longer. "We have said for a long time that sustainable strategies have lower downside risk than regular strategies. This was demonstrated again during this corona crisis with sustainable equities strategies clearly outperforming," says Dijkstra.
Moreover, as Tomlinson argues, several sectors will not exist anymore without government bailouts and support. Politicians will not allow that without terms and conditions on aspects such as climate change.
For equity investors, ensuring that future investments are in companies that are seen to be having sustainable business practices may be the best risk mitigation measure they can take to protect them in the future.
Portfolio Strategy: Equities in the time of the pandemic
1

Currently reading

Portfolio Strategy: Equities in the time of the pandemic

2