The current US equity crisis conjures up shades of previous crashes
Key points
The 2020 US equities crash shares the extreme uncertainty surrounding market corrections in 1987, 2002 and 2008
US government spending packages for Covid-19 have already exceeded $2.3trn (€2.1trn), dwarfing the $1.79trn spent on bailouts during the global financial crisis of 2008
Lost revenues will severely damage companies' cash flow and need to be financed by new debt
Since the March rally, high beta stocks have not outperformed, suggesting a lack of investor confidence in recovery
A glance at previous US equity drawdowns, especially in 1987 and 2008, is instructive for some perspective on the Covid-19 maelstrom.
Peter Kraus witnessed the global financial crisis at AllianceBernstein where he served as CEO from 2008 to 2017. Founder and CEO of Aperture, an asset management firm backed by Generali, he is reminded by contemporary technical aspects of the 1987 crash. "There were simply no buyers then," Kraus reflects. "In 1987, we had fewer hedge funds and also traders, and no VAR [value at risk] management tools. Banks were the real intermediators."
Markets abhor a vacuum. The COVID-19 crisis has no economic antecedent, but the extreme uncertainty recalls some earlier bears, including 1982 and 2002. In contrast, 2016 and 2019 market sell-offs were more trading-oriented, with no associated economic downturn.
Crashes in 1987 and 2008 were exacerbated by leverage. A root cause of the great financial crisis derived from the Bush administration's objective of wider home ownership, fuelled by the banks and government housing agencies. That boom created a marginal pricing vehicle, overstating prices in a $10trn housing market.
Leverage has become more decentralised. "It sits outside the banks now, but we see it in hedge funds and some mutual funds," Kraus says. Yet some leverage has infiltrated the system, albeit in less obvious ways. High debt levels in corporate structures may not be illogical, given ultra-low interest rates. "Then the revenue line becomes the challenge for making payments," says Cooper Abbott, president at Carillon Towers Advisers, a global asset management firm based in Florida. Stock buybacks also constitute less visible leverage. Or consider business models built on just-in-time supply chains, which may now be missing key components – another indirect aspect of leverage.
Response
John Traynor, chief investment officer at People's United Advisors, notes that the economy never contracted in 1987, with growth remaining relatively robust at 3.0% to 7.0% between quarters. During the global financial crisis, however, the economy shrank in five of six quarters, ultimately reducing total output by 4% from its pre-recession peak level. He predicts that this year's contraction will be more intense, at an annualised rate of over 25% in the second quarter – more than double the largest quarterly contraction since quarterly data was first recorded in 1947.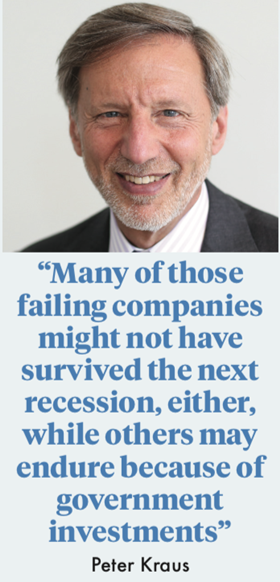 Recent massive fiscal and monetary responses have shattered records. The US stock market rose 28% off its lows of 23 March, when it became clear how aggressive the Federal Reserve was prepared to be. "It may have risen too far, too fast," says James Solloway, chief market strategist at SEI, "but it shows investor confidence in the Fed's actions to buy breathing room for households and businesses over the next few months." It is encouraging that we have seen no mass market closures or intervention.
Among other US fiscal measures, the $484bn Paycheck Protection Program (PPP) offers loans and grants for small businesses; another $2.3trn (CARES Act), representing about 11% of GDP, is geared toward tax rebates and unemployment benefits for individuals, a food safety net, and further small business and hospital assistance, besides other outlays for medical funding. These sums dwarf the $1.79trn spent during the global financial crisis on bank bailouts and stimulus packages.
Monetary and macro financial responses include a 150bps lower Fed funds rate, now just skirting negative, and lower discount window lending. Broader swap lines to other central banks reflect lessons adopted from the 2008 experience.
Swift stimulus should speed and soften the recovery period, but risks creating externalities like higher inflation. This time, however, unlike in 2008, there is no discussion of moral hazard. If it were a focus, the US government might be taking more equity out of airlines and other supported industries.
If government actions contain market carnage, it does not assure that markets will not retest lows, or that companies can avoid bankruptcy. Many will fail. Kraus points out that "many of those failing companies might not have survived the next recession, either, while others may endure because of government investments".
Picking winners and losers
Pain and opportunity are rarely spread in equal proportions. Traynor recounts how his firm has been overweight growth versus value, and domestic US versus international for some time going into this episode. "Coming out of a collapse, small caps can do well historically," he says. Right now, we are seeing the same stocks outperforming as we saw earlier in this year, rather than a higher beta rally in the lead. The latter might suggest more confidence about recovery.
According to Traynor, that clue suggests a likely retest. He would be more positive if markets shifted toward risk-on, with investors flocking to small caps and value positions, which are also more cyclical and economically sensitive. In other words, compare buying Johnson & Johnson to General Motors (GM). "If you choose GM, it means you are more excited," Traynor explains.
On the sector level, Traynor sees a tailwind for pharmaceuticals.
"Last year, pharma was a hot potato, as political debates focused on 'evil' drug prices," he says. "We hope politicians will review the industry, because of ongoing research and testing."
Among other groups, real estate investment trusts may prove more mixed, with storage and server housing benefiting. Will we still need so much office space and hotel capacity? And financial stocks may prove vulnerable to low interest rates, with their net interest margin exposed.
Kraus pays heed to the volatility of consumer banks, as a window: "Banks have millions of customers and loans, and are making judgments about their health, providing forward-looking data."
Technology is likely to emerge well, but Abbott highlights the continuing concentration in FAANG stocks (Facebook, Amazon, Apple, Netflix and Google) as a "tale of two markets", which crystalised only after the 2008 cataclysm. Those names have contributed most of the growth to the S&P 500 over the past three years, but are now diverging. Apple has suffered in the China market, and Facebook is encountering lower advertising revenues, while Netflix and Amazon have outshone.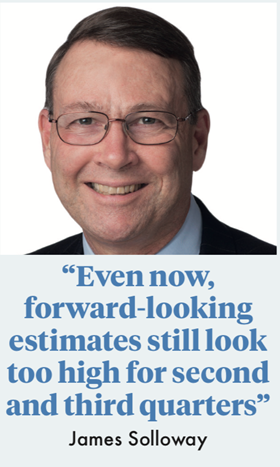 This crisis may promote the value of analysts who dig deeper and do not just rely on company say-so. Solloway notes that "it took several weeks for even 20% of earnings to change from pre-Covid conditions. Even now, forward-looking estimates still look too high for second and third quarters." The loss of revenues will blow a hole in cash flow, and that must be financed with debt on balance sheets. Who pays for interest expense and loss of revenues? The market has not adjusted.
Longer-term memory
Jeff Powell, CIO of Polaris Greystone, cautions that "consumers may put more into saving for the rest of their lives, as happened after the Great Depression [of the 1930s]. Additionally, social distancing may be a difficult habit to break, long after the danger has passed."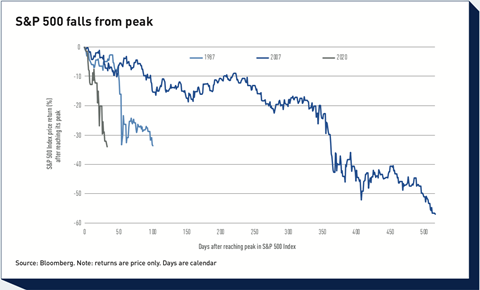 So far, the market recovery looks somewhat like early 2019. "Most of today's traders didn't live through 1988 or 1998," says Kraus. "People are still driven by FOMO (fear of missing out), with the crash of 2018 colouring their behaviour."
Compared with other market corrections, this one seems the most sentiment and headline-driven. The glide path to normal may be longer, as balance sheets are repaired and consumers rebuild saving and return to consumption. Yet over time, history suggests that headlines may drift away and fundamentals prevail.
Portfolio Strategy: Equities in the time of the pandemic
1

2

Currently reading

Portfolio Strategy: The history of crises in US equities