The pandemic has devastated some sectors while boosting others
KEY POINTS
Investment activity in private equity resumed in the autumn after liquidity dried up earlier in the year
COVID-19 has proved an investment opportunity in technological advance
Some firms will see significant write-downs
The pandemic has shone a light on both the strengths and weaknesses of the private equity world
"It was the best of times, it was the worst of times, it was the spring of hope, it was the winter of despair". These lines from the opening paragraph of Charles Dickens's 'A Tale of Two Cities' could well describe the state of the private-equity world industry today as general partners (GPs) struggle to cope with the impact of COVID-19.
When the pandemic hit Europe in March and April the key priority for GPs was ensuring liquidity was available for their portfolios. "The focus was on assessment and containment and new activity very much froze," says Joana Rocha Scaff, head of Europe private equity at Neuberger Berman.
Once lockdowns eased in May, the situation stabilised. Both the US Federal Reserve and the European Central Bank were pumping money into the system, which helped to avoid liquidity crunches. By September, investment activity was resuming but in a different environment when Dickens's description became apt.
There has been a clear divide between sectors. Some, such as retail, restaurants, hotels and travel, look set for a winter of despair. Others, such as internet-based businesses, seem to be resilient and even benefiting from the pandemic. "A restaurant where the revenues are driven by the density of customers in a physical location is obviously in a very different position to a company selling B2B software," says Jim Strang, chairman EMEA at Hamilton Lane, the alternative investment advisory firm.
Some firms in the hardest hit sectors have had to take drastic action. A badly affected UK caravan park company with no tourist customers, for example, offered accommodation to key workers for whom the caravan club was closer to their workplaces. "They banded together as an industry to lobby the UK government around how the sector ought to have an opportunity to reopen," says Simon Tilley, managing director at the financial services advisory firm Stephens.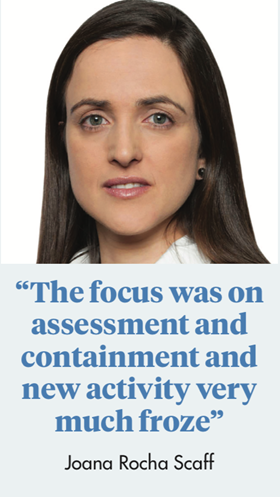 Zach Lewy, CIO of Arrow Global, a specialist manager in non-performing assets, argues that collapses in revenue mean in some sectors there is likely to be a sharp increase in loan default rates across Europe. This trend is likely to significantly reverse the many efforts made by banks over recent years to reduce credit-loss provisions. For private-credit investors, that can provide an opportunity since, says Lewy. "It reveals a clear opportunity for institutional investors to tap into a market made up of a fast-growing pool of investible assets while alleviating the current pressures on the European financial system," Lewy says.
The need for liquidity can be driven by offensive strategies, as well as rescue financing to strengthen balance sheets. Companies better positioned relative to competitors in their industry are taking the opportunity to aggressively consolidate through mergers and acquisitions. They are also seeking capital to do so, Scaff says.
The lack of mass cancellations of fundraisings has surprised many. Portfolio companies in many cases have had to delay sales or initial public offerings. This has given rise to GP-led continuation funds extending the life of portfolios to allow time for recoveries.
Pandemic opportunities
COVID-19 has, of course, also been a catalyst for more investment opportunities in technological advancements. Franklin Templeton, says John Levy, the firm's director of impact, is seeing several pandemic-induced investment opportunities. These include pandemic-related healthcare, with many innovations not specific to COVID-19. However, they are essential in fighting future pandemics and other healthcare-related challenges. There is a structural and possibly permanent shift toward remote access in areas such as work, schooling and healthcare.
There is also greater financial inclusion. Technological developments such as 5G and mobile phone penetration have brought access to financial transactions for small and medium-sized enterprises and previously unbanked communities. They have also enabled them to participate in a decentralised business ecosystem.
High-quality GPs with more differentiated strategies that were in demand before the crisis, continue to be much sought after. That is particularly the case for those able to show strong track records with teams with great experience, says Scaff. The two hottest areas are healthcare and technology. There, as a recent report stated, "the future has come early" when it comes to the digitalisation of businesses.
As Strang points out, at this point, investors are clear on where to invest. That means everyone is heading in the same direction. The broad features of software and healthcare valuation have long-term return drivers which are obvious and apparent.
"A clear opportunity for institutional investors to tap into a market made up of a fast-growing pool of investible assets while allevi-ating the current pressures on the European financial system" - Zach Lewy
It is, though, possible to identify fragmented sub-sectors and aim to pick a business in a market-leadership position and then scale up, through mergers and acquisitions, for example. Growth in such businesses has been stimulated by the pandemic. "You buy the market leader at a P/E multiple of 10, and you then buy nine other smaller businesses at multiples of five and you can see how the maths works," he says.
Completing deals in a pandemic can be tricky with travel tightly restricted. Zoom calls, says Tilley at Stephens, can only take investors so far. There are a few firms that have transacted without having met the counterparty but that is rare. "I think you will at least meet the counterparty face-to-face once, not least so that you can tell your investors that you've done the due diligence," he says. "You do have to stick to socially distancing guidelines – I have a good colleague who's got a meeting tomorrow at a football stadium."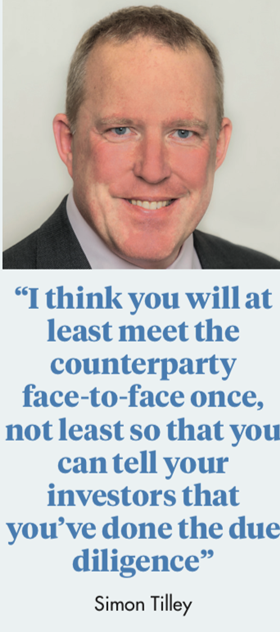 When it comes to fundraising, investors are more willing to do fully virtual diligence processes than they were before, says Scaff. However, there are pronounced geographic variations. "In our experience, Americans are potentially ahead of the Europeans, who still hope to have at least one in-person interaction, while Asian investors require more." Neuberger Berman has seen a flight to quality towards existing GPS with stronger brand names and larger pools of resources. That makes it harder for emerging managers and first-time funds to operate in this environment. That is because many people will simply not pull the trigger on a commitment without the in-person meeting or, in some cases, in-person due diligence, says Scaff.
Turnarounds and write-downs
With the current low prices for some assets, there might be opportunities for turnarounds and operational improvements. "Everyone knows if you buy a relatively lean operation terribly cheap and you ride the recovery, there is a real opportunity to make money," says Scaff. But with the continued lack of clarity on the pandemic evolution, few are willing to invest in these assets yet.
Some firms will have significant write-downs. This places their limited partners (LPs) in a dilemma, facing the spectre of demotivated GPs with legacy portfolios riddled with problems. These are the so-called 'zombie funds' of eight or so years ago, where the lack of carry meant firms were incentivised to do little but collect fees for as long as the funds carried on.
But, as Scaff points out, GPs are rather creative at reinventing themselves. The new way of dealing with the problem are GP-led restructurings, opportunistically pursuing single and multi-asset continuation funds. With these, they can pull certain assets outside the 'zombie' pool of assets, where the GPs see the turnaround potential and they perceive the value creation upside and the ability for them to make money.
Meanwhile, they can offer liquidity to their existing LPs who otherwise would not have access to that liquidity and provide an alternative to seeking a sale. Those LPs that are committed to the future with their GP have an option of rolling into a new fund alongside third-party money coming in. Normally the GP incentives are also realigned by design to give the opportunity to again be motivated and, importantly, incentivised to drive the value.
The COVID-19 pandemic has shaken up the private equity world and shone a light on its weaknesses as well as its strengths. The best GPs, says Strang, are "battening down the hatches and triaging their investments and focusing on those companies that require the most help". There will be plenty of material for doctorates on comparisons between private and public markets through the pandemic once it is over. The problem for investors may be that they cannot wait that long.
Private Markets - Private Equity: The impact of COVID-19
1

Currently reading

Private Markets - Private Equity: The impact of COVID-19

2

3

4