European pension funds could significantly improve member retirement outcomes by allocating to venture capital and growth equity
KEY POINTS
Venture capital and growth equity are increasing in importance as sources of diversification and return
The investable public universe is about half the size it was 20 years ago
The COVID-19 pandemic has accelerated the adoption of digital technology
Pension funds have an unprecedented opportunity to take advantage of venture capital and growth equity
While pensions and other institutional investors have embraced alternatives, target allocations to venture capital (VC) and growth equity (GE) remain modest – or absent – components of private investments programmes.
However, as private markets have matured and companies remain private longer, VC and GE have evolved to represent important sources of diversification and return.
Amid concerns of a protracted recession, rising unemployment and the potential for future inflation, now is an auspicious time for European pensions seeking additional sources of return to consider venture capital and growth equity. These can be attractive complements to existing illiquid portfolios, particularly in light of the role these asset classes play in the rapid digital transformation taking place.
With companies staying private longer or opting out of public listings entirely in recent years, the investable public universe has contracted meaningfully, and is now about half the size it was 20 years ago. As a result, investors are increasingly tapping private markets to access a portion of the market that was formerly available via the public small and mid-cap growth segment. Moreover, the COVID-19 crisis is illuminating – and accelerating – dynamics that venture investors have long understood: innovation disrupts everything, even asset allocation.
Companies in all sectors, industries and regions have had to quickly adopt new digital tools and develop new business models to meet shifting customer needs. Beyond their initial pandemic response, these companies will have to continually re-evaluate their innovation initiative portfolios. That will enable them to identify and address new areas of opportunity, unlock growth and remain competitive in the recovery period and beyond.
This has enormous implications for other asset classes. Goldman Sachs estimates that a third of US listed companies are highly vulnerable to technological disruption and have no clear path to growth. This raises the risk profile of public equities and renders exposure to innovative growth assets doubly critical to managing risk and return.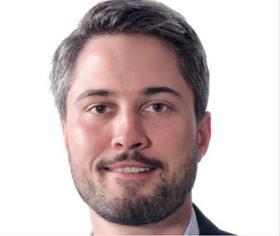 The uptick in technology adoption resulting from COVID-19 has only accelerated the digitisation in market capitalisation that was already taking place. In 2019 it was estimated to be worth $50trn (€42trn) in wealth creation and business value over the next 15 years across transformative technologies.
Venture-friendly sectors such as telehealth, collaboration and e-commerce have all seen unprecedented increases as the world adapts to a socially distant reality. According to a McKinsey survey, consumer adoption of telehealth skyrocketed to 46% in April. That was up from just 11% in 2019, with 76% of respondents highly or moderately likely to use telehealth in the future. Zoom app downloads increased 300% in the second half of March versus the weekly average in Q4 2019. Stunningly, the US and Canada have seen a 129% year-over-year growth in e-commerce orders since mid-April.
Market cycles
While innovation occurs across market and economic cycles, the current environment presents a compelling opportunity for investors with patient capital to invest in VC and GE. That was also the case during and immediately proceeding the global financial crisis of 2007-09.
Vintage years in connection with fat-tail market events have historically been characterised by venture market dislocation. That provides a fertile environment for innovation and the creation of value-driving venture investments. An attractive set of new opportunities looks set to arise over the next several years. They will follow in the steps of other recession-founded companies such as Lyft, Dropbox, Pinterest, Uber, Twilio, Slack and Airbnb.
Downstream, the global push towards automation, cloud and digital enablement has catalysed nearly infinite total addressable market (TAM) for private growth stage companies. Meanwhile, public market options are mostly limited to hardware and some consumer technology. This can be observed in the material outperformance of the BVP Nasdaq Emerging Cloud index (figure 1). It is designed to track the performance of emerging public companies primarily involved in providing cloud software and services to their customers. Compare this with the tech-heavy NASDAQ, which in turn has outperformed the Dow and the S&P 500 on a year-to-date basis.
The market's nearly ecstatic reception of recent venture-backed tech offerings with large TAMs, such as Snowflake ($81bn/€68bn), Palantir ($56bn), Asana ($23bn) and JFrog ($22bn), underscores a robust IPO environment for the industry. It supplements M&A transactions as a means of exit. While this is a positive signal for the VC/GE asset class, it also means that investors participating only in the public side of the market have lost out on meaningful appreciation. That is compared with those with access to the private side.
VC and GE exposure can provide meaningful diversification benefits paired with private equity (PE) strategies. They can play an important role in the institutional portfolio during both favourable and more challenging market cycles, if portfolio liquidity requirements support it.
Investor strategy
Institutional investment options now include various scalable combinations across three primary categories:
● Limited partner interests in a large universe of funds (955 across 761 VC managers versus 234 across 207 VC managers 10 years ago);
● Direct investments in portfolio companies
● Secondaries in both categories.
Fund commitments (and therefore underlying companies) can be diversified across established and emerging managers at the seed, early and growth-equity stages, as well as multiple vintage years, geographies and industries. A concentrated fund portfolio of top-quartile managers can meaningfully adjust the risk of investing in early-stage VC by garnering exposure to about 8,000 underlying portfolio companies. That can be achieved without sacrificing the potential for a power law. That is a return dispersion characteristic unique to small company investing whereby a single outlier investment can return multiples of funds, manager portfolios and industries.
Direct investments can range from the pre-seed to growth stages. They offer a wide array of risk, ownership, customer base, product establishment, revenue and earnings before interest, taxes, depreciation, and amortisation (EBITDA) profiles, to name a few. Growth equity, for example, focuses on market-leading companies at a more mature stage in the corporate life cycle, substantively mitigating operational risk.
Candidates for growth equity investment are classically characterised as those that have established product-market fit, a substantial customer base, strong organic revenue growth (at least 10%, but often in excess of 25-30% annually), established unit economics and either profitability or a clear path to profitability. In some instances, the companies are also bootstrapped (launched and operated solely using founder capital). They have little to no prior institutional capital investment.
Meanwhile, the secondary market has also grown to include new and large opportunities such as GP (general partner)-led fund restructurings. All these options serve to create a broad menu of investment strategies that can be customised for various investors with different appetites for risk, return and liquidity.
That said, there are idiosyncrasies to investing in the asset class that should be considered.
Return patterns
One important feature is the persistence of returns: high and low-performing fund managers are likely to maintain their respective performance. This tendency for success to beget success is more prevalent in VC versus other areas of investment. When compared with PE, for example, VC funds show a much higher tendency towards the persistence of returns for top-performing funds (figure 2).
Another way to illustrate this is that top-quartile VC managers outperform top-quartile managers in other asset classes over time. The trend that remains significant when isolated to periods of economic downturn and those immediately thereafter. Funds raised during the global financial crisis, for example, produced strong long-term venture investment outcomes superior to buyout. The subsequent year, 2010, was also exceptionally strong.
As a result of this performance persistence, conventional wisdom suggests investing in only existing top-quartile venture managers, or not at all. And investing in venture capital used to be that straightforward. It involved getting access to funds in the top quartile, re-investing each time they raise new capital and capturing a high percentage of all returns generated in the asset class. This led to the creation and utilisation of venture funds-of-funds, since many institutional investors seeking access to the asset class were unable to gain access to the top funds themselves. This worked well for many years.
But, now, the wash-rinse-repeat method to venture capital investing – which only worked well for investors with inside connections to select managers – is becoming outdated. It is no longer the only way to generate above-average returns.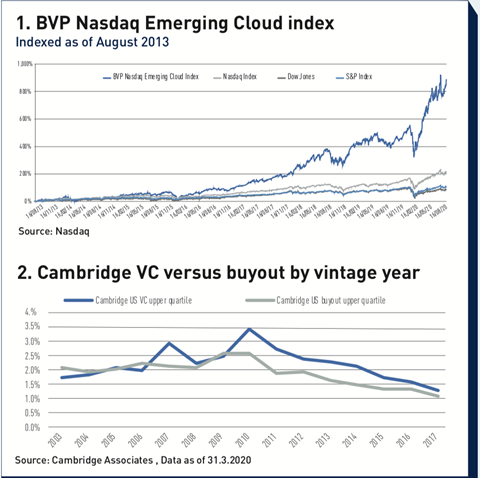 One of the reasons is the expansion of the market opportunity. The asset class has become more mature and as a result is much more nuanced: "New and emerging firms consistently account for 40-70% of the value creation in the top 100 investments over the past 10 years," says a recent report from Cambridge Associates entitled Venture Capital Disrupts Itself: Breaking the Concentration Curse. "The widely held belief that 90% of venture industry performance is generated by just the top 10 firms – which our analysis shows was somewhat relevant pre-2000 – is a catchy but unsupported claim that may lead investors to miss attractive opportunities with managers who can provide exposure to substantial value creation." For this reason, it is best to partner with a dedicated VC/GE specialist which has the resources to identify, access and gain meaningful allocations to top-performing managers, deals and secondaries.
The performance of public equities is diminishing for several reasons. These include a shift to private markets, the ephemeral nature of innovation and the likelihood that new entrants will outperform incumbent companies in the new normal. Investors are becoming increasingly reliant on VC and GE to achieve portfolio returns for beneficiaries.
A pre-pandemic 2019 study estimates that the average 22-year-old workplace pension member could achieve a 7-12% increase in total retirement savings by allocating just 5% to venture capital. With additional upside potential owing to the COVID-19-driven growth in adoption of venture-backed technologies, pension funds have an unprecedented opportunity – even responsibility. They can unlock outperformance and growth for their retirees through a modest allocation to VC or GE.
Tom Fitzherbert-Brockholes is director at Greenspring Associates
Private Markets - Private Equity: The impact of COVID-19
1

2

3

Currently reading

Private Markets - Venture Capital: The case for VC and growth

4