Buffer funds seek greater flexibility to invest in alternatives
KEY POINTS
The AP funds are seeking to overcome restrictions upon illiquid opportunities.
Financial markets minister Per Bolund will act to modernise the funds' investment framework.
Increasing co-operation between the funds is reducing costs.
Sustainable investment is on the rise.
Following the Swedish government's u-turn on its attempt to shake up the country's AP buffer funds, it has been a case of 'as you were'.
However, they are steaming ahead with progressive investment policies, particularly regarding sustainable investing. For example, during 2016, AP2 decided to allocate 1% to green bonds, making the asset class a part of its overall investment strategy.
AP2 has also continued its investments in green and social bonds which are managed within its existing bond portfolio. Currently, a total of SEK5.3bn (€550m) is invested in green and social bonds.
AP3 has set four guidelines covering its carbon footprint, green bonds and green buildings, and strategic sustainable investing. By the end of 2016, it had reduced its carbon footprint by 25%.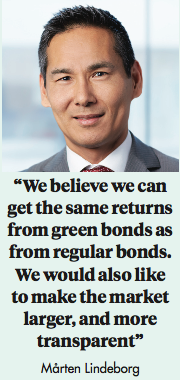 It has high ambitions regarding its carbon emissions, and claims its portfolio is carbon neutral, in part because of its investments in timberland. It also engages with investee companies, encouraging them to improve their own carbon emissions.
It has also doubled its investment in green bonds, from SEK4.5bn in 2015 to SEK9.5bn, with plans to increase this to SEK15bn by 2018.
"We believe we can get the same returns from green bonds as from regular bonds," says Mårten Lindeborg, deputy chief executive and CIO, AP3. "We would also like to make the market larger, and more transparent. There needs to be a standardised list of criteria for labelling green bonds so that investors can evaluate their sustainability."
Meanwhile, as one of Sweden's largest real estate investors, AP3 is pioneering green buildings through energy saving and sustainable materials.
AP4 also continues to integrate sustainability in its investment processes: "We believe sustainability is key, and a necessity for long term return performance," says Pia Axelsson, the fund's senior manager for corporate governance and communications.
The fund has established a global low carbon strategies platform, made up of three internal and three external managed low carbon mandates. At present, 24% of its global equity portfolio is invested in low carbon strategies.
In the green bond space, the fund has shifted towards corporates and financials from sovereign, supranational and agency bonds.
Axelsson says: "In many economies, bank financing is the prevalent form of financing rather than capital markets, and the development of more bank issuance in the green space is viewed quite positively."
The fund has developed its so-called ECOBAR, a system to measure and manage CO2 exposure across its credit portfolio.
An explicit part of its strategy is engagement through corporate governance, which it believes is an important tool to safeguard shareholder value. Areas covered include strategy, sustainability, board composition, capital structure, compensation and transparency.
Axelsson says direct dialogue – preferably face to face – works best. "To be successful, dialogues are conducted with mutual trust between the parties and not, for example, through the media," she says.
Another aspect of governance is AP4's participation in nomination committees – 27 during 2015-16. Important issues include increased diversity on company boards, for example gender equality, and effective board assessments.
At present, all the buffer funds are subject to an effective cap on alternative investments as they need at least 30% in liquid fixed income. This restricts their alternative investments if equity exposure is not reduced. There is a 5% cap on private equity exposure for AP funds 1-4, this does not apply to AP6, which was set up as a dedicated private equity investor.
There has been work to get these relaxed. Ulrika Danielson, AP2's head of communications, says: "Our diversified portfolio can continue to generate a good return for Sweden's pensioners but the return levels we have had historically will become increasingly difficult to achieve with the applicable investment regulations. For example, the need to have at least a 30% holding in interest-bearing assets means we cannot expect the same high returns."
She adds: "If we could decrease our investments in bonds, we would use that space to increase our capacity in non-listed assets."
Anna Fall, head of communications at AP1 adds: "Alternative investments are a good complement to fixed income and equities, as returns are easier to find here compared with, say, fixed income, given the current low rate environment."
Meanwhile, close to 20% of AP3's portfolio is in alternatives, including 3% in private equity. Alternatives are expected to return at least 7 to 8% in nominal terms. "We would like to invest more in alternatives because they provide returns and diversification and fit our long-term investment view," says Lindeborg. "There may be a higher embedded risk, but we can hedge against interest rate risk at least."
Per Bolund, the minister for financial markets, has said he will modernise the AP funds' investment framework. According to the Swedish media, the government has prepared proposals to relax the investment restrictions, possibly to take effect in 2018. "These would enable us to increase our position in alternatives, if the draft rules are adopted," says Lindeborg.
As the fund set up specifically to invest in unlisted assets, AP6's portfolio is split 50:50 between direct investments and funds.
"Direct investments mean you avoid fees and carry," says Karl Falk, head of AP6 fund investments. "But you need to build up competences. AP6 has dedicated teams for both fund investment and direct investment. The competence of investing direct is crucial when, for example, making a co-investment with a general partner."
Falk says that with experience of direct investment, AP6 can leverage its relationships with partners, and it sees opportunities in co-investments. "Our history as a professional fund investor plays out well, together with our history as a professional direct investor."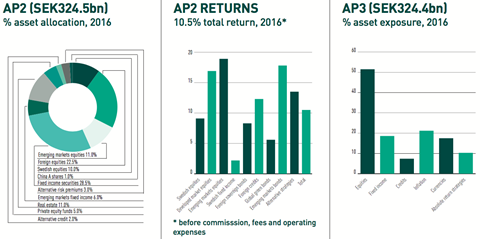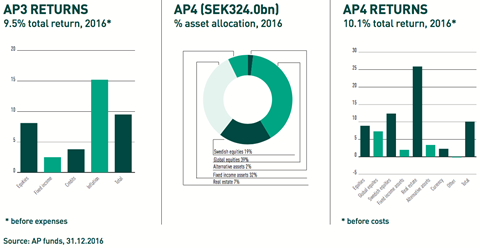 Taking control
One trend among AP funds 1-4 has been a shift towards in-house asset management; the rules stipulate a minimum of 10% should be managed externally.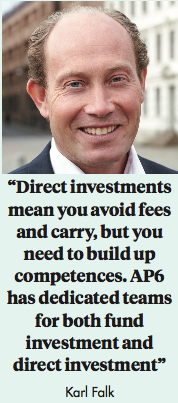 Fall says: "It is extremely important for us to continue to be cost efficient, and in-house management is one way of keeping costs under control. But it is key to not only look at the cost as an isolated key performance indicator, it has to be considered from the perspective of the return connected to the investment."
Of AP2's total assets, 83% are managed in-house. This covers several asset classes, concentrating resources in areas which it believes offer the greatest chance of success, based on the market, available experience, competence and processes. Between 2013 and 2015, AP2 brought just over SEK50bn in-house from external management – equal to around 15% of its current portfolio.
In particular, equities, global credit and emerging market debt have moved in-house. Doing this has seen significant cost savings, says Danielson. Close to 70% of all assets are now managed internally.
"We are always trying to get more in-house," says Lindeborg. "The performance of externally managed funds has been modest – for example, hedge funds have performed much worse than AP3's overall average of 10% a year over the past five years. So why should we hand over money, especially when hedge fund managers' fees are so high?"
Cross fund co-operation on the rise

The AP funds were established as separate entities to create competition through their investment strategies – also with a view to reduce costs.
But cost efficiency can also be achieved by co-operation, and throughout 2016, the CEOs of AP funds 1-4 increased their emphasis on this, as well as creating synergies and ensuring relevant exchange of experience, knowledge and working practices.
Co-operation already takes place in forums and will be intensified on a project basis. At present, there are nine co-ordination groups with representatives from the funds, some also include AP7 (the state-backed defined contribution fund). They include the Council of Ethics, and groups on administration, risk and performance, IT, back office and communication.
One area where co-operation is paying off is in hiring outside providers, such as legal services, where ideas and experience are shared. This has also led to joint tenders.
"This helps with transparency because one fund on its own can't always compare costs," says Lindeborg. "In addition, AP3 uses the CEM Benchmarking comparisons and our costs are lower than the average of our CEM peer group."
Another area is the quarterly meeting between the chief executives of the funds AP 1-4 through their co-ownership of Vasakronan, Sweden's largest real estate company.
But Mårten Lindeborg, AP3's deputy chief executive and CIO, says co-operation only extends to specific areas: "We can't co-operate on overall investment strategy, because it's up to each of the pension funds to decide that."
Sweden: AP funds power on
1

Currently reading

Sweden: AP funds power on

2

3

4

5

6

7

8