Phase two of Sweden's premium pension system reform aims to weed out poor investment pension funds and preserve the best
• Phase one: stricter rules to be on premium pension platform but still 500 funds• Phase two: make the Swedish Pension Agency an institutional fund buyer
• Agency goes from open architecture to guided choice: from weeding out the bad to actively looking for the best
• Safer, cheaper and more sustainable
• Harder for savers to make 'wrong choice' and end up with poor pension
The first phase of the reform the Sweden's premium pension system, formerly known as PPM, is well under way. The new head of the fund department at the Swedish Pensions Agency, the administrator of the platform, is already envisaging what is to come.
Erik Fransson, director of the fund department at the Swedish Pensions Agency and former global head of distribution strategy at SEB Wealth Management, says the process of de-registering the funds no longer eligible following regulatory changes, or those that chose not to re-register is expected to be finalised this month. "Savers have been informed continuously and have been offered a choice of either selecting a new provider from the approved list, or having their assets transferred to AP7, the government default fund."
Some 570 funds applied in accordance with the new rules, which stipulate a three-year performance track-record and a three-year business history. They must also have SEK500m (€46m) of assets coming from outside the premium pension system and the ability to reach a minimum level of sustainability requirements. "We expect about 500 funds to be approved by the end of the first stage of the reform," he says.
Mikael Westberg, former head legal counsel at the Swedish Pensions Agency, has been commissioned by the government to present a proposal on the second phase. This includes what a new legal framework and regulations governing the new entity would look like. He is expected to submit his findings in November, with the new system operational during 2020.
Fransson and his team are tasked with creating a sustainable, safe and controlled platform. How many funds will be eligible once the changes, including phase two, have been implemented will be a result of a balancing act between several factors. These include the cost-efficiency of funds, client demand and the ability to continuously monitor fund compliance as well as ensuring high quality and standards of the funds.
Fransson adds that, so far, the team has been cleaning 'the stairs from bottom to the top', meaning that the team is still selecting from the funds that apply, some of which might still be mediocre or even poor and not fit for purpose. "Following phase one in the reform, we still have some 70 global equity funds, and maybe only five or six are truly excellent. Funds can be perfectly legal but still not good for savers, but in phase two we will have a choice of what funds to add to the platform," he says.
In the second phase of the reform, Fransson expects to still offer a broad choice but be more of a guided open architecture offering, and unlikely to have too many duplicate funds. "The number of funds will be reduced but it will offer a better quality of providers as we will act as a tier-one institutional fund buyer. As such, we will be in a better position to buy what is best for the saver, which will make it much harder to make the wrong choice. This will result in higher returns for savers and, in the end, higher pensions," he says.
Of course, the fund industry has opinions about the changes as this will put further pressure on its margins but Fransson states that the industry has had it too easy for too long. Considering his background, he probably knows what he is talking about when he says that having essentially captive clients, such as the case of the large banks and insurers, has led to a level of complacency and lack of investments in the asset management teams. The changes will improve market competitiveness for the benefit of the savers.
Christian Lundström, head of fund selection and compliance unit at the agency, says quality control and cost will be key in the second phase and that transparency on active share and fees will be scrutinised. "There are good active and good passive funds. That is not the issue. The issue is that savers should know what they pay for," he says.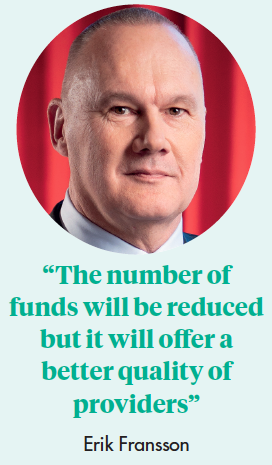 Lundström was previously a senior economist at the Swedish ministry of finance and previously held positions dealing with manager selection at Folksam and worked as a portfolio manager at, among others, Carnegie Investment Bank. He adds that the sustainability requirements in phase one already go further than the pan-European UCITs fund regulations and, at a minimum, fund providers will have to be signatories to the United Nations Principles for Responsible Investment (UNPRI).
"There is already more transparency, and selecting sustainable funds has also been made easier on the platform. You can now screen different aspects of sustainability or ethical criteria and select the funds that best suit your views," Lundström says.
Savers can put in up to 12 criteria that they want to exclude, such as tobacco, weapons or fossil fuels. Funds that have low CO2 risk, such as low exposure to fossil fuels, will have a green leaf symbol. There will be an indicator from one to 100, where 100 is the best sustainability score, so that savers can compare and rank their funds. The sustainability analytics is undertaken by Sustainalytics, a Morningstar company.
Lundstöm also expects a new category of funds to be introduced shortly – absolute return funds. "The new category will help our investors separate absolute return funds from relative returns funds, which is crucial for obtaining a diversified portfolio of funds," he says.
Lundström wants to build the best fund selection team in the country and, with the growth potential of the system, he does not see any obstacles to achieving this. The size of the platform will make it the largest institutional buyer and will surpass the country's buffer funds, the AP funds. It already has SEK1,200bn (€112bn) in assets and looks set to quadruple by 2060, when the system has matured.
Lundström has a team of 12, who are all busy sifting through applications, ensuring compliance and continuous monitoring. Following phase two, they will also analyse fund performance and other quality metrics. The team has both quantitative and qualitative tools in their bag. Lundström hopes to work closely with the fund industry to achieve a pension savings platform that puts the savers first.
He expects that phase two will have a broader implication for the Swedish fund industry. The agency will be leading the way in best-practice guidelines, which will, over time, be implemented by others as client demand and awareness grow.
Both Fransson and Lundström express delight over being part of the process and having been given responsibility for running what is regarded as a truly long-term and sustainable pension system.
ATP: Green signals
1

2

3

4

5

6

Currently reading

Sweden: Reform focus turns to quality and cost