Back in the 1990s, when the system was still in its infancy, Switzerland had over 4,000 Pensionskassen. Each company was obliged by the BVG, the law governing the second pillar, to set up a pension fund for its members – and most ran one in-house. In 2012, the most recent available official figure, the number of pension funds in the Swiss second pillar was down to 2,073, while six years earlier it had been close to 3,000. Over the same period, the number of insured members in the second pillar increased by 20%.
"The number of Swiss pension funds is declining by around 4% annually on average," estimates Jérôme Cosandey from Swiss think tank Avenir Suisse.
This is happening because smaller Pensionskassen are dying under the regulatory burden. "And this won't stop," Cosandey says. "They have to implement the Strukturreform, the Minder initiative [on governance] and now there is Altersvorsorge 2020." Further reasons for consolidation in the second pillar are company mergers and outsourcing of production to foreign companies.
When a new supervisory body, the Oberaufsichtskommission (OAK), was created in 2011, its first president Pierre Triponez, noted that he was aware of the shrinking number of Pensionskassen. He stresses the OAK has no intention of pushing this development in any direction: "We have an organically grown landscape of small and large Pensionskassen which we want to maintain and if we increase the administrative burden too much we are effectively altering this system".
However, it seems the system is changing regardless. Not only is the overall number of pension funds shrinking but consolidation is taking place across the board, in virtually all of the forms a Swiss second-pillar pension provider can take.
At a glance
• The number of funds in the Swiss second pillar continues to shrink.
• Insurers still see demand for fully insured products but are also branching out.
• The industry sees grounds for a significant further reduction in providers.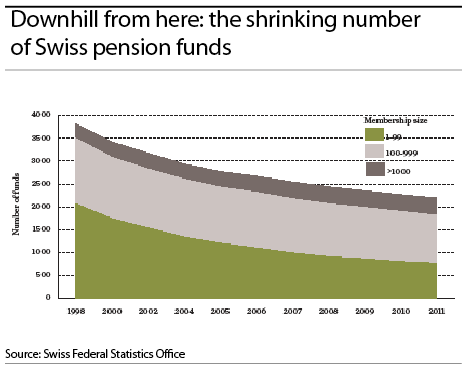 According to official statistics, the number of foundations set up by either one or several affiliated employers (mostly in subsidiaries) to manage their pension liabilities decreased from 2,580 to 1,765 over the period 2004-12. The number of collective schemes, known as Sammelstiftungen and Gemeinschaftseinrichtungen in German, which any employer can join, fell from 246 to 217 over the same period, while the number of members in such schemes increased by 30%. But several insurers have also opted out of the pension business recently – at least 13 between 2005 and 2012. In total, two-thirds of the total operational business of Swiss insurers is still generated by occupational pensions.
Zurich Insurance Group, for example, offers various pension structures, ranging from semi-autonomous joint foundations with pooled assets, where the customer defines the risk coverage, to more flexible joint foundations in which the customer defines the asset allocation as well as various technical parameters.
If the asset allocation is determined by the company, the pension plan does not have to be fully funded, so long as risk-bearing capacities are intact. For other pension solutions, such as a fully insured plan or products in which assets are pooled, a Pensionskasse must be fully funded to join.
The much smaller provider Helvetia reports a "strong demand" for fully insured solutions (Vollversicherung) in 2013 and a continuation of that trend in 2014. "It is especially the small and medium-sized companies, but more and more also larger ones, which are looking for a fully-insured solution for their occupational pension plans," Hansjörg Ryser, a spokesman for Helvetia, notes.
At AXA Winterthur, Thomas Gerber, head of life and savings, confirms on-going strong demand for fully insured solutions. But, at the same time, his company is looking to widen its product range into partially autonomous solutions as it has become increasingly difficult to achieve attractive returns in a fully funded scheme.
"Previously good returns will hardly be achieved by fully insured plans in the future, not only because of the low interest rate environment but also because insurers offering fully insured solutions must fulfil much stricter regulations now than partially autonomous Sammelstiftungen, Gerber adds.
Axa Winterthur and smaller providers are looking for fully-funded Pensionskassen to join their pools. Ryser says now is a good time for transfers because recent strong equity market performance has helped many private funds to reduce their funding gap significantly. The average funding level in the sample of funds used by Towers Watson stood at almost 103% at year-end 2013.
But it is exactly those returns that Swiss companies are foregoing in choosing a fully-insured pension solution. Zurich Insurance Group, Helvetia and Axa Winterthur all confirm that the Swiss Solvency Test considerably restricts their scope for exposure to risky assets as they have to match them with company equity.
Insurers must guarantee a payout of liabilities at all times and underfunding is not permitted by the federal financial markets authority, FINMA. Partially autonomous Sammelstiftungen, on the other hand, are supervised by cantonal authorities, can take more risk, and are therefore allowed to fall below the 100% funding level for a certain period of time. In 2012, Axa Winterthur reported a 1.3% equity exposure for its portfolio. Almost 50% was invested in fixed-income, just over 15% in mortgages and loans, 6.4% in private equity and hedge funds and 17% in real estate. The rest was in cash and money market instruments. Similarly, Helvetia reported a 2% equity share in its life insurance business for 2013.
Cosandey does not believe that the consolidation trend will greatly change asset allocation in the second pillar – rather the way in which it is implemented. "Larger Pensionskassen are using in-house teams more often and are relying less on funds," he says. "They are also using active strategies to a greater extent that smaller funds."
He confirms that insurers are using more conservative technical parameters to calculate liabilities, which makes a transfer rather costly. He adds that autonomous pension funds are also gradually adjusting their parameters.
Cosandey believes consolidation in the second pillar has both advantages and disadvantages: "On the positive side, greater accumulation of assets allows for economies of scale. Already 10% of all Pensionskassen manage 85% of the volume in the second pillar."
He quotes two studies commissioned by the BSV, the Swiss social ministry which showed, on the one hand, that larger Pensionskassen pay 30 basis points less on asset management fees than smaller ones and that, on the other hand, 50% of the administration costs in each Pensionskasse are created by setting up the Pensionskasse as a separate legal entity. According to calculations by Avenir Suisse, a reduction of the number of Pensionskassen to 300 "could therefore create synergy effects worth CHF800m each year".
But on the negative side, Cosandey says "members transferred to an insurer get a more anonymous pension promise and they are less directly represented on the board as they were in their company-owned Pensionskasse".
Cosandey expects the consolidation to continue and notes that the decision on a transfer also depends on the number of retirees in a scheme.
A further factor is public mistrust of insurers – this was evident in 2011, when a public vote on the conversion rate turned into a collective beating of insurers and the allegedly high fees in the pension segment – a criticism frequently voiced by Swiss union representatives.