Switzerland has not seen negative rates since the 1970s, years before the creation of the current BVG second-pillar system. Barbara Ottawa finds Pensionskassen refusing to overreact to the unorthodox situation
A negative yield on a new issue of 10-year bonds was added to the list of quirky Swiss things by commentators and analysts this year.
In April, the Swiss Federal Treasury became the first in Europe to auction benchmark bonds at a negative yield (in this case 0.555%). CHF232.5m (€223m) of the instruments were sold and the issue was oversubscribed.
Buyers were adding to larger diversified bond portfolios, or they were institutional investors either anticipating a further fall in rates or calculating yield on a real-value basis against expected deflation. This March, Swiss consumer price inflation was -0.9%, according to Statistik Schweiz.
But this is not a problem for the Swiss occupational pensions sector. "We have to pay out Swiss francs as a nominal value, not in percentages," says Christoph Ryter, president of the Swiss pension fund association ASIP.
Peter Zanella, managing director at Towers Watson Switzerland, agrees that the discussion is academically valid, if essentially irrelevant to Pensionskassen (occupational pension schemes), which would have to adapt their parameters fast to adjust to a situation in which real yield was negative, since they have to achieve positive yields in absolute terms. "We would have to introduce a pure DC system and this is not possible because pensions have already been promised and those promises cannot be changed."
At a glance
• Negative government bond yields and deposit rates have come as no surprise, unlike the Swiss National Bank's decision to end the peg with the euro in January 2015.
• Observers argue that the system can adapt but the tone of the public debate has become gloomy.
• Pensionskassen are grappling with the problem of paying real pensions when inflation and some key government yields are negative. Lump sum payments look better for Pensionskassen.
• Some funds are switching away from IFRS to avoid mark-to-market accounting requirements.
Neither would Zanella recommend holding negative paper simply for potential risk reduction purposes. "A normal Swiss Pensionskasse cannot be replicated with bonds because, for instance, it is always facing the risk of partial liquidation should a company leave the fund," he says, referring to multi-employer and cantonal funds covering different public authorities.
For Jérôme Cosandey, director at the think tank Avenir Suisse, the issuance of longer-duration government bonds with negative yields is just an "exacerbation of an already difficult situation". Ryter says the situation has been blown up by the media: "Everybody knows that previously issued bonds have sold at negative rates. Now the first issuances are negative as well."
Cosandey believes that the problems have simply become more visible, and a drop of just over 80bps from 0.31% at the end of 2014 to -0.5% in March, is comparable to earlier falls. Also, the discount rate according to the Swiss GAAP FER accounting standard is defined annually based on the long-term development of different asset classes, which means it might only be lowered to 2.75% for 2015 from 3% last year.
However, companies using IFRS or US-GAAP accounting standards and discounting their liabilities with a mark-to-market discount rate will feel the rate drop immediately. This leads to the intriguing conundrum of what would happen if the discount rate were to hit zero or go negative. Cosandey expects tension between multi-employer funds using the discount rate recommended by consulting actuaries and corporate pension funds having to use a lower rate.
According to Olivier Vaccaro, consulting partner at Aon Hewitt, some companies have switched from IFRS to other accounting standards to reduce volatility in their financial reporting and to delay the impact of lower interest rates.
Facing reality
"Times have become difficult because the third contributor to the pension system is more or less failing us," says ASIP's Ryter, referring to the yield situation.
However, at the beginning of 2015, the opposite was true: existing bond portfolios had just helped Swiss pension funds achieve a 7.7% asset return for 2014. In an environment of low interest rates, Swiss bonds were the second best performing asset class after foreign equities.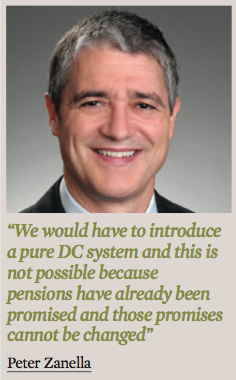 Ryter describes Pensionskassen as being in a "strange situation" with above-expectation returns for 2014 and funding levels that have been increasing since 2008. "When you're looking back the picture looks good although on the other hand pension fund representatives are saying it is all getting more difficult. But pension fund members themselves are not feeling this yet."
Certainly, the upside potential in the bond market, which has driven prices and asset portfolios higher, seems limited. As Cosandey puts it, Pensionskassen must increase risks without sacrificing the liquidity necessary to pay out pensions and ensure the portability of employees' savings.
In April, Martin Eling, professor of economics at the University of St Gallen, described the current situation in the Financial Times as unsustainable: "If we continue like this for 10 years, the pension funds will be bankrupt."
In a March 2015 research note on the impact of the negative interest rate entitled 'Die Zinswelt steht Kopf' ('The Interest Rate World is Upside Down'), UBS warned about the long-term danger of significant underfunding: "Should low or even negative interest rates prevail, it could be made legally possible to increase contributions in order to finance promised pensions." This would eventually burden companies with higher personnel costs.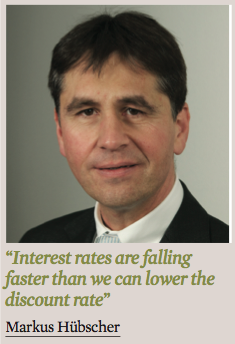 But while the pension industry is concerned about future investments, low yields and negative interest rates, it is more worried about the gloomy tone the public debate has taken since the start of the second quarter.
"I do not see vultures circling above the Pensionskassen yet. They can adapt to the situation," Ryter says.
Many had started to adapt before interest rates turned negative. One case is the pension fund of Swiss federal railways, PKSBB, which is lowering its conversion rate from 5.8% to 5.22% from 2016. Additionally, the technical interest rate, which is used to discount pension liabilities, was cut to 2.5% as a precautionary measure. This is below the rate recommended by the Chamber of Pension Fund Experts.
"Interest rates are falling faster than we can lower the discount rate," says Markus Hübscher, managing director at PKSBB. "And looking at a chart comparing these rates to the yield on
bonds we can see that the spread has never been wider."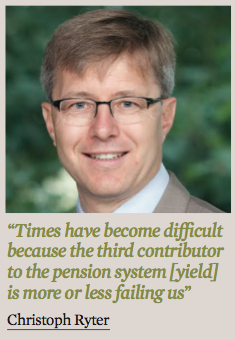 Hübscher admits he is concerned about how his fund will fulfil liabilities in the future, especially as the federal railway company (SBB) has decided against raising the risk budget to allow diversification into other asset classes.
Vaccaro at Aon Hewitt notes that some Pensionskassen are shifting from promising pensions to paying out lump sums to minimise the longevity risk, or are looking into it. However, according to UBS, this might only postpone the problem if those who have received a lump sum later need help from the state once their pension assets are exhausted.
Slowly does it
While Ryter sees the market environment changing faster than Pensionskassen can react, he adds that many do not want to make decisions any faster because they do not want to overreact: "They can only hope they are reacting early enough to avoid drastic measures in future."
Vaccaro shares the view that caution is better. "Short-term thinking is not good and overreaction is not in line with the goal of the second pillar," he says. "Until 2005, Pensionskassen did not really care about technical risks, but now they are looking into them and this is right."
Negative rates cloud asset allocation decisions for Swiss pension funds
Barbara Ottawa
Today, the overall assets in the Swiss second pillar total around CHF750bn (€722bn) with one-third in bonds, another third in equities, 20% in real estate and 5% in alternatives, according to the 2014 Credit Suisse Pensionskassen survey.
Cash-holdings fell in the first quarter of 2015 to a low of 5.9%, which Credit Suisse says this was "not surprising in the wake of the introduction of negative yields by the SNB". However, in January cash aided performance as it helped to soften the blow after the euro/franc peg was severed by the Swiss National Bank (SNB).
Weeks before, the SNB had imposed a negative bank deposit rate to reduce demand for its currency. This announcement led to the Swiss pension fund association ASIP demanding an exception for providers in the second-pillar to grant them at least a zero interest deposit with the SNB.
The SNB vetoed this and has lifted exceptions for its own pension fund as well as for the largest Pensionskasse, Publica, which covers federal employees. Only the first-pillar fund AHV/AVS is exempt from paying for its cash deposits. Its situation is peculiar as up to 16% of its assets have to be held as money to pay public pensions.
According to Jérôme Cosandey, director at the think tank Avenir Suisse, Pensionskassen have tried to split their liquidity deposits between banks to stay below fee thresholds, but these have also been reduced: "Cash is no longer that interesting as banks are passing on the negative rates."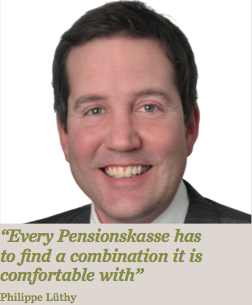 But the debate on cash deposits must be viewed in perspective, according to Cosandey, since it only makes up a small part of a portfolio. Even if fees have to be paid on deposits, these amount to a minor negative impact on the total performance.
If Pensionskassen are "torn between negative interest rates on government bonds, costs on cash on the one hand and risk-aversion on the other", according to Philippe Lüthy, head of investment consulting at Mercer in Switzerland, they might consider asset diversification.
However, real estate funds are not an option because the NAV premium is currently at 35%, which is 1,500 basis points above the historical average. Direct investments are hardly available and most institutional property investment vehicles are closed to new investors.
Lüthy does not see any fire sales in bond portfolios, but rather reductions in holdings at various speeds. The duration of holdings has been shortened, for instance through high-yield bonds, or else the interest rate curve is adapted by adding emerging market debt. "Every Pensionskasse has to find a combination it is comfortable with," he points out. Some of Lüthy's clients are avoiding Swiss bond duration risk and would rather take an illiquidity premium elsewhere.
Many Pensionskassen are reluctant to go beyond the 15% cap for alternative assets, even though this is possible under the current regulations. Lüthy is convinced this will change once the pain threshold increases. "In January, the situation did not look as bad because pension funds were still making 2.5% on their Swiss bonds but now that they are seeing yields go negative month by month the situation changes."
The conundrum also applies to currency-hedged foreign investments as these strategies have become expensive with the appreciating franc. "FX-hedging is expensive but what is the alternative? You cannot just invest in Swiss franc bonds with no yield and in the Swiss equity market, which is too small," says Olivier Vaccaro, consulting partner at Aon Hewitt. For Ryter, hedging is necessary because Pensionskassen pay out pensions in francs. He is keen to emphasise that pension funds are not the main driver behind demand for the domestic currency but they are affected by its strengthening.
While Pensionskassen struggle to adapt their strategies, the public debate is about blame. Some point to the ECB, others to the SNB.
Among investors, many understand the SNB's move as a reaction to the new European interest rate environment. Others would have preferred less orthodox policy moves. "The SNB should not have chosen the instrument of negative interest, particularly not on pension fund assets, but instead should have expanded its balance sheet and done quantitative easing buying up real foreign-currency assets, as recommended by the IMF," says Zanella.
The current situation could be described as one of 'quantitative unease'. But with their eye on the practicalities of managing assets and liabilities in an unprecedented situation, many Swiss Pensionskassen simply must adapt.
Both Vaccaro and Zanella stress that the previous good returns have helped private sector funds top up their reserves. At end-March 2015, the average funding level for private pension funds stood at 115%. Now those buffers can be deployed to make adjustments to the way liabilities are calculated.
"The system in itself remains good – it just needs to be adjusted to reality," says Lukas Riesen, partner at PPCmetrics. But he warns Pensionskassen not to be too cautious: "Lower pension promises can always be topped up should things turn out better".
"If we continue like this for 10 years, the pension funds will be bankrupt"

Martin Eling
However, Riesen points out that the problem is how to explain this to people who are thinking in nominal, not real terms. At the beginning of the year, the low inflation scenario even led to higher than expected pension payouts due to the higher inflation expectation than when the promises were made. Similarly, the real interest paid on active members' assets is at a historical high and will remain high in a deflation scenario.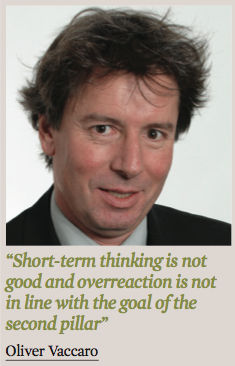 Zanella sees another problem with the current market. "Pensionskassen are unsure whether they should grant attractive interest rates on members' assets, reflecting the good performance of the recent past. They are uncertain whether the models for calculating the necessary buffers are still valid. I doubt it, but I don't know either."
Few have any experience of conditions akin to the current market environment. According to Zanella, the situation is worse than 2009-10 because asset downturns are a regular occurrence. The last time Switzerland saw negative interest rates on bonds was in 1970 and there were hardly any second-pillar assets accrued back then.
Switzerland: Pensionskassen keep calm under negative rate storm
1

Currently reading

Switzerland: Pensionskassen keep calm under negative rate storm

2

3

4

5