The Pensions Regulator is aiming to tackle poorly run UK pension schemes, and has designs on the role that trustees can play
Key points
The regulator has issued a consultation document on improving the running of pension schemes and ineffective trustees
Most experts say a mandatory professional trustee on every board would be impractical
The lack of diversity of trustee boards is a problem
The regulator will also include in the consultation proposals for clearer guidelines on acceptable lengths of recovery plans for different covenant strengths
Just as the holiday season began in earnest, the Pensions Regulator (TPR) issued a 43-page consultation aiming to tackle poorly run pension schemes and ineffective trustees in the UK.
Introducing the consultation, David Fairs, executive director of regulatory policy, analysis and advice at TPR, said: "There is stark evidence that the current system doesn't work for all and there is a clear disparity between the experience of savers in well-run and badly-run schemes."
TPR's consultation poses some key questions:
● Should there be an accredited professional trustee on every board?
● Are sole trustees on a pensions board able to run pension schemes appropriately?
● How can barriers to consolidation be removed?
● Should a legal requirement be brought in for trustees to meet minimum standards of knowledge and understanding and ongoing learning?
● How can diversity on boards be improved?
The role of professional trustees
Most experts say a mandatory professional trustee on every board would be impractical, as there are far too few trustees to provide coverage. There are other issues as David Weeks, co-chair, Association of Member Nominated Trustees, points out: "I and others question whether small schemes could afford to engage a professional trustee. The president of the Society of Professional Pensions quoted recently a survey that a professional pension scheme trustee chair costs £65,000 [€71,000]a year on average."
He adds: "This sounds to be a job protection scheme for professional trustees. I have not seen support for the idea, except from those who aspire themselves to join the TPR list of accredited professional trustees. TPR says that the current exercise is 'industry consultation'. That consultation should include pension scheme members, and not just the producer interests in the industry."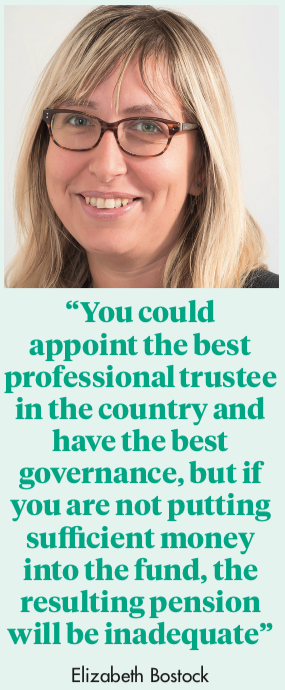 Good trustees alone are not enough as Elizabeth Bostock, benefit consultant retirement consulting at Buck, emphasises: "You could appoint the best professional trustee in the country and have the best governance, but if you are not putting sufficient money into the fund, the resulting pension will be inadequate."
But Vassos Vassou, professional trustee at Dalriada, says, as might be expected, "overall, an accredited professional trustee will bring value to every board."
Are sole trustees safe?
Could there be conflicts of interest and governance issues over sole trustees? Should they even be allowed? Peter Murphy, partner at Sackers, sees "a valuable role for professional sole trustees, particularly if the alternative may be a poorly resourced or poorly run trustee board. This tends to be more common where there is a smaller scheme or smaller employer, although it need not be limited only to these circumstances."
Efficiencies can be achieved from the sole-trustee model, says Alex Hutton-Mills, managing director at Lincoln Pensions, notably "the ability to make faster decisions, more efficient operation of the scheme, and removal of some conflicts of interest."
But, there are challenges from a governance perspective. Hutton-Mills says: "the trustee will, almost by definition, lack diversity of opinion, 'corporate memory' and the checks and balances that a full trustee board can provide."
He adds: "A new sole trustee may lack familiarity with the history and circumstances of the scheme, making it challenging to act in a fashion which is consistent with established precedent and which ensures fair treatment for members over time."
Paul McGlone, president of the Society of Professional Pensions, has another perspective: "Sole trustee is something of a misnomer, as in practice the firms taking on such roles use multiple members of staff when making decisions. One of the challenges is that such an approach risks losing important input to a trustee board from the member-nominated trustees. The biggest risk to this model, however, is how to manage conflicts. While trustee and company objectives are aligned this isn't a problem. But with the sole trustee hired and fired by the sponsor, any difference between sponsor and scheme objectives could leave the sponsor with a degree of influence over its trustee that we haven't seen since Maxwell [in the early 1990s]".
Minimum knowledge
Trustees and pension board members have a statutory duty to ensure they have sufficient trustee knowledge and understanding (TKU) in relation to the law, as well as the principles relating to the funding of pension schemes and the investment of scheme assets. But should requirements go further?
Lesley Carline, president of the Pensions Management Institute is an advocate of a minimum standard, as well as a continuing professional development (CPD) process. "Obviously, as a provider of qualifications for pensions professionals, we agree."
Rob Wallace, head of governance, XPS Pensions Group, says: "A legal requirement for all trustees to complete the Trustee Toolkit, within a set period of appointment, and to maintain CPD on an annual basis would be a useful starting point. However, not all relevant trustee skills can be taught via an online training system. Face-to-face trustee training that focuses on practical examples will often be more relevant for trustees, as well as training and mentoring to improve soft skills.
Training and assessments tend to be based on what a trustee should know rather than on the skills they need. Wallace says there should "be a greater focus on mentoring of new trustees, and on the assessment of trustee effectiveness, alongside minimum knowledge and understanding requirements."
Diversity requirements
With ageing memberships in often male industries, the lack of diversity is a problem. The 2016 PLSA Annual Survey found that, on average, schemes had 83% male trustees, with one quarter of trustee boards being all male. TPR research has found that about half of chairs and a third of trustees are over 60 years old, which does not reflect the profile of schemes.
Laura Andrikopoulos, head of governance, Hymans, says: "Open DC schemes serving diverse populations have little excuse for failing to be diverse."
In the Netherlands, each governance body must include at least one person under 40 and at least one over 40. But Wallace says: "In the UK, this type of diversity would seem almost impossible to achieve, especially given that most members who may be eligible to be member-nominated trustees of DB schemes are likely to be over 40."
Professional trustees may not be the answer. Penny Cogher, a partner, at Irwin Mitchell, points put "professional trustees are not themselves necessarily the most diverse group of people."
Bob Scott, partner at LCP, says: "The demographic of professional trustees is slowly changing. But there are plenty of people who are members of pension schemes, trade unions and so on who could contribute towards a more diverse trustee population."
Making DB funding fit for the future
Following its 2018 White Paper, TPR is shortly to launch two formal consultations. The timing of the first consultation depends on the legislative timetable of a new Pensions Bill. It focuses on options for a clearer framework for DB funding and what the watchdog sees as a suitable long term objective for pension schemes. For closed schemes, this will include ideas on how they should seek to progressively reduce their reliance on the employer covenant over time and reach a position of low dependency by the time they are significantly mature.
The watchdog will also include in the consultation proposals for clearer guidelines on acceptable lengths of recovery plans for different covenant strengths and on how this could work in practice. It will also set out its ideas for how contingent support could remain a central part of funding solutions and on investment risk with a simple stress test.
The second consultation on a draft code will take place next year once the watchdog has more clarity on the intended primary and secondary legislative package.
In his TPR blog David Fairs, TPR executive director of regulatory policy, analysis and advice, expects that discussion will be robust. But it is crucial that we have those debates to ensure the DB funding regime is fit-for-purpose for the future."
Short-term mindset
Is this consultation simply applying a bit of Elastoplast on a broken arm rather than looking to the long term?
Carline warns: "So much legislation and regulation encourages short termism these days, so any consultation or regulator is in danger of encouraging that mind set."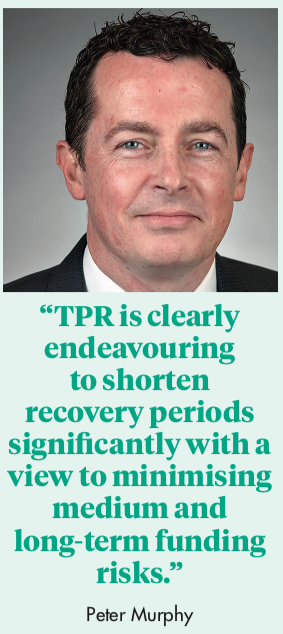 Murphy sees little evidence of short termism: "TPR is clearly endeavouring to shorten recovery periods significantly with a view to minimising medium and long-term funding risks. Otherwise, I am not aware of TPR encouraging or imposing a short-term mindset."
For Weeks the consultation is not enough: "The TPR analysis of problems also misses out some glaring malpractice. The House of Commons Work and Pensions Select Committee flagged up that the main problem in the BHS pension scandal was an over mighty employer, who was propped up by over-compliant advisers. The people who lost out were the pension scheme members, and the wider public interest. TPR's new proposals do not address adequately how to keep scheme members well represented in scheme governance."
Anything to improve the standard of trusteeship across the board is a welcome initiative as good trustees are worth their weight in gold.
McGlone says: "There's no doubt that better trusteeship helps. It ensures compliance with regulations, improved decisions, and better member outcomes, but that doesn't happen overnight."
The consultation closes on 24 September.
UK: ESG moves up the trustee agenda
1

2

3

4

Currently reading

The future of trusteeship

5