Academic studies have cast doubt on the existence of a premium for investing in small-cap stocks
Key points
Small-cap indices have outperformed on a long-term basis
Quantitative studies have found contrasting evidence of a systematic premium to small-caps
However, the size factor works well when combined with other factors
Lack of research on small-caps leads to higher risk but also higher alpha-generation potential
Institutional investors are no strangers to the contradictory evidence that is found in financial markets. The behaviour of stocks with smaller market capitalisation is perhaps one of the most striking examples of how two things can be true at the same time. Small-cap indices tend to outperform large-cap ones significantly over long time periods. However, academic studies have found weak evidence that size explains returns systematically.
In 1981 Rolf Banz, then a doctoral student at the University of Chicago, found a link between small size and outperformance. This was probably the first study of its kind on small-caps. Subsequent studies confirmed that result to different extents.
Small-cap indices seem to confirm that original finding. The Numis Smaller Companies index (NSCI), an index of UK small caps, provides clear evidence of small-cap outperformance. The index was created more than three decades ago by London Business School professors Paul Marsh and Elroy Dimson with historical data from 1995.
According to the London Business School, over the history of NSCI, the annualised return of the index was 14.7% at the end of last year, or 3.3 percentage points greater than the annualised return on the FTSE All-Share, an index geared towards large caps.
According to the Credit Suisse 2018 Global Investment Return Yearbook, which cites research from Marsh, Dimson and Staunton, US small caps returned 12.2% per year between 1926 and 2017, while larger caps returned 9.9%. Micro caps did even better, returning 12.7% per year. The yearbook states that a dollar invested in larger companies over the same period, with dividends reinvested, grew in value to $5,767, while a dollar invested in small caps grew $38,842, nearly seven times greater.
Studies from London Business School researchers have documented the outperformance of small caps over shorter and more recent periods and at a global level.
However, the Credit Suisse Yearbook offers a word of caution: "The relative progress of small-caps […] was not consistent and steady. There were prolonged intervals of underperformance."
Recent quantitative studies on the strength of the 'size factor', defined as the market capitalisation of a stock, have found contrasting evidence. Vitali Kalesnik, director of research for Europe at Research Affiliates, points out that the empirical evidence of a premium to small size is thin.
Weaknesses in the data
Kalesnik identifies several weaknesses in the methodologies used by the studies that have found a positive relationship between small size and returns. Kalesnik sees these as arguments against the existence of a premium to small size.
The delisting bias tops the list. Small-cap stocks are often delisted, and the returns post-delisting tend to be negative. Citing research by Tyler Shumway and Vincent Warther, Kalesnik points out that the common databases systematically understate the losses when stocks are delisted. This has not been accounted for in theoretical studies on the small-size premium. "Estimates of the magnitude of the small-size premium tend to be unrealistically high due to the delisting return bias," says Kalesnik. "When this bias is accounted for, the returns from small-cap stocks are far less significant."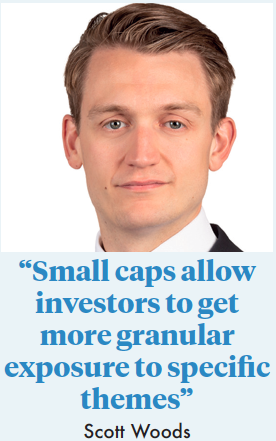 Returns from small caps are also overstated in academic studies because they do not account for transaction costs, according to Kalesnik. Small caps tend to be more illiquid and, on average, command higher bid-offer spreads than large caps. Transaction costs are a material factor affecting the performance of small-cap portfolios, and when accounted for, the outperformance of small caps is reduced.
Kalesnik also points to the well-known issue of data mining. He says: "There are hundreds of statistically significant factors, but these are often found by adjusting the data and the methodologies. To identify reliable factors, statistical parameters should be high. The small-size factor does not meet the thresholds set by academics to sort strong, significant relationships from spurious ones."
There are two other significant weaknesses in the studies that originally identified the small-size premium, says Kalesnik. First, the common statistical tests rely on the assumption that returns from small caps are evenly distributed, whereas, in reality, the empirical data contains huge outliers. There were four instances of abnormal returns (ranging from 26.3% and 51.6%) in the 1930s. If these are removed, the size premium loses statistical significance and is significantly reduced, argues Kalesnik.
Second, the Sharpe ratios of small-cap portfolios are about the same as larger-cap ones, meaning that the small-size premium does not provide meaningful risk-adjusted returns.
Other quantitative analysts have reached similarly sobering conclusions on the size factor. Hal Reynolds, CIO of Los Angeles Capital, the US quantitative asset manager, says: "The size premium is non-linear. Within a universe of large-cap securities, there is definitely a size premium as you move down the market-capitalisation spectrum. The same is not true about small caps. The size premium is not realised if you move down from small caps to micro caps. There is a need to break down size in different segments of the market."
"The size premium is also time-varying," he says. "This is because investor preferences change through time. There are periods when they can be enthusiastic about small-cap stocks, particularly when the economic sentiment is positive, for instance because GDP growth rates or earnings are high. That is when the risk premium to small caps can be small or even negative. Small caps generally require a very good market environment to do well."
Size and other factors
There is broad agreement, however, on the case for investing in small caps as part of a multi-factor approach. Successful multi-factor models such as the well-known Fama and French model have demonstrated that size essentially enhances returns from other factors.
Felix Goltz, research director at Scientific Beta, explains: "Size does not seem to deliver superior performance on a standalone basis. It offers a lower premium compared with other common factors, including momentum, value and low volatility. However, if you add the size factor to a set of exposures to different factors, returns may be improved. The size factor carries information about returns that is not captured by the other factors. Our studies have concluded that it is costly not to include the size factor in multi-factor portfolios."
Goltz points out that the size factor generally behaves differently from other factors. It has low sensitivity to interest rate shocks and has low correlation to other factors. "That is why it is important to look beyond the standalone premium and focus on the diversification element of the size factor," he says.
Despite the uncertainty about the magnitude and consistency of the size factor, several managers continue to run successful small-cap strategies. Their main argument is that small-cap investing provides superior alpha-generation potential. This is thanks to the chronic lack of research on small-cap stocks. Scott Woods, portfolio manager at Columbia Threadneedle, says: "Many small-cap stocks lack any analyst coverage. Weaker analytical coverage means this is a less efficient market. That leads to greater opportunities to generate compared with the large-cap markets."
To some, the small-cap universe is the most fertile ground for active management, where managers can focus on the businesses they invest in, as opposed to market or macro sentiment. "Small-cap investing provides an opportunity to invest in entrepreneurial businesses that grow from a small base," says Woods. "It also allows investors to get more granular exposure to specific themes. When one invests in large companies, one may be exposed to several business lines, including less-attractive ones. With small caps, one can focus on the desired trends."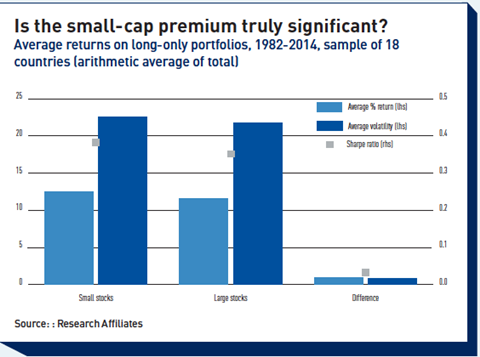 Woods manages a portfolio of global small caps, focusing on companies with a "sustainable competitive advantage". These tend to be those that can generate a return on invested capital above their cost of capital. "I try to understand how strong these competitive positions are over the long term," explains Woods. This is a purely bottom-up approach, through which Woods selects between 70 and 90 businesses, from a benchmark of over 4,000.
Despite the volatility and liquidity issues linked to small caps, bottom-up approaches can be for the long term. Ken Wotton, portfolio manager at Gresham House, a specialist small-cap manager, says: "We have low turnover in our portfolios, with an average holding period of five years. The portfolios are relatively concentrated with 40 to 50 stocks. We focus on quality companies, and because of the breadth of the benchmark, we can be quite selective. We can exclude sectors where we struggle to find quality or ones that are excessively exposed to cyclical factors."
Wotton adds that being an investor in a small-cap company brings liquidity and risk challenges, but clear advantages in engagement. Furthermore, Even concentrated small-cap portfolios can be affected positively by top-down factors, according to Wotton. "The micro-cap cohort, which can be defined as stocks below £250m market cap, tends to carry a discount. This means that if you pick good businesses, you can be exposed not just to earnings growth but also valuation effects. A feature that I expect our portfolio to show is that every year a handful of companies get re-rated positively because they expand or receive more attention from investors. The small-company effect can be strong."
"Larger companies tend to be multinationals and therefore exposed to the disruption of global supply chains" - Koen van de Maele
The contrasting evidence provided by quantitative studies on the size factor could be down to a clash between theory and practice. This is true of other factors, where the gap between academics and practitioners is significant in terms of methodologies and conclusions. What the evidence clearly tells us, however, is that including small caps in target portfolios as part of an all-cap approach is advantageous.
There are advantages to having a standalone exposure to small caps too, but it is a high-stakes game. Wotton notes that so far this year UK small-cap funds have shown great return dispersion, with returns ranging from 25% to -14%.
The evidence might need revisiting in the future as there are structural elements at play in the small-cap space. Koen van de Maele, global head of investment solutions at Candriam, says: "Trade tensions, which to us are a structural rather than cyclical phenomenon, may prove to be a tailwind for small-cap investors. Larger companies tend to be multinationals and therefore exposed to the disruption of global supply chains brought about by trade tensions, whereas small caps may be insulated by those developments."
Small & mid-cap equities: Public or private markets?
1

2

3

Currently reading

The small-cap conundrum