Dedicated ESG specialists are rare at institutions signed up to the Principles for Responsible Investment (PRI), in particular at asset owners, according to analysis carried out by climate and energy think tank E3G.
The analysis found that, in general, PRI signatories directly employed one ESG specialist per $14bn (€13bn) of assets managed on average. One-third of its signatories directly employed no dedicated ESG staff* and a further 20% employed only one ESG specialist.
E3G said this meant that over 500 PRI signatories directly employed one or no ESG staff. There are more than 1,700 signatories to the PRI.
Signatories that employed a high proportion of ESG staff tended to be smaller boutique investors, according to the analysis.
One quarter of the signatories in the dataset used by E3G were asset owners and the rest were investment managers.
The authors of the E3G briefing, "The lack of ESG capacity at leading investors", Florian Egli and Sam Maule, said that while the vast majority of asset owners and investment managers employed fewer than 10% of their staff as ESG specialists, investment managers tended to hire more dedicated ESG staff than asset owners (see graph).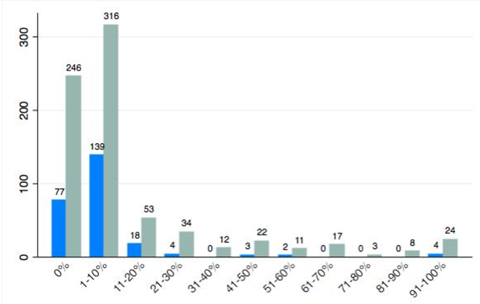 Where asset owners did employ ESG specialists, they said, these employees tended "to define an RI [responsible investment] policy and monitor its implementation by investment managers".
Policymakers should understand this difference and take it into account when developing sustainable finance strategies, said Egli and Maule.
"Sustainable finance policy responses should acknowledge the fact that best practice development of RI policies needs to start with asset owners, even if much of the implementation is "one level down" at investment managers," they said.
E3G is represented on the European Commission's High Level Expert Group on Sustainable Finance.
A senior responsible investment specialist at a UK pension fund recently told IPE it was positive that asset managers had begun to make more senior appointments in the responsible investment area, but this trend had yet to materialise in the asset owner segment. In contrast to asset managers, asset owners were not sufficiently valuing the multi-disciplinary skills of ESG staff, the pension fund executive said.
E3G's Egli and Maule said they explored the possibility that signatories declared no dedicated ESG staff because they fully integrate responsible investing throughout their business, but suggested this did not bear up.
"This could be true in certain circumstances, for example at investment managers that specialise in ESG investing," they said. "However, based on our conversations with many leading responsible investors and observing the data, we find that boutique ESG investors tend to declare all staff as ESG."
Overall, Egli and Maule conclude that "while some investors outsource responsible investing, and others claim to take an integrated approach, it is clear that the majority of investors assessed here need to rapidly expand and strengthen their in-house expertise by employing more specialists and training existing staff".
*According to E3G, the PRI defines ESG specialist/staff as follows: "Dedicated responsible investment/ESG staff are those individuals with the majority of their time allocated to responsible investment/ESG activities (either oversight or implementation)."