New products are making hedge funds look like an expensive way to access alpha
Key points
• Hedge funds are in the midst of a paradigm shift driven by smart and alternative beta products
• The industry is exploring new ways to find alpha
• Hedge funds are becoming increasingly customised
• If the hedge fund industry is to have a future it is likely to be through its ability to generate real alpha through new ideas
Hedge funds have had a torrid time over the past few years, at least as reported in the media. The post-financial crisis bull run in equities made hedge fund returns look mediocre and certainly not enough to justify their fees. Moreover, the rise of smart beta and alternative beta strategies have enabled investors to gain access to many of the underlying factors behind the success of hedge funds in the past at much lower cost.
Meanwhile, the reputation of hedge funds in the marketplace is still recovering from the Madoff scandal, which leaves a lingering feeling that what may look like true alpha could still be just a scam.
Perhaps not surprisingly, the industry has seen some high-profile total withdrawals by thought leaders in the institutional marketplace. CalPERS, the pension fund for public employees in California, is the most prominent example.
So is there a future for hedge funds? The short answer appears to be that there is but there has been a paradigm shift in what hedge funds are likely to be doing and what they are likely to be used for.
The rise of alternative and smart-beta products offered by many mainstream managers and even in the form of exchange traded funds (ETFs) has driven down the cost of accessing what used to be seen as the 'secret sauce' of hedge funds as well as active long-only managers. But while factor investing may now be seen as just a more sophisticated form of market beta and not true alpha, that does not mean that true alpha does not exist.
Alpha in the market
Alpha has been, and always will be, the rarest form of returns, says Tom Kehoe, global head of research at the Alternative Investment Management Association (AIMA). Few would disagree. Hedge funds are at the cutting edge of exploring new ways of generating alpha, particularly through increasing use of quantitative techniques and even artificial intelligence (AI). But even Kehoe concedes that the complexity of financial markets data means that AI will not be able to make accurate long-term financial predictions for the foreseeable future at least.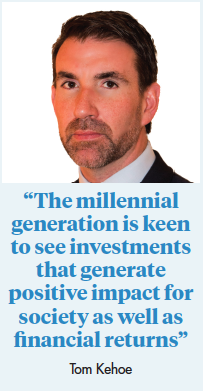 There are certainly alternative managers exploring a host of new ideas such as the use of 'big data' and machine learning. How robust and long-lasting any current strategies being marketed to institutions is the issue, though.
Fees are another area where the future might be different from the past for the hedge fund industry. The days of hedge funds charging 'two and 20' (that is, 2% management fees and 20% performance fees) have long gone, says Stephen Oxley, vice-chairman of PAAMCO. But, as he adds, investors must still expect to pay more for gaining access to alpha rather than beta.
Oxley has the view that while hedge fund returns have seemed mediocre in the recent past relative to equity markets, what they aim to offer is different. It is diversification with attractive risk-adjusted returns that investors should look to hedge funds for, not for maximising higher but riskier returns.
This may seem to many like just an excuse for an industry with a poor record for returns relative to fees. But the argument that the future is likely to look different from the past with low bond returns and more volatile equity markets does give rise to a requirement for non-correlated assets with equity type returns. In theory, hedge funds can provide that but for large institutional investors, there is no straightforward way to incorporate them within their specific portfolios to add the diversification they may need.
Last year was a turning point for the hedge fund industry, says Andrew Allright, CEO of InfraHedge.
"Returns were back to levels that people were used to in the hedge fund market of 10-11% and it was the first year since 2003 when average returns across all strategies were positive for every single month," he says.
Performance is coming back to hedge funds, says Allright and he attributes this to several factors: there is heightened volatility coming back into capital markets as the US Federal Reserve is starting to normalise interest rates. "Every time there is talk of a rise in rates in either the US or Europe, there is an impact on stock markets, which is generally negative when expectation is rate tightening," says Allright.
"Not only are asset owners keen to incorporate ESG criteria, there is increasing evidence that returns are equivalent to unconstrained investment activities"

Andrew Allright
As a consequence, he sees asset owners trying to diversify into hedge fund strategies to provide protection. Over the years, institutional investors have grown more sophisticated in their use of hedge funds and how they use them is changing.
Indeed, many would argue that hedge funds are no longer regarded as separate asset class. When asset owners look at their equity strategies, they may build in long/short hedge fund-type strategies alongside long-only holdings, for instance, and manage their equity investment as a single source of return to overall investment plan assets.
Bespoke solutions
This customisation of hedge fund strategies for specific portfolios is a theme of increasing importance with the creation of bespoke tailored solutions. Credit Suisse Prime Services finds that in the past year or so, more hedge fund inflows have been directed to non-traditional vehicles (52%) than commingled funds (48%).
Managed accounts have been the largest beneficiary with 25% of all inflows directed towards them, says vice-president Joseph Gasparro in a recent report. One development of this trend has been co-investment with hedge funds into new strategies by investors. PAAMCO, says Oxley, works with its hedge fund managers to create specific co-investment strategies for institutional clients.
Such customisation has also been driven by a desire by investors to consolidate their exposures to hedge fund managers, according to Kehoe. "If they had 20-30 managers in the past, today they may have half that number."
The other surprising development, says Kehoe, has been a step change in the desire to include ESG criteria in hedge fund strategies. "The millennial generation is keen to see investments that generate positive impact for society as well as financial returns," he says. New technology is also enabling hedge fund firms to implement responsible investment at low cost.
Allright agrees. "Not only are asset owners keen to incorporate ESG criteria, there is increasing evidence that returns are equivalent to unconstrained investment activities and, indeed, growing belief that ESG investing will lead to higher returns".
The future direction of the hedge fund industry, though, is still subject to controversy and a polarisation of opinions. For hedge funds to make a difference to any portfolio, their weighting has to be at least 5%. For CalPERs its weight was less than 2%, yet holding a more significant amount was seen as too risky and too expensive, according to some reports. It is not the only large institution with that viewpoint.
The AIMA argues that as competition for capital flows intensifies, retail investors are likely to become an increasingly important source of growth for hedge fund firms. This may be of great benefit to the firms, as they face competition from traditional asset managers offering smart beta products. But it also brings with it great dangers of regulatory clamp-downs and cries of mis-selling if hedge fund investment is seen to have delivered poor returns at high costs to the public.
If the hedge fund industry wishes to have a future, it is likely to be through its ability to generate real alpha through new ideas. Finding a less sophisticated marketplace to sell its existing products does not look like a promising route.
Hedge Funds: Activist funds turn up the heat
1

2

3

Currently reading

Time for new alpha ideas

4