---
Key points
• Several countries are attempting to raise the state pension age in the face of increased longevity.
• Political resistance to change is widespread across Europe.
Europe needs to continue pushing through tough measures such as the recent increases in retirement ages seen in several European countries if it is to reform its unsustainable pensions systems, according to industry experts.
Faced with rising longevity and declining fertility rates, European governments are grappling with the thorny issue of increasing retirement ages.
In July, the UK announced its decision to accelerate raising the state pension age to 68, seven years earlier than planned. Finland has also increased its flexible pension age and linked it to life expectancy. Ireland, the Netherlands, Russia and Spain are all to increase the state pension age, while Denmark tried to increase the pension age from 67 to 67.5 in May.
Poland, however, has reversed a decision to raise the pension age to 67. "Raising the retirement age is necessary to keep pensions systems financially sustainable while avoiding pension cuts," says Boele Bonthuis, social policy economist at the Organisation for Economic Co-operation and Development (OECD). "This is why recent moves to reverse the planned increase to the retirement age are worrying."
He adds: "OECD countries, including those in Europe, are heading in the right direction in terms of reforming their pensions systems, but it is imperative that they do not slow down their pace of reform."
Bonthuis notes that, following the global financial crisis, several European countries implemented wide-ranging pension reforms. But the pace of these reforms has slowed over the last couple of years.
Steve Webb, director of policy at insurer Royal London and former UK pensions minister, says retirement ages should have been put up several years ago. "We are only just catching up – we know we are living longer, but in the last 100 years [the] state pension age across Europe has barely risen. For example, for men in the UK it was 65 a century ago, and it is the same today. Retirement ages could have been raised gradually years ago to reach a more appropriate retirement level for current times."

One of the reasons he gives for the slow progress was politics.
"As we are seeing in Poland, and also in France where the government recently backed off from making changes to the pension age, this is a difficult process and any country with strong trade unions will find it hard to implement a higher pension age," Webb adds.
Richard Parkin, head of pensions policy at Fidelity International, agrees, pointing out that governments do not have many options in the face of rising longevity.
"There are no easy fixes to this issue," he says. "In the UK, one of the measures that the government has taken to improve pensions coverage is auto-enrolment. But this will take a long time to work through the system to have any real impact. Pension benefits are also at such a low level that you can't really reduce this any further, so we have to work with putting up the retirement age."
Through auto-enrolment, most workers in the UK are automatically placed into a workplace pension by their employer.
Across OECD countries, Japan and South Korea are ageing the fastest, with Europe following closely behind, the organisation's data shows. But within Europe, the Mediterranean countries of Spain, Italy, Portugal and Greece are ageing much faster than Scandinavia.
Costs of living longer
Fidelity's Parkin says the perceived pensions crisis is closely intertwined with the rising cost of social care seen across western European countries.
"This is all part of the same dynamic of people living longer and putting pressure on government finances – you can't deal with one part of the problem and not the other," he says.
Public pension expenditure in the EU is projected to increase by 0.4 percentage points of GDP over the period 2013 to 2040, to 11.7% of GDP, before levelling out to about 11% of GDP by 2060, mainly as a result of the impact of expected pension reform, according to an EU discussion paper. However, pension expenditure as a percentage of GDP is expected to peak at 13% between 2035 and 2045 before falling off.
Bonthuis says pension expenditure has been putting pressure on government finances for some time now.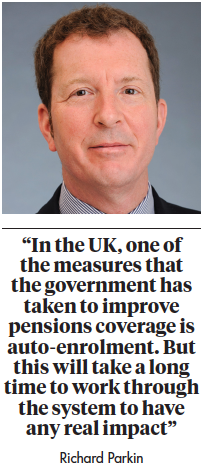 "This is an issue that governments could have seen coming, but little action has been taken until recently. If anything is predictable in economics, it's demographics. So it's quite critical that countries continue with the planned reforms," he adds.
For the UK, Brexit could lead to reduced immigration potentially increasing pension costs, according to Parkin. Research by consultants Hymans Robertson found that a difficult exit from the EU could lead to an enforced increase in the state pension age by 18 months for workers under the age of 40.
The old-age dependency ratio for OECD countries, which measures the number of elderly people relative to the number of people of working age, is 28% and expected to rise sharply to 52% by 2050. This ratio was 20% in 1980.
However, attitudes towards retirement are changing. Research carried out by Aegon Centre for Longevity and Retirement in 15 countries found that a majority of those countries agreed that retirement ages should increase in line with rising life expectancy but felt there should be some kind of cap.
Mike Mansfield, a manager at the Aegon Centre for Longevity and Retirement, says: "Our research shows that sands are shifting. Faced with increasing life expectancy, people realise that things are going to have to change either in terms of increases in retirement age, or cuts to benefits."