Reactions to the Kingman review on UK corporate reporting oversight
Key points
An independent review of the UK Financial Reporting Council identified serious shortcomings
It recommends replacing it with a new entity that can champion the needs of investors
A further review conducted on behalf of the opposition Labour party recommends bolder reforms
Of course, it was not supposed to be like this. The UK Financial Reporting Council (FRC) had managed to stay below the radar since it was set up in 1990. Accountancy was one of those subjects that seemed too complicated for politicians and the public to bother with – numbers were something that people just did not engage with. And if they did not engage, then accountancy and audit was always going to be the mother of all black boxes.
But that has changed. First, the FRC was criticised by two UK parliamentary select committees. And these politicians did not pull their punches. They accused the audit watchdog of timidity, tardiness and chumminess with those it was supposed to regulate.
All of this would have been survivable had it not been for the intervention of a politician who knew how to cut through Whitehall waffle: Sharon Bowles, the former chair of the European Parliament's Economic Affairs Committee.
As an undergraduate, the former research scientist had used FORTRAN to write refinement programs for X-ray diffraction lattice parameter measurements. You do not need to know what they are, just that they make double-entry book-keeping seem like a doddle.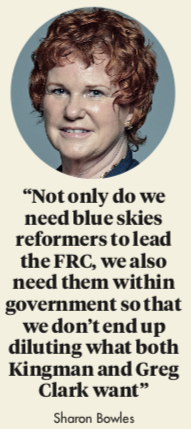 It was Bowles' decision to table over 80 parliamentary questions about the FRC and UK company law that revealed an institution constructed in a different era – a house of cards. All of this was enough for the politician with ultimate responsibility for the FRC, the business secretary Greg Clark, to wrongfoot his officials and announce an independent review into the council's future.
This review was led by former Treasury civil servant turned chairman of insurer Legal & General, John Kingman. His report published in December, pulled few punches.
The FRC was, he wrote, a "rather ramshackle house, cobbled together with all sorts of extensions over time" and "built on weak foundations" no less. It was, he concluded, time to build a new house.
In total, his review identifies a total of 82 recommendations alongside 24 shortcomings and weaknesses. Any one of the failings identified by Kingman, the public might expect, would fatally undermine any regulator hoping to be taken seriously. Indeed, it is hard to avoid the conclusion that the FRC has failed at every endeavour it was supposed to succeed at.
So how does the FRC continue? In the dustbin of history if the government implements Kingman's findings in full, because his recommendations are stark. First, he has proposed replacing the FRC with a new body called the Audit, Reporting and Governance Authority (ARGA). Alongside a new ethos, this new body, he argues, needs the power and resources necessary to regulate its remit effectively.
Among his narrative findings, Kingman argues that the FRC carries none of the authority of the US Public Companies Accounting Oversight Board and observes that although the FRC has demanded more powers, it failed to make a case for being given them. Moreover, at a time when financial reports have grown in size if not in value, he chides the body for failing to champion the investor.
But, perhaps most damning for the UK, boasting as it does that it is a global leader in corporate governance, Kingman muses that the much vaunted Stewardship Code is in practice not effective.
In light of the Kingman Review findings, IPE asked three FRC critics for their reactions. Prominent among them is Tim Bush from corporate governance advisers Pensions & Investment Research Consultants (PIRC).
"The FRC has a platform and publicity regime that gives it at least soft power," he says. "The problem is that it has managed to shoot itself in the foot by even throwing out defences for auditors in statements being made."
Although Bush wants a new body to replace the FRC, he says it is essential to find out what went wrong. "If we have a new regulator, a new freedom of information framework might not pick up is what was going wrong under the old FRC regime. That said, it's clear from the national archiving rules that all records will become available over time.
"What is more, the new body won't be able to get started without a thorough audit of the FRC's past outputs. The problem they will face is that there are likely to be numerous mismatches with the law. It is therefore crucial that the new audit regulator has a thoroughly independent and robust legal team."
Welcome though the Kingman review might be in some quarters, Prof Prem Sikka, who has chaired a parallel, and more wide-ranging inquiry into regulatory functions in the UK on behalf of the shadow chancellor, John McDonnell, says there is a need to be bolder than Kingman.
"The FRC has been overwhelmed by its own incompetence and failures and has no future," he says, "which is why the Kingman report recommends that FRC be replaced with the ARGA, which will be a statutory body with more powers.
"In addition, the report recommends that the powers of the four Recognised Supervisory Bodies (RSBs), which are accountancy trade associations, to licence auditors for Public Interest Entities – which are mainly listed companies – be curtailed."
However, Kingman does not apply the "independent regulator" principle to these RSBs, according to Sikka, as they would still act as licensing auditors to large companies. "In other words, Kingman leaves auditing with at least five duplicating, overlapping and buck-passing regulators, which for me is unacceptable."
Sikka continues: "I would go further and say that Kingman completely misses the bigger picture of regulation and the need for regulators to co-operate, co-ordinate and work to common standards. This is why he has no proposals for dealing with the maze of current regulators.
"For example, the Prudential Regulation Authority and the Financial Conduct Authority each have an interest in audited financial information but use a different benchmark to the FRC to assess whether the information and the audit is satisfactory."
And what does the politician who sparked the Kingman review think? "Change can't be brought about by the people who have failed, even if it does strengthen the hand of the internal reformers," says Sharon Bowles.
"Kingman notes that successive governments have dealt a limited hand to the FRC and, in my view, that inertia has also embedded itself in government. So not only do we need blue skies reformers to lead the FRC, we also need them within government so that we don't end up diluting what both Kingman and Greg Clark want."
But to listen to the FRC's chairman, the watchdog is not planning to go anywhere soon. In a statement issued to mark the release of the Kingman Review, Win Bischoff
said: "We welcome Sir John [Kingman]'s recommendations. They have the potential to bring about significant improvements to the work we do in protecting the interests of investors and the wider public. We look forward to playing our part to ensure his review is implemented speedily."
MiFID II: The best is yet to come
1

2

3

4

Currently reading

UK Financial Reporting Council: On the radar