Industry commentators do not expect radical changes to retirement legislation

Key points
A DB White Paper is expected in the spring
Key issues revolve around scheme consolidation, valuation and indexation
More powers for the regulator are possible
Radical changes are unlikely bearing in mind the government's slim majority
High-profile UK pension fund controversies such as BHS, and the collapse of multinational facilities management and construction services company Carillion, have put retirement savings into the spotlight as never before. The government is swinging into action with the imminent publication of a White Paper, which is possibly the 'last chance' to make large-scale changes to the defined benefit (DB) pensions sector.
The White Paper will build on the government's February 2017 Green Paper Security and Sustainability in Defined Benefit Pension Schemes which explored ideas and challenges for scheme consolidation, changes to indexation, and how to make it easier for employers to restructure schemes. However, with a minority government in parliament, scope for major reform is limited.
Too many small schemes
One of the issues raised in the Green Paper was the proliferation of small pension schemes.
It is hard to argue that out of a total of 6,000 schemes, 2,000 with fewer than 100 members would not produce savings if brought together, and consolidation has been achieved with some success in other countries, such as Australia and the Netherlands.
However, Bob Scott, chairman of the Association of Consulting Actuaries (ACA) and partner at Lane Clark & Peacock, says: "This should be voluntary as there are a good many smaller schemes that are well run and for which consolidation is not necessary."
He adds: "Consolidating schemes means the cross-subsidy of weaker employers by stronger employers. The PLSA's proposals for 'super funds' suggest one way around that issue."
He adds: "Pension schemes' benefits are too complex so that consolidating them into a single scheme may not deliver significant administrative savings. Even a plain-vanilla DB scheme, established in the 1970s and which has provided statutory revaluation and indexation, will have more than 10 different tranches of pension.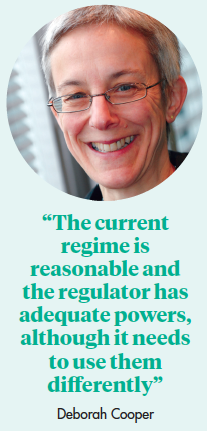 "Most schemes will have more complexity as they will have equalised benefits for men and women some time after 1990; and probably amended benefit scales as the cost of DB pension accrual rose. A facility that enabled schemes to simplify their benefits to a standard benefit scale would reduce administration costs so that consolidation could deliver real benefits."
Sankar Mahalingham, head of defined benefit growth at recently merged consultancy Xafinity Punter Southall, says: "Too many schemes continue with the status quo because it's all they know but that is no longer good enough," while David Fairs, lead partner within KPMG's people practice and former chairman of the Association of Consulting Actuaries (ACA), supports change. He believes consolidation "would likely improve the level of governance and enable the consolidated schemes greater access to advice while there would also be advantages to the regulator and others from having fewer larger schemes to monitor".
Malcolm Mclean, senior pensions consultant at Barnett Waddingham, broadly agrees but points out: "There are also many well-run and well-funded schemes which are capable of continuing to operate under their own steam and show no sign of faltering in the immediate future at least."
Ian Neale, director at pensions intelligence service Aries Insight, adds: "Bigger is not always better; the consultation document notes at one point that the smallest schemes are the best funded. Growth of an organisation is not always accompanied by effective control."
But Dan Taylor, client director at Trafalgar House, says: "The stark reality of the DB pensions market is that small schemes have to pay two or three times more per member than their larger counterparts because they lack the scale and purchasing power needed to negotiate affordable administration fees. It is not uncommon for small schemes to be paying as much for their adviser fees as they do towards deficit reduction; this is simply not right."
David Robbins, senior consultant at Willis Towers Watson, points out that the government has indicated that it will address consolidation in the White Paper, adding: "The tricky part is moving this beyond asset pooling and merging liabilities. Employers do not want to be on the hook for each other's pension promises to a greater extent than they already are via the PPF, so it comes down to whether employers should be allowed to walk away at less than the full buyout cost (which they have been required to pay since June 2003)."
Indexation
Another controversial issue is whether legislation should be introduced to enable scheme rules to change indexation arrangements from the retail price index (RPI) to the consumer price index (CPI).
Deborah Cooper, senior DB consultant at Mercer, says: "Members with indexed pensions only expected increases to compensate for price inflation. The RPI formula and the Office for National Statistics' treatment of it now that it is no longer a national statistic means it is likely to become an increasingly poor and overly high measure of price inflation, imposing unintended extra cost on employers."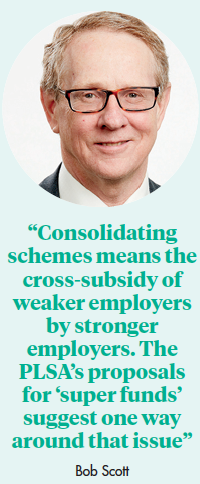 Cooper believes an employer override – effectively taking control over what index to use away from the trustees – would address what she calls the "unfairness of the scheme rules lottery as well as helping manage scheme liabilities without fundamentally altering the nature of the contract".
Janet Brown, partner at pensions law firm Sackers, says: "Indexation is a simple enough concept, protecting members' benefits against inflation, but its implementation in practice has become both expensive and unwieldy for many.
"Despite the inflationary measure used for assessing statutory increases having switched some years ago from RPI to CPI, many schemes remain hamstrung by their own rules from moving with the legislative times."
She adds: "The Green Paper acknowledges that there may also be a case for suspending indexation where an employer is stressed and its scheme underfunded. This idea of so-called 'conditional indexation' is nothing new, but the government has yet to take the bait."
The ACA's Scott says: "Easing the pressure on companies by enabling schemes to move from RPI to CPI [with trustee consent] would help alleviate inter-generational inequalities by enabling companies to provide better benefits to their [younger] employees."
However, Robbins says: "If the government was ever thinking seriously about facing down the hostile headlines that such a move would generate, the parliamentary arithmetic surely makes this unlikely."
Valuation
Many people in the industry think the current valuation regime does not need changing.
Cooper says: "The current regime is reasonable and the regulator has adequate powers, although it needs to use them differently."
Scott agrees: "There is sufficient flexibility within the current regulatory framework to address issues such as deficits that are inflated by falling Gilt yields. The key is to focus on meeting benefits and addressing the risks of not being able to do so in the future rather than on a headline 'deficit' figure.
Fairs adds: "It is hard to see any appetite for changing valuation methodology."
Remarks made by Esther McVey, secretary of state for work and pensions since January 2018, indicate that the government is considering moving pension schemes further up the queue of creditors in insolvency cases but Robbins believes this is unlikely while Joe Dabrowski, head of governance and investment at the Pensions and Lifetime Savings Association, believes that "we are likely to see more powers for the Pensions Regulator, in particular to intervene in corporate takeovers, when the risk to the pension scheme could be heightened and to get tougher on employers who may not be funding their schemes appropriately."
McLean is fearful that "we will get a White Paper effectively tinged with green with a less than clear-cut path forward" while Scott expects "to see something about employers/directors that neglect" their pension funds while paying large dividends or enjoying generous pay packets" but he does not believe that such knee-jerk responses are the answer.
By contrast, Steve Webb, director of policy at Royal London, says: "More could and should be done on dividend policy.
"There are firms with large deficits paying out large dividends and it is not clear to me that this is the right balance, especially when the large dividends may in be in part because senior manager remuneration is linked to sustaining and boosting dividend payouts."
Neale concludes: "Expectations are low: the minister's foreword to the Green Paper referred to 'what, if anything, we should do to further support the sector'."
He believes the industry does not think that government intervention is needed, even if improvement is required in some cases.
"The danger here is that the final conclusion is that it's all too difficult so best leave things as they are."
UK pensions: Looking ahead to pensions white paper
1

Currently reading

UK pensions: Looking ahead to pensions white paper

2

3

4

5