The Northumbrian Water Pension Scheme has selected Cardano, the pension advisory and investment management specialist, to act as its outsourced chief investment officer (OCIO).
After a competitive tender process, the trustee appointed Cardano to design and implement the £830m scheme's strategic asset allocation (SAA).
Cardano said that the fund's SAA will be consistent with return and risk management objectives set by the trustee in consultation with the scheme's sponsor.
WTW will continue to act as the trustee's investment consultant, it was announced.
The SAA is expected to evolve over time. Cardano said that it will initially be implemented using flexible building blocks, including: sustainable equities, investment grade corporate bonds, specialist active managers, several of the scheme's existing investments as well as government bond and inflation overlays.
Cardano will also manage the scheme's liability hedging portfolio in-house on a segregated basis.
Sustainability will feature across the SAA. For example:
the equity portfolio will incorporate a broad range of ESG considerations including but not limited to climate change, e.g. the portfolio will aim to be water neutral by 2030;
the corporate bond portfolio will include sustainable and green bonds;
the specialist active managers will be held to account against a demanding ESG scoring system with targeted improvement milestones and key performance indicators;
the liability hedging portfolio will, in part, allocate transactions across counterparties based on Cardano's assessment of investment banks' sustainability.
Duncan Willsher, a professional trustee at Vidett, the scheme's chair, said: "We wanted an OCIO who could offer a sophisticated strategy, flexible implementation and a collaborative approach to working with the scheme's stakeholders and other advisors. We look forward to getting started."
Patrick Cunningham, partner and co-head of clients at Cardano, added: "Some schemes benefit from comprehensive fiduciary management services. Larger schemes with sophisticated governance models like this one are increasingly looking for OCIOs who can be flexible in the services they offer."
Canada Life reports over £100m in annuity sales
Canada Life's UK half-year financial report showed record-breaking annuity sales, up 100% on the same period in 2022.
It said that May 2023 was a record month for individual sales, with over £100m in new business in one month, the highest sales figure since the pension freedoms of 2015.
Canada Life attributed this performance to the significant rise in annuity rates over the past year, set against a backdrop of macroeconomic uncertainty driving demand from customers for guaranteed income products.
New business sales for individual annuities stood at £441m in the first half of the year, compared to £220m in the same period in 2022.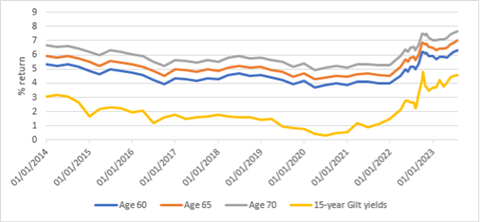 Lindsey Rix-Broom, chief executive officer at Canada Life UK, said: "We've experienced an extraordinary come-back for individual annuities, driven by the significant increase in value offered from the returns available, combined with customers seeking income security in times of economic uncertainty.
"The record-breaking performance of annuities has been a major driver of new business sales and the outlook for the second half of the year looks similarly very positive."
Rix-Broom added that the diversity of the business across wealth, retirement, group protection and asset management means it is "well placed" to meet the evolving needs of its customers and their advisers.
Tom Evans, managing director of Retirement at Canada Life UK said: "The annuity market has been revitalised by the much better incomes now available, but there has been a quiet revolution going on since the pension freedoms were introduced."
Evans added that from the introduction of longer guarantee periods, 100% value protection, and more flexible retirement products, customers have an attractive alternative to drawdown to deliver the best value from their pensions.
He continued: "Seeking advice, shopping around, and not viewing the decision between annuity and drawdown as a binary choice can deliver a better retirement outcome."
Evans said that the "unprecedented" demand for annuities over the first half of the year has resulted in teams at Canada Life being "stretched".
Read the digital edition of IPE's latest magazine

Pamela is IPE's UK correspondent. Before joining IPE in May 2023, she spent five years writing about the insurance industry. During her career so far she won awards for Most Promising Newcomer in 2020 and Best Investigative Article in 2022 from the British Insurance Brokers Association, and was also highly commended at the WTW Media Awards for Insurance Features Journalist of The Year.
View full Profile