Esther McVey, the UK's work and pensions minister, has tendered her resignation after prime minister Theresa May presented a draft Brexit agreement last night.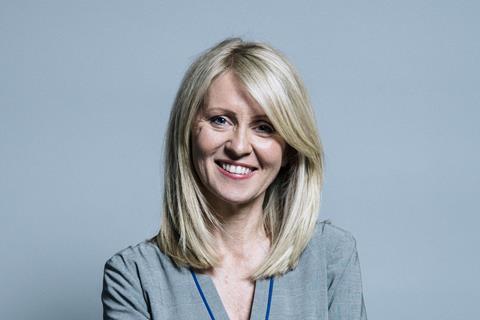 In a letter to May , McVey said she did not feel the agreement – which was presented to government ministers yesterday – honoured the result of the 2016 referendum on EU membership or the "tests" set out by the prime minister for a successful Brexit deal.
"The proposals put before [ministers], which will soon be judged by the entire country, means handing over around £39bn [€44.2bn] to the EU without anything in return," McVey wrote.
"It will trap us in a customs union, despite you specifically promising the British people we would not be. It will bind the hands of not only this, but future governments in pursuing genuine free trade policies.
"We wouldn't be taking back control, we would be handing over control to the EU and even to a third country for arbitration. It also threatens the integrity of the United Kingdom, which as a Unionist is a risk I cannot be party to."
She added: "I cannot defend this, and I cannot vote for this deal. I could not look my constituents in the eye were I to do that."
Earlier this morning I informed the Prime Minister I was resigning from her Cabinet pic.twitter.com/ZeBkL5n2xH

— Esther McVey (@EstherMcVey1) November 15, 2018
McVey was appointed work and pensions minister at the start of this year, having been elected to office in the 2017 general election.
She previously served in the UK's Department for Work and Pensions (DWP) as part of the Conservative-Liberal Democrat coalition government from 2010 to 2015, when she lost her seat.
In July the Times newspaper reported that McVey was considering pulling government support for the proposed pensions dashboard, but pensions minister Guy Opperman has since confirmed that the DWP backed the concept.
In her resignation letter, McVey stated: "It has been a huge honour to serve as Secretary of State for Work and Pensions, and I am immensely proud of the part I have played in the record levels of employment we have seen in all parts of the UK."
Steve Webb, who worked with McVey when he was pensions minister from 2010-15, said her successor would likely "have little time to shape pensions policy".
Webb – now director of policy at Royal London – added: "With this in mind, the key people shaping pensions policy will remain [the] Treasury and the DWP's pension minister."
Alex Hutton-Mills, managing director at covenant adviser Lincoln Pensions, warned that disruption within the DWP could affect an expected consultation paper about defined benefit scheme consolidation. "Given the potential for consolidation to improve member security in certain circumstances, any further delay would be unfortunate," he said.