September's mini-budget prompted soaring Gilt yields and a plunging pound as markets slammed the prospect of funding tax cuts from debt
Gilt markets have steadied somewhat after most tax cuts were reversed
Long-dated Gilts remain attractive but there are short-term challenges ahead
The buttoned-up Gilts market has never seen or done anything like it. Trusty stalwart of liability matching for defined benefit (DB) pension schemes, the blue-chip security has already poleaxed a British chancellor of the exchequer just a month in office, and has effectively done the same to prime minister Liz Truss.
While markets have since steadied following the new chancellor's reversal of Truss's economic growth agenda – the damage had been done to his boss's credibility.
This year had already seen rising bond yields and volatile markets across the world because of high inflation, intensified by the invasion of Ukraine, and consequent increases in energy prices.
It was against this backdrop that after taking office in early September, Truss and her newly-appointed chancellor Kwasi Kwarteng announced a highly ambitious supplyside growth plan: cutting taxes to boost spending and jobs.
Kwarteng's mini-budget on 23 September contained £45bn-worth (€52bn) of tax cuts, including reducing the standard rate of income tax by 1% to 19%, and abolishing the 45% top rate altogether. Unfortunately, he omitted to explain how this would be funded.
With cuts to public services politically difficult, the inference was that the government would be resorting to debt.

In response, Gilt yields soared – two-year Gilts to their highest level since 2008 – while the pound plunged to an all-time low. The Bank of England (BoE) was forced to step in with a commitment to buy up to £65bn of bonds to prevent a fire sale of Gilts prompted by derivatives collateral calls in liability-driven investment (LDI) portfolios.
The Bank's intervention gave some relief to the Gilts market, but did not halt the tsunami of criticism for Truss and Kwarteng. Despite a couple of u-turns from the former, it was only a matter of time before one of them went.
The prime minister sacked Kwarteng on 14 October, and herself resigned six days later. Kwarteng's successor Jeremy Hunt has since calmed the markets by ditching practically all of the tax cuts in an announcement on 17 October.
Volatile instrument
But where does this leave Gilts as an investment? "Gilts have shifted from being a dependable source of liquidity and a safe haven in choppy markets, to volatile instruments whose fragility is transmitting stress throughout the financial system," says Gordon Shannon, portfolio manager at TwentyFour Asset Management. "The Bank of England's priority was re-establishing market order, buying time for LDI investors to raise collateral as Gilt values drop, rather than setting an absolute limit on Gilt yields."
"We continue to hold an underweight in sterling"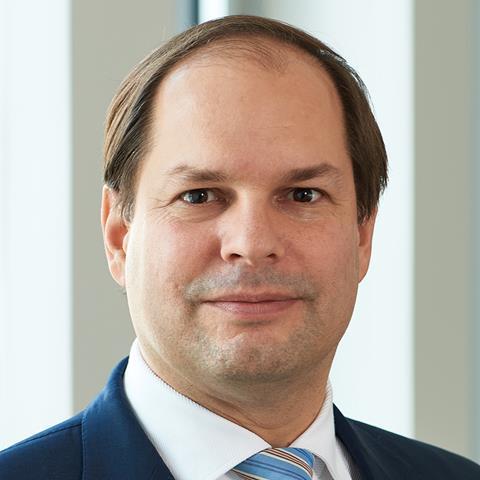 But he adds: "Ultimately, however, the BOE has to prioritise fighting inflation, and it will soon switch to quantitative tightening, selling its holdings, as well as further base rate hikes."
David Zahn, head of European fixed income at Franklin Templeton, says: "We are witnessing a liquidity squeeze due to schemes adjusting their asset allocation in the light of market volatility. However, Gilts remain an important asset class and play an important role in investors' portfolios, particularly in a higher-yield environment."
He adds: "There has always been a huge demand for long Gilts from pension schemes, but their immediate focus has adjusted to meet their margin calls. Looking over the long-term, higher yields will provide a better discount rate, liabilities will decrease and will help pension schemes reach fully funded status. The protection offered by cash bonds will drive increasing demand from investors."
"Gilts remain an important asset class and play an important role"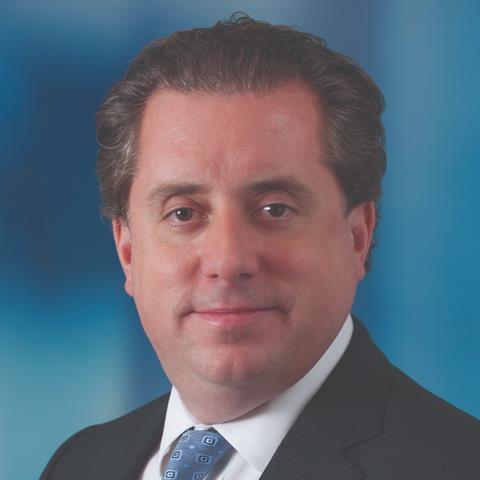 Zahn says the value in Gilts is rising significantly and that they currently offer fair value; the FTF Franklin UK Gilt fund is looking to buy back its underweight. And he believes that the current market events demonstrate the value in sterling corporate credit.
"Funding to meet recent margin calls has come from selling liquid assets such as corporate credit," he says. "It is important to note that the yield offered by some of the corporate credit names has risen significantly, and offers an interesting opportunity for investors."
Christian Kopf, head of fixed income at Union Investment in Frankfurt, says: "Given the volte-face in fiscal policy, we now hold a neutral position in UK Gilts. The government has addressed the problem of inconsistent macroeconomic policies."
But he adds: "However, we continue to hold an underweight in sterling due to global factors. We are in an environment of rising interest rates and tightening liquidity in global markets, and it is becoming more difficult for countries with a structural current account deficit like the UK to attract foreign funding."
How the UK government debt yield curve responded to political turmoil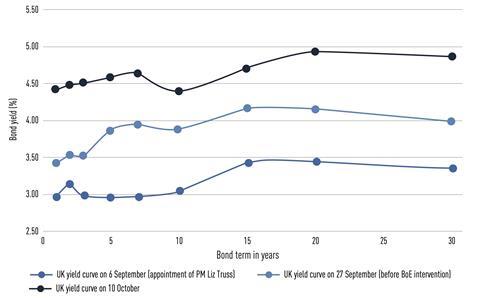 Long-term gloom
Craig Inches, head of rates and cash at Royal London Asset Management, says: "Every time that long Gilt yields have approached 5% and long real yields have approached 2%, we have been buying Gilts both outright and on a cross-market basis, versus the US or Europe.
"In the main we have been running short duration and underweight the UK for quite some time now, but at the levels mentioned we have been trimming our short position and moving back toward a more neutral stance on Gilts."
He warns: "It is likely that we are not out of the woods yet and I am sure we will see continued extreme volatility for Gilts in coming weeks, but looking through this to the medium term, these yield levels make long-term fundamental sense."
Inches considers that the mini-budget was the "match that lit the fireworks for Gilts".
"The UK economy faces long-term challenges"
"However, that potential explosion had been building for quite some time," he asserts. "The UK has a central bank that is behind the curve, inflation that is out of control, a government in disarray and a mountain of debt that is currently only sustainable with central bank intervention."
He says: "Until all the u-turns are straightened out and the government comes up with a credible plan to calm the markets, demand and supply of Gilts will be determined on a week-by-week basis."
Hunt's measures to help balance the books also included curtailing the government guarantee to cap energy costs, which will now last for six months instead of the two years originally envisaged.
Inches says: "Hunt's 'Operation nothing to see here' has helped to calm markets, but instead he has created a cliff edge in April [2023], has removed support for consumers and businesses, and potentially created a deeper recession at a time when tax receipts will be key to keeping borrowing down. He may therefore have stemmed the impending storm for the pension funds, but the long-term gloomy forecast remains unchanged."
Neil Mehta, portfolio manager at BlueBay Asset Management, considers that although the outlook for Gilts has improved after the recent economic u-turns from the government, it is unlikely all the risk premium demanded by investors since the initial mini-budget will be reversed, as the government still faces many political and economic challenges over the coming months and years.
"The UK economy faces long-term challenges regardless, as it enters a period of slumpflation," he cautions.
Mehta says Hunt's reversal of the tax cuts will also ease pressure on the BoE to hike rates aggressively over the coming months, but he postulates that with inflation set to peak at 11.5%, and wages growing at over 6% a year, any lapse in the commitment to bring inflation back to 2% will see higher inflation remain a more permanent fixture in coming years.
"It's a waste of time to get too hung up on precise numbers"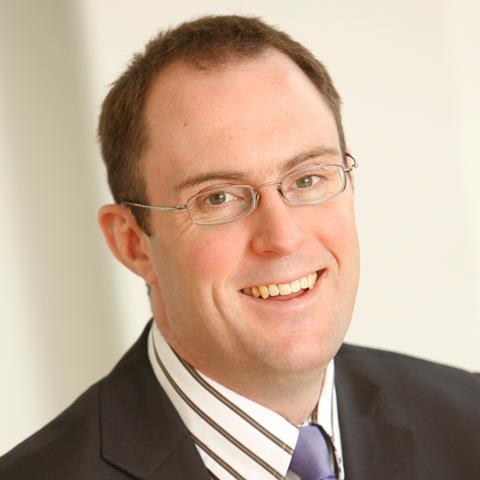 "This will continue to weigh on Gilts as an attractive asset class," he says. "On the other hand, technically, the UK government will need to borrow and issue a significant increase in Gilts next year to fund spending on energy over the next six months, with foreign investors now more cautious than before. But de-levered and rebalanced UK pension funds will look at Gilts close to 4% yields as an attractive investment once again."
Foreign investors
But are Gilt investors predominantly UK institutions?
"In the long-dated maturity areas, UK investors make up the lion's share," says Miles Tym, active Gilt portfolio manager at M&G Investments. "However, in the sub-15-year area, overseas investors have bought huge amounts of Gilts. While there will still be some demand for Gilts from UK institutions, it may not be as substantial as over the past 10 years, and even if it is, the fact that net issuance will be much higher will inevitably mean that a greater proportion of issuance will fall in the short and intermediate maturity area, moving the issuance profile closer to other developed markets."
He believes that the UK will still need to issue more bonds than in previous years, although the size of the task has been reduced following Hunt's announcement.
"Events are moving so fast it's a waste of time to get too hung up on precise numbers," Tym says. "However, the current account deficit which requires overseas investors to fund some of the Gilt issuance is an ongoing feature, it is just a question of degree. More issuance means more pressure on the currency and yields, and a reduction in issuance expectations has lessened these pressures for now."