The scale of infrastructure spending being promoted by the Trump administration suggests a role for private-sector funding
Key points
• Increased infrastructure spending has support from both the main political parties.
• Many assets not under the control of the federal government.
• Traditional financing via municipal bonds.
• There are likely to be opportunities for experienced European infrastructure investors.
Of the many promises Donald Trump made in his presidential election campaign, perhaps the least controversial one is his promise to spend $1trn (€900bn) on infrastructure. America certainly needs to upgrade its infrastructure and support for the concept comes from both Democrats and Republicans.
But as Wilson Magee, portfolio manager of the Franklin Global Listed Infrastructure fund, points out, this does not mean that the Trump administration intends to try pushing a bill through Congress authorising federal spending of this magnitude. Federal spending will have to be much lower than this for it to be passed by Congress. But a strategy of leveraging public spending together with private investment via public/private partnerships, federal guarantees, and so on, does create new opportunities for the private sector, and in particular for overseas as well as domestic investors.
In January, New York's Governor Andrew Cuomo laid out a $10bn plan to upgrade John F Kennedy International Airport with a $7bn contribution from the private sector. As anyone who has passed through JFK can testify, it certainly needs an upgrade, but that is also true for many other US airports, terminals and other infrastructure assets.
An objective of dramatic upgrades to infrastructure, while desirable, raises a lot of challenges in the US. The most obvious is that many of these assets are not federal assets; they are controlled by state and local municipalities. "It is like you trying to encourage your neighbour to paint their house. You can give them a pie or some nice equipment but ultimately you are not going to get on a ladder and paint the house for them," says Anton Pil, managing partner of JP Morgan Global Alternatives.
This situation is not administration-specific but a result of how the US is set up. Infrastructure spending in the US has historically been financed mainly through the municipal bond market which provides tax exempt interest to individuals and hence becomes a cheap form of financing for state and municipal entities. That has reduced incentives to privatise assets.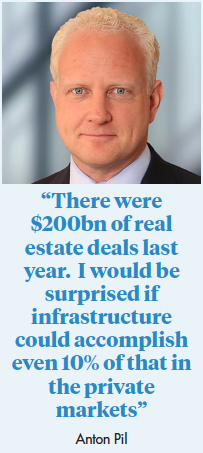 The scale of investment indicated by Trump does suggest that privatisation of assets would provide a realistic route to increased expenditure. Transportation secretary Elaine Chao has announced that the Trump administration infrastructure plan would call for just $200bn of federal funds over 10 years, with the remainder coming from the private sector.
Trump himself may try and package it with tax reform. But as Karen Sesin, US portfolio manager at AB points out, every US president since Dwight D Eisenhower in 1953 has tried to put in place tax reforms – with 10 tax acts attempts in total. In every case it took, on average, over a year for the proposals to become law, enabling the details to be considered, and an average of a further 20 months for the laws to be implemented. Attempting to fast track an infrastructure plan alongside tax reforms may be wishful thinking.
The alternative to raising federal funds is privatisation. In countries such as the UK and Australia, infrastructure investing has been around for a long time. The US does not have the same level of infrastructure investment opportunities because there has been less privatisation of infrastructure assets in the US than in some other regions.
Pil argues that the approach from the federal government can be two-fold. First, it can set an example. It does own infrastructure assets such as the Tennessee Valley Authority which could be privatised and used as a blueprint for state and municipal authorities to follow as well as creating pools of new capital that can then be redeployed.
Second, it can open up access to funding beyond municipal bonds, creating a framework that can get some federal support so that capital can be deployed locally.
Introducing more equity capital into US infrastructure investments also poses challenges for US investors. Historically, they have not had clean ways of experiencing an equity-like performance in infrastructure simply because there is not that much private infrastructure available. As a result, an education process is also required on what they should expect to earn as owner of an infrastructure project. Investors may expect to earn a significant return because of the large scale of investments.
But, in reality, the asset class that is being created is less about high returns and more about long-term stable cashflows. Nevertheless, points out Pil, that is not what a typical US investor has invested in the illiquid sector for. By owning an illiquid asset in the US, investors have expected to get a premium over public markets. But infrastructure assets are usually highly regulated entities providing a core service to society, so it would be unusual to earn outsized returns. That reality is often in conflict with investor expectations when they buy illiquid assets.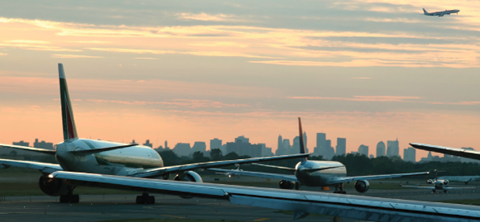 Currently US infrastructure opportunities are limited outside of utilities and energy infrastructure. JP Morgan Asset Management has focused on energy-generating assets such as solar farms and wind farms. There is also some limited availability on water and sewage companies, but there have only been a handful of scalable public/private partnerships. Franklin Templeton has invested significantly in energy infrastructure such as pipelines and processing facilities. Magee sees the increasing exports of natural gas raises opportunities in liquefied natural gas (LNG) export facilities for transportation to Europe and Japan. But it would be a struggle to invest large amounts into US infrastructure in the US at the moment: "There were $200bn of real estate deals last year. I would be surprised if infrastructure could accomplish even 10% of that in the private markets," says Pil.
One problem in assessing a figure is that everyone's interpretation of what is infrastructure can vary. Some funds would include railroads and others may even include cement companies. Investors need to be wary, therefore, of what they are getting exposure to before jumping onto a US infrastructure bandwagon.
From an investor standpoint, the number one factor to focus on is ensuring that potential investments are 'shovel ready' projects, argues Pil. Many projects require local state or municipal approvals. Those approvals can take a long time as there are many agencies and government entities at every level that may have a say on any specific project.
It is crucial for investors to make sure that projects have acquired all the approvals necessary, but are just awaiting clarity on state or municipal funding to go ahead. There are several of these upgrades for terminals and airports that are on the drawing board but need clarity of state and federal funding before they can pursue or accept private money.
For larger projects in the US, there will certainly be continued growth in private investment, as it is the best way of funding them, says Pil.
US investors are proving to be wary of the risk-return trade-offs of equity investing in infrastructure, that they lack experience may be an opportunity for Europeans.
US Equities: Opinions differ on valuations
1

2

3

Currently reading

US Equities: Opportunities in infrastructure

4

5

6