The US president's stated policies appear to have boosted the country's already-reviving economy
Key points
• The difficult question is how long the surge in equities that followed Donald's Trump's election as president can continue.
• The Republicans will face stiff resistance to implementing their agenda.
• A rollback in regulation is a key feature of the Trump trade.
Global economic momentum has also played a role in propelling equities upward.
US equities surged by over 11% between the presidential election in November 2016 and the end of May 2017. Meanwhile, volatility in the first quarter fell to its lowest level since 1965, and the Nasdaq broke records above the 6,000 mark. The so-called 'Trump reflation trade' is predicated on the hope that Donald Trump may kindle economic growth through his fiscal, trade and regulatory policies. That, in turn, is expected to foster higher equity prices. Sure enough, the S&P 500 has hit several new all-time highs in recent weeks.
The question is whether the Trump trade still has legs or whether investors' enthusiasm is beginning to wane. Matt Kaufler says it will be a "bumpy path", with ebb and flow. Kaufler, a portfolio manager at the Federated Clover Small Value fund, reminds how Trump continued to confound naysayers until election night with his resilience. "He won't buckle at the scent of controversy," Kaufler insists. Republicans control both houses of Congress, positioning them to advance the president's platforms of deregulation, tax code simplification and healthcare reform.
John Swarr, analyst at Penn Mutual Asset Management, points to sector rotation. Investors have switched focus from value to growth, moving since mid-April into the FANG stocks of Facebook, Amazon, Netflix and Google (Alphabet). "After its massive post-election move, the market is taking a breather, and we could see more upside," Swarr suggests. Garth Nisbet, senior portfolio manager at Wells Fargo Asset Management, notes that Trump "is very sensitive to whether the market is in the red or green: for him, a happy Wall Street is one of the most important polls, so it will remain a priority".
Ultimately, politics will determine whether Republicans can accomplish their stated agenda, which is a difficult likelihood for markets to handicap. "Trump is a force of nature, but the establishment will fight him tooth and nail," predicts Sean O'Hara, president of Pacer ETF Distributors. He outlines the market volatility that accompanies ongoing political drama: "When the healthcare vote went up in flames, it was a big shock to the market. Next day, when the administration announced that healthcare negotiations might be restarted, the market popped [started trading higher] immediately."
Although Republicans command a governing majority, internal dissent in the party poses a hurdle. Influential Republican senators – such as John McCain, Susan Collins, Lindsay Graham and Lisa Murkowsi – are already resisting, as they engage in conflict with more conservative politicians.
Mark Travis, president of the Intrepid Capital Funds, says the competition to get tax reform through will be won or lost by a narrow margin. Back in 1993, Vice President Al Gore's casting vote was needed to pass President Clinton's sweeping budget in the Senate.
Tax reform, which would include repatriation of funds from the $2.5trn (€2.2trn) currently parked overseas, could spur the US economy and boost share prices. The previous tax holiday in 2004 cheered shareholders.
"Repatriation provides a real stimulus, as opposed to government-printed money. It hits the bottom lines of companies, to put them in a more competitive situation," says O'Hara. Everybody could win: small-cap stocks with more domestically focused businesses could profit from lower rates, while multinationals would gain from repatriation, especially pharmaceuticals and technology. According to S&P Global Ratings, Apple, Alphabet and Cisco have the largest accumulations outside the US.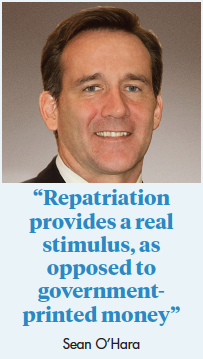 However, tax reform would have little immediate impact before April 2018. But the President's executive orders promise swift regulatory relief. Prime examples are five executive actions, signed on 24 January, to advance the Keystone XL and Dakota oil pipelines. Those executive memos make it easier to transport oil from Alberta, Canada, to Nebraska, potentially reducing US dependence on Middle Eastern suppliers. The Obama administration had opposed the project, pointing to risks to local communities, water supplies and Native American sites.
A rollback in regulation embodies the core principles of the Trump trade. Clearly the US economy and equity market were already on the mend well before the 2016 election. Data was strengthening, and unemployment trending down, providing a boost for cyclical stocks.
What gave a plodding recovery a boost of steroids was the revival of animal spirits. Business owners sensed a reprieve from hiring more employees to deal with increasing demands of compliance. "Animal spirits are founded on optimism, rooted in confidence, that tomorrow will be better than yesterday," says Kaufler. "It had been missing a long time."
A clear sign of that hesitation could be seen in weak investment in fixed assets, which has now begun to turn around. New orders for non-military equipment, are inching up. Overall order volume for the first quarter of 2017 exceeded the comparable period last year by 3.4%, according to the United States Census Bureau.
Trump has also staked political capital on healthcare reform. The existing set-up is beginning to look untenable, with large insurance companies such as Aetna withdrawing from the exchanges system, making it actuarially unsound. "It will eventually blow up either way," warns Travis. The cost of insurance must be dealt with eventually, and when people get money back in their pockets they will spend it. The corollary, of course, is bad news for hospitals, insurance firms and medical device companies, with negative impact on their stocks.
As another pillar of his overhaul, the president has committed to spending $1trn on updating infrastructure. That undertaking may prove less effective than meets the eye. First, huge financing must be found.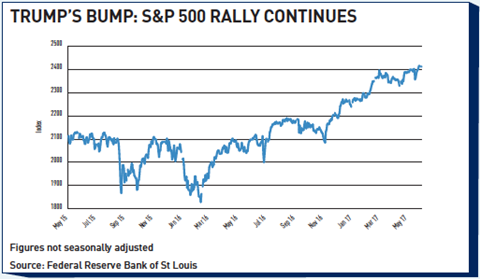 Second, the projects take a long time to bear fruit. "An infrastructure plan involves a decade of spending, and therefore won't materially boost the economy or employment," observes Brian Frank, manager of the Frank Value fund. Daniel Kern, chief investment officer of advisory firm TFC Financial Management, concurs: "Enthusiasm about increased infrastructure spending is a triumph of rhetoric over substance. The direct spending increases discussed to date are incremental in nature, and will be constrained by a shortage of 'shovel-ready' projects."
While it is indisputable that markets have catapulted since the election, the question remains as to which aspects are directly attributable to Trump policies, and which derive from improving exogenous factors. It is unrealistic to discount global momentum and prospects, and other outside economic currents like tighter credit in China. Nisbet sees Trump's role as a "turbo charger" for an ongoing economic rebound. By contrast, consider that US Steel has completely given back its rally, which may be a function of Chinese contraction.
Improved technology is another confounding factor. Fracking is making traditional energy sources less competitive; even Trump's support may not be able to protect beleaguered coal companies.
John Traynor is chief investment officer of People's United Wealth Management, with $8bn in assets under management, which has raised its GDP forecasts for 2017 to 2.3% and 2018 to 2.5% growth. Traynor says the Trump trade is "alive and thriving", reflecting a belief in an acceleration of economic growth. He points to key indicators: rising confidence in Trump's 2018 tax plan; increased business and capital spending; and confidence. Outperformance by cyclical stocks is a further encouraging sign and rarely portends recession on the horizon. Assuming these trends continue in the right direction, the Trump trade may have room to run.
US Equities: Opinions differ on valuations
1

2

3

4

5

6

Currently reading

US Equities: The Trump reflation trade