Picking up the pace of Vietnam's privatisation efforts is key to a more robust capital market, argues Thu Hoai Nguyen
In June 2015 the Vietnamese government released the long-anticipated decree 60, which declared Vietnam ready to open its equity markets to full foreign participation after a decade of being restricted to 49% across most sectors. Investors excitedly turned their attention to the capital markets, Bloomberg called, and the VN index rallied as retail investors started front-running the expected influx of foreign capital.
This excitement was short-lived, however, as many of the details were vague about how and when the changes under decree 60 would be implemented. Eventually, the government clarified that companies are responsible for setting their own limits. Thus far, only brokerage firm Saigon Securities Incorporation has lifted its foreign ownership cap (to 100%). Five months after decree 60 was issued, it appears that a unique mix of economic momentum and fiscal challenges could spur Vietnam to start jogging, rather than walking, along the road to privatisation and a more fully functioning capital market.
The momentum and challenges facing the Vietnamese government and the country's public companies have materialised in a few key forms, including:
• a government budget deficit of 5% of GDP, prompting an increasingly urgent need to raise capital;
• the weakening of traditionally strong revenue streams such as oil, and slower exports from domestic companies; and
• the Trans-Pacific Partnership (TPP), which opens Vietnam up to international competition.
The fiscal deficit stands at the limit of 5.3% of GDP, while government debt is expected to reach the upper limit (65% of GDP) this year. This level of debt is not yet a cause for concern, since 52% of total debt is domestic, and half of foreign debt is long-term official lending. But traditionally strong revenue streams, such as oil, have weakened, and lower export growth from domestic companies, have further exacerbated the budget deficit. It is clear the government needs to seek alternative sources of capital, and the most logical one is privatising state-owned enterprises (SOEs).
In October, the Vietnamese government announced its intention to reduce its holdings in several companies, including Vinamilk and Binh Minh Plastics, which currently trade at the foreign ownership limit. If the government is to realise full value for its holdings, then it must invite international investors to the table, and to do that, these companies must lift their foreign ownership limits (Vinamilk has already asked for government approval of 100% foreign ownership).
These companies will serve as change agents, and other companies are likely to follow suit once the uncertainties of removing foreign ownership limits are overcome. This will be a gradual process but could mark the start of the market re-rating investors have long sought.
The sale of non-core commercial assets is the right move to raise additional funds. The government does not need to be in many of the sectors currently dominated by SOEs, and the proceeds from the sales can be better invested in areas such as infrastructure, where the economic gains are significant.
To date, privatisation has progressed slowly but has been reasonably successful. A 2004 study from the University of Groningen of 121 former Vietnamese SOEs privatised between 1992 and 2002 found increases in profitability (+2.3%), return on assets (+3.1%) and return on equity (+4.6%), while employee numbers stayed the same.
Economic incentives and a successful sale process of public holdings combined with higher foreign ownership limits should spur more activity in the SOE privatisation process, which has fallen well short of its targets in 2014 and 2015. The government should focus on implementing strong governance and transparency at SOEs, and then privatising at a meaningful level without further delay.
When seeking a path to privatisation and opening equity markets, it is natural for countries to look at the experience of their neighbours. However, Vietnam should look beyond its Association of Southeast Asian Nations (ASEAN) neighbours to Eastern Europe. Poland is a particularly good model as it aggressively privatised its state-owned enterprises, fostered meaningful capital markets, and developed a pension programme to provide depth to those markets. Its approach has paid significant dividends, helping it weather Europe's ongoing economic turbulence and continue to grow. Meanwhile, Vietnam's ASEAN peers have not fully realised their potential.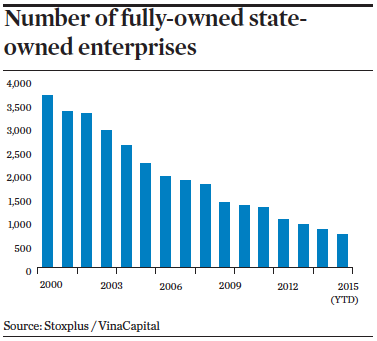 The TPP is the primary catalyst and it will be a game-changer for Vietnam as the country has much to gain (Vietnam pays 43% of all tariffs to the US among the signatory nations). At the same time, TPP also opens Vietnam up to competition, which means domestic companies will have to evolve to compete not just nationally, but internationally. Privatisation is the best way to do this, whether that means taking on strategic shareholders or opening up companies for foreign investment.
The second catalyst comes from Vietnam being the most open and globally integrated economy in ASEAN in terms of trade and successfully attracting $58.4bn (€53.4bn) of foreign direct investment (FDI) in the past five years. But reliance on FDI without a domestic support structure will eventually hollow out the economy; as consumption increases, the demand for imports rises, and hard-won wealth is effectively spent in foreign economies.
Vietnam needs to encourage the development of its own unique products, brands and identity. The core ingredients are there but, so far, execution has been lacking. By embracing greater levels of privatisation and foreign ownership now, Vietnamese companies can use the window of opportunity they currently have to put in place international standard governance structures and corporate discipline. These can be infused with entrepreneurial flair to create the country's own global companies.
Given the demonstrated success of more aggressive strategies, it would be beneficial if the rate of privatisation was accelerated. The focus should be on governance and transparency, allowing quality management teams to adapt and respond to market forces without the protective shroud they currently benefit from.
While there has long been discussion about the need to privatise SOEs, the current combination of regulatory reform, fiscal needs, and economic conditions looks set to push the process forward. The Vietnamese government has clearly demonstrated that it is willing to open up to market forces. However, this process is sometimes tempered by a desire to control the process, resulting in slower progress than some foreign investors might like.
This would appear to be an ideal time for investors to evaluate opportunities in the market. The winners are likely to be companies in the sectors driving the country's growth, with management teams who know what they need to do to effectively navigate and compete in the rapidly changing and increasingly globalised market.
Thu Hoai Nguyen is the managing director of VinaCapital