A collaboration of Welsh public sector pension funds is considering backing a £1.3bn (€1.5bn) tidal power project.
The £16bn Wales Pension Partnership (WPP) – formed by the country's eight local authority funds – has committed to consider investing in the Swansea Bay Tidal Lagoon project.
Under the terms of its investment parameters, WPP can spend up to 5% of its pension assets on infrastructure projects – potentially up to £800m.
The much-vaunted – and much-delayed – tidal lagoon was a "viable project to invest in", according to councillor Mark Norris, chair of WPP.
He added: "We're all in favour of looking at investing. It is now dependent on the Westminster government to back the project – and then from there we would take it forward to decide how much to invest."
Although the fund is able to invest up to 5%, Norris said it would "probably be a little less than that to start off".
However, he said the project could provide a viable source of energy to the region – and was much cheaper than building a nuclear power plant.
In 2016, pension fund investment was suggested as a solution to a long-running debate about the construction of a nuclear plant on the island of Anglesey on Wales' north coast.
"This is why am little surprised by reticence by the Westminster government not to jump at it," Norris said. "If you look at solar or wind power, both are sustainable but one relies on whether the sun is out one day and whether there is wind; whereas with tidal energy it is four times a day every day and never stops."
The UK government has been encouraging Local Government Pension Scheme (LGPS) funds to dedicate more money to infrastructure investments for several years. The eight LGPS asset pools have been encouraged to be "ambitious" with their targets for the asset class.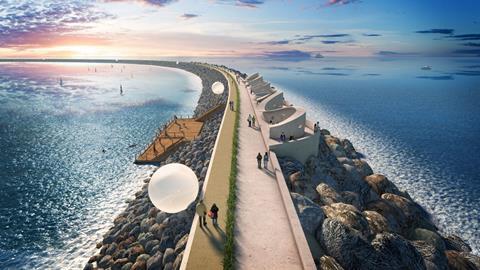 Development delays
First mooted in 2003, the tidal lagoon, which formed part of the government's 2014 UK National Infrastructure Plan, could create thousands of jobs for the local economy.
In 2016, the government commissioned former energy minister Charles Hendry to conduct a report into the role of tidal lagoons. In his final submission, Hendry noted "the evidence is clear that tidal lagoons can play a cost-effective role in the UK's energy mix".
"My recommendation is… that the Tidal Lagoon Swansea Bay [is] one which would incidentally bring very real and substantial economic and recreational benefits to the Swansea Bay area," he added.
Earlier this week, the Welsh government signalled its approval for the project. In a letter to the UK's business secretary, Greg Clark, Wales's first minister Carwyn Jones said there was "a Welsh government commitment to an equity and/or loan investment of £200m".
Alun Cairns, secretary of state for Wales, told UK MPs on Wednesday that he "would really like the tidal lagoon to go ahead, but of course it must prove to be value for money".
Last month the Financial Times quoted a senior government figure as saying the project had not a "cat's chance in hell" of going ahead. However, Cairns responded: "No announcement has been made on the tidal lagoon because we are still looking at the numbers.
"We are doing anything and everything possible to try to make this fit."
A spokesperson for the UK's Department for Business, Energy and Industrial Strategy said that the government was considering the findings of the Hendry review into tidal lagoons and "an announcement will be made in due course".