3-5 May 2021, Virtual event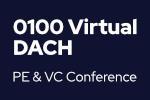 The 2nd Edition of The Leading PE & VC Virtual Conference in the DACH Region
0100 Conferences are delighted to invite you to the 2nd edition of the 0100 Virtual DACH scheduled for 03-05 May 2021. Join this PE & VC virtual conference to take advantage of the extensive and qualified network they built in person during the last 6 conferences in the DACH and already successfully leveraged during their biggest online event last November.
Since the Covid-19 restrictions have created a worldwide marketplace Private Equity and Venture Capital players are keen to connect virtually, now as never before. This was confirmed by 3500+ registrants and 2300+ 1on1 meetings & chats during their events last year. Don't miss this market opportunity for zero traveling costs & time.
You will have a chance to get insights from speakers like:
Joel Solomon, Founding Partner @ Renewal Funds
Eric de Montgolfier, Chief Executive Officer @ Invest Europe
Dr. Jörg Goschin, Co-CEO and Senior Managing Director @ KfW Capital
Julia Beinker, Managing Director @ Intermediate Capital Group
Dr. Sofia Harrschar, Head of Alternative Investments @ Universal Investment
Klaus Gierling, Managing Director, Head of Business Development, DACH & Benelux @ Capital Dynamics
Volker Wende, Managing Director @ SwanCap
Nenad Marovac, Founder, Managing Partner @ DN Capital
Viviana Occhioorelli, ESG Director @ Astorg
Stefan Hamm, Founding Partner @ Tyrol Equity
Olga Shikhantsova, Fintech investor @ Speedinvest
Alexander Vavilov, Investment Manager @ ITech Capital
Dr. Ingo Potthof, Managing Partner @ Unternehmertum Venture Capital Partners GmbH
Elisabeth Löwenbourg-Brzezinski, Principal @ Acton Capital
Jan Bravek, COO @ Jet Investment
Viktor Fischer, Investment Partner @ Rockaway
Melina Heinl, Head of Research, DACH @ Preqin
and others.
Complimentary tickets for Limited Partners & General Partners
If you are LP/GP, you can register HERE.
Buy the ticket with a special discount
Save your seat with a special discount of 20%. Use promo code DACH20IPE
If you have any questions, or if you would like to speak at our event, please, feel free to contact us at tomas@0100conferences.com.
Organiser
0100 Conferences