Seven out of ten Dutch pension funds have started preparations to make the switch to the new defined contribution (DC) pension system, according to a survey by regulator DNB. Some 15% of funds plan to grandfather accruals or go into liquidation, while an equal number has not yet made a decision.
In a speech at a Congress organised by trade publication Pensioen Pro in Amsterdam on Thursday, head of pension supervision at DNB Else Bos urged the 15% of funds that are yet to start making preparations to do so swiftly.
She said: "Some funds indicate they will only start to move once the new pension legislation is ready. But what I want to say to these funds is: please, start now. The challenges ahead are too big to wait any longer."
Slightly more than half of the pension funds that have plans to move accruals to the new DC system, do not yet know when they want to do so. "The funds that have a date in mind are relatively equally distributed between 2024, 2025 and 2026," said Bos.
Under the transitional financial assessment framework (transitie-ftk), pension funds can move accruals to a DC setting between 2023 and 2026. So far no funds have said they want to move to the new system already in 2023.
This could have something to do with their pension providers not being ready to facilitate a transition by then.
APG to start transition in 2025
At the same Congress, APG chief executive officer Annette Mosman said that APG, the pension provider of eight pension funds including civil service scheme ABP, would only be able to move its first clients to the new system by 2025 because of organisational constraints.
Bos urged pension funds to speed up their transition plans and not wait till the last moment.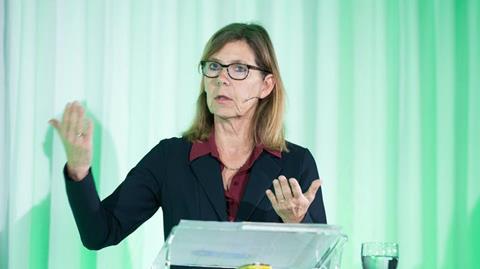 "It is possible that we will see a peak in pension funds planning to make the transition in 2026. This could cause capacity constraints not only with the regulator, but also with pension providers and actuaries. It could create a bottleneck that we should try to avoid," she warned.
According to the DNB survey, about 20% of the 200-odd pension funds in the Netherlands plan to go into liquidation. Most of these funds have assets under management below €1bn, meaning they may lack sufficient scale to operate successfully in the new pension system.
"Liquidation plans have not always exceeded nascency. More than half of these pension funds do not yet know in which year they plan to move pensions to another provider," noted DNB.
More complex
Bos said that while the new pension system marks a step forward and is better suited to a flexible labour market, it is also administratively more complex than the current defined benefit system because of the individual features it has.
She said: "Returns will not anymore land in one collectively managed pension pot, but will be attributed to groups of members. This necessitates a link between the member administration and the investment administration."
To read the digital edition of IPE's latest magazine click here.