Europe could benefit as a result of increasing trade tensions between the People's Republic and the US
Key points
• The US spat with China could give the euro-zone a competitive advantage
• Europe could tilt more towards China and away from the US
• Demand for personal consumption goods looks set to increase but capital goods will remain an important European export
• Germany is the key European trading partner for China
Since the dawning of the new millennium, the euro-zone's trade with China has increased from 2% of its total exports to approaching 8%. That is during a period when the euro-zone's share of international trade was falling. What has been a game changer, of course, has been the rise of China as a leading global economy with a commitment to international trade evidenced by a sharp increase of its share of global trade.
There has been a lot of rhetoric about how fair such trade has been. But as Wilfred Wee, a portfolio manager at Investec Asset Management, argues, there has been a fundamental rise in competitive advantage for China, particularly with respect to the US. As result, we are seeing a disruption of supply chains which has implications beyond the US to Europe and Japan. But the escalating trade disputes with the US reflect a view that China has been able to exploit free trade by being part of the World Trade Organization ( WTO ) without effectively adhering to all of its rules, as Silvia Dall'Angelo, a senior economist at Hermes Investment Management, argues.
Intellectual property rules, for example, are not fully respected and Chinese domestic markets are not fully open, particularly in the financial sector but also in parts of manufacturing. That represents both a challenge and an opportunity. China recently announced, for example, that foreign asset management companies no longer require a domestic partner to operate in China. For European fund management firms, that represents a huge opportunity, particularly at a time when US firms may be less favoured.
Europe is standing on the sidelines in the escalating trade dispute between the Trump administration and China under President Xi Jinping. Jan Dehn, global head of research at Ashmore investment management, argues that Europe has to make a key decision – should it continue to have a heavy exposure to Trump's US, or should it diversify away from the US towards a less familiar but very approachable China? "It should be an easy decision," says Dehn.
In sharp contrast to Trump's protectionism, China's Xi Jinping gave a robust defence of free trade and globalisation at the 2017 World Economic Forum in Davos. Europe is already China's largest trading partner, beating the US, points out Maarten-Jan Bakkum, senior emerging markets strategist at NN Investment Partners. "There is some ideological common ground of liberal global free-trade between Europe and China which might also lead to a tighter relationship. The US is creating more problems for themselves than anyone else."
For the euro-zone, China could become a more important trading partner than the US. As Dehn adds, China will be the world's global hegemon by the middle of this century with an economy two or three times the size of the US and driven mainly by the growth of domestic consumption.

While euro-zone trade with China is well positioned to continue to grow at a substantial rate, the nature of trade is likely to change significantly. As Salman Ahmed, chief investment strategist at Lombard Odier Investment Managers, argues, China is moving up the value chain: "Over the last 15 years, the West, especially the US, did R&D while China was a step behind. China's role was in manufacturing products more cheaply. Now China is developing new technology and selling it to the rest of the world."
The manufacturing sector has been the biggest source of trade between the euro-zone and China, with Germany dominating through exports of machinery and manufactured goods, particularly automobiles and auto supplies. The Shanghai region has been the centre of much of the German auto-related trade with China, says David Yu, managing director of Shanghai-based Inception Aviation Holding.
The first manufacturing site of a Germany company was opened in 1993 in Taicang, near Shanghai. Since then, more than 200 German, mainly medium-sized, companies have located their operations there. As well as the automotive sector, the companies are engaged in machine construction, foodstuffs, apparel, electronics, and energy.
The fact that consumption has gained in importance does not mean that the investment side has weakened, says Bakkum. Capital investment remains important, with no reduction in the demand for capital goods from Germany.
What has changed is that demand from personal consumption has increased considerably. So in areas such as the Dutch agricultural sector there is a lot of excitement about growing exports to China. "Germany itself as a powerhouse in high technology and capital goods does not have much to worry about other countries taking market share from them in China," he says. But there are niches where other countries have strengths in areas where Germany does not. For example, semiconductor machinery exports from the Netherlands.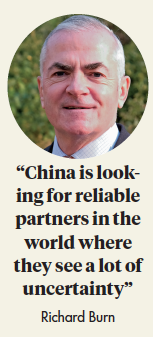 Manufacturing accounts for 90% of euro-zone exports to China, so any shift is likely to be gradual, Ahmed says. He sees two key areas of concern: First, the rise of automation; second, the replacement of imports by domestic manufacturing as China moves up the value chain.
So the old model, where China manufactured low-tech goods required a high labour input, exploiting the then Chinese advantage of low labour costs. But labour costs have soared over the past few years as its integration with the world economy has proceeded.
China is moving rapidly into automation and artificial intelligence so that the euro-zone's manufacturing exports are likely to be reduced to perhaps 60-70% of its total as China moves up the value chain: "There will be less demand for a lot of the current manufacturing exports if labour is replaced by automation. What that requires is capital and China has an excess of savings," says Ahmed.
The clear opportunity for European companies is through participation in the rise of the consumer in China. Rising wealth provides a direct opportunity for the euro-zone's investment management industry. Household savings are high and households are not that leveraged, with debt mainly held by state- owned enterprises and government entities. Most savings are still held almost completely in domestic assets.
As China opens up its capital account, the opportunity for European fund managers to offer global products within China is enormous and dwarfs any business opportunity elsewhere.
Europe already has a strong position in exporting technology and despite China's move up the value chain, those opportunities will persist: "Europe should focus on high added-value exports and focus on research-led technology. It has to stay ahead of the curve to become one of the main trading partners of China in the medium term," says Dall'Angelo.
Future growth, though, will depend on developing its technology in line with the demands of the local market. In the automotive sector for example, Germany is clearly the leader with brands such as BMW, Mercedes, Porsche and Volkswagen. The top-end luxury cars have a different market with Italian brands such as Maserati popular. French brands are mass-market models which are less about brands and more about efficiency.
But what will the requirements be in China in the future? "Consumer habits are changing. The rise of the gig economy may mean less ownership of cars and more renting. Pollution is high in China so electric cars must be the future," says Ahmed.
What Europe will see is an increasing flow of Chinese tourists eager to explore the main centres of culture and history. But hopefully Europe will raise its ambitions above becoming a theme park for affluent Chinese visitors.
UK hopes to build on 'golden era' relationship
Whatever one's views on the merits of Brexit, once the UK leaves the EU, as seems inevitable now, it will be free to negotiate trade treaties with anyone it likes.
China is a key marketplace that the UK government is seeking to develop its trading links with and Richard Burn, the UK's recently appointed trade commissioner for China, has been tasked with developing that opportunity.
China has a trade surplus with the UK. But as the rate of growth of UK exports to China is higher than the rate of growth of imports from China, the surplus should fall."The UK needs global customers and a new set of opportunities," says Burn. "China is becoming a world power and is looking for reliable partners in the world where they see a lot of uncertainty".
In the past, the UK's trade policy towards China had focused on three goals: first, promoting exports by British companies to China; second, encouraging Chinese foreign direct investment (FDI) into the UK; and third, supporting UK FDI into China which acts as a catalyst for increasing UK exports.
Burn is taking a more strategic approach by focusing on what only the UK government itself can do to unlock opportunities for British companies. That can be achieved, he says, by having a deep understanding of what barriers to market access exist for British companies trying to do business in China and then by engaging with the Chinese government to try and liberalise them.
This approach appears to be pushing on an open door. China's President Xi Jinping himself has said that China intends to continue to liberalise and encourage more imports of foreign products that the Chinese population wants to buy, to reduce China's trade surplus with the West.
China's trade surplus is a particular problem for US President Donald Trump but If China liberalises market access to foreign companies, it will benefit everybody, not just the UK or the EU.
For Burn, the goal of his activities is to encourage China to liberalise in areas where the UK is strong. As he points out, services account for 80% of the UK economy and account for 45% of exports to most countries. However, for China, the figure is disproportionately low at 18% and most of that is accounted for by Chinese tourists travelling to the UK and spending money on UK services.
Burn sees scope to improve exports not only of financial services, where the UK is particularly strong, but also other sectors such as life sciences where there is huge demand for UK pharmaceutical and medical equipment. Other opportunities in services encompass a wide range including legal services, consulting services, design services, architectural and engineering consultancy. "Often, the request for tenders are only in Chinese, or the selection process frequently leads to local companies being given preferential treatment," he says. "There is not a transparent tendering system where projects are open to foreign companies even if there are no restrictions on structures being set up in China."
For the UK post Brexit, China is the poster child of what it hopes to achieve. The China-UK relationship has certainly not suffered any strong disagreements recently that would tarnish the mutually proclaimed 'golden era' in the China-UK relationship, so the omens look good. But it may mean that Mandarin classes should be replacing French and German in British schools.
Europe Outlook: Germany faces the ultimate driving challenge
1

2

Currently reading

A shifting relationship with China

3

4