• aba, Germany's occupational pension association, celebrated its 80th anniversary in May
• Chairman Heribert Karch urged universal support for BRSG reforms
Germany's occupational pension association delivered an impassioned defence of the country's second-pillar pension system at its 80th annual conference in Berlin last month.
In an eloquent opening speech Heribert Karch, aba's chairman, addressed all the major topical issues for the German pensions industry, such as: the new non-guaranteed pensions made possible by the reform legislation – known as the BRSG – that came into effect in January; the debate about a double levy of social security contributions to occupational pensions; fears of a perceived power grab by EIOPA; and the European Commission's sustainable finance action plan.
Karch drew applause from delegates after an impassioned plea to Germany's employer representatives and trade unions to make the most of the new opportunities presented to them by the BRSG.
"Many people have placed their hopes in you," he said. "Use aba, use this opportunity – that is my appeal to you, the social partners."
He urged employers to use their newly granted powers to get involved in the latest phase of pension design. Otherwise, he warned, the state could intervene.
Trade unions, meanwhile, should not focus too much on the question of employers' liability, Karch said, and instead should focus on the unprecedented opportunity to take part in the country's productive wealth.
Although the new plans being debated under the BRSG do not have guarantees – a concept still new to Germany's system – Karch described them as a responsible form of contribution-based scheme, and emphasised that they were "completely different" from what was internationally known as defined contribution.
Judith Kerschbaumer from ver.di, the trade union for Germany's service sector, made it clear that workers' representatives would not be rushed into agreeing to new plan structures or benefit designs. In a well-attended talk later in the conference, she set out the union's thinking about the BRSG world, saying that skilful use of new benefits made occupational pensions look attractive in several respects.
The union needed employers who were willing to improve pension provision for their employees, she said. Only then could it be decided whether to go for the defined ambition pensions made possible by the reform or to stick with guaranteed pension benefits.
Opposition to Hesse proposal
Conference delegates also lent audible support to Karch's attack on the Deutschland Rente, an initiative put forward by regional ministers from the federal state of Hesse.
Their idea is to introduce automatic enrolment to boost private pension savings, and to use a state-backed fund as the default provider and investor of individuals' savings.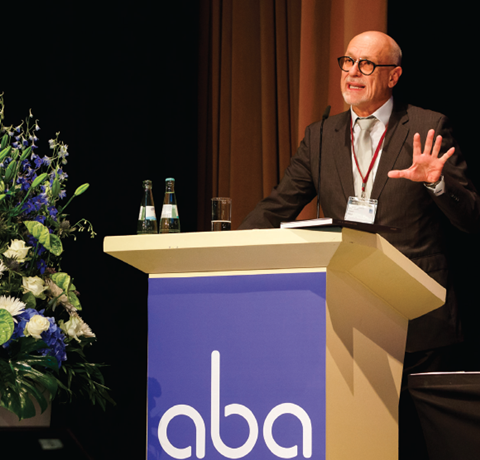 Karch was strongly opposed to the Deutschland Rente when it was first mooted a couple of years ago, and there was no doubt that his stance had not changed as he commented on a recent re-launch of the proposal. It is currently with the upper chamber of parliament.
Deriding the ministers' proposal as an "experiment", he sarcastically said it had some novelty value: "We've never had a mandatory system with the worst imaginable conditions."
As long as government was able to provide the right incentives in the current system, the Deutschland Rente project was "as useful as a hole in your head", he suggested.
aba calls out European regulators
Karch and other aba officials also conveyed the trade body's critical outlook regarding certain EU regulatory developments.
During an afternoon session, Cornelia Schmid – policy specialist at aba – bemoaned measures being taken by the European Commission in the context of its sustainable finance action plan. She pointed out that an imminent legislative proposal on investors' duties with regard to sustainability would lead to changes to the revised EU pension fund directive – IORP II – even before this had been implemented.
"Many people have placed their hopes in you. Use aba, use this opportunity – that is my appeal to you, the social partners"

Heribert Karch
She challenged the idea that pension institutions – in particular, smaller ones – could "save the world" and suggested the Commission should take a more direct route to achieve its political goals rather than "making the detour" via regulating pension providers and financial institutions.
Schmid also claimed that the Commission's proposal for reform of the EU financial supervision system, strengthening the role of the European supervisory authorities such as EIOPA, was "about power, about money and, at least indirectly, also about the future regulation of pension institutions".
For EIOPA, the Commission's proposals include giving it the power to raise an industry levy and tasking it with setting EU-wide priorities for supervision against which national supervisors would be assessed.
For Schmid, this was about "the disempowerment of the national supervisory authorities".
She called for more investment in aba's and PensionEurope's European policy work, but said expectations needed to be managed. Even with more resources, aba would not be able to prevent the numerous initiatives coming from Europe. The association could participate in and shape discussions, however, and that, Schmid said, it did with pleasure.