Active ETFs, which embed a discretionary, non-indexed strategy in an exchange-traded fund, are still getting off the ground. With total global assets of $61bn (€52bn) at the end of August 2017, these funds represent just over 1% of the worldwide ETF market. Nevertheless, they are the focus of intense interest, particularly amongst active fund managers who wish to capitalise on the ETF boom.
Up to now, active ETFs have focused primarily on the bond market: active fixed-income ETFs represent 72% of global active ETF assets. The popularity of bonds as the most common underlying for active ETFs is down to the relative illiquidity and lack of transparency in much of the fixed income market.
According to ETF product designers, the opacity in the bond markets makes it more difficult for third parties to 'front run' the trades of ETFs, which typically disclose their positions daily. By contrast, daily disclosure means front-running is potentially a much bigger issue for active ETFs investing in equities.
In the US market, ETF product developers have tried to get round front-running concerns by asking regulators to approve the launch of ETFs with less stringent transparency requirements.
However, the development of non-transparent active equity ETFs in the US has been hindered by the Securities and Exchange Commission's (SEC's) ongoing insistence that active ETFs reveal their holdings daily. This is a barrier that many active managers have been unwilling to cross for fear of disclosing the 'secret sauce' behind their portfolio management processes. The SEC has so far declined to approve any non-transparent active ETF applications, although several remain in the regulator's inbox, unanswered.
The so-far unapproved applications for non-transparent active ETFs in the US fall into different categories. One proposed structure suggests providing confidential portfolio holdings to an agent that provides indicative pricing to the ETF's authorised participants (APs) and market makers.
Another structure proposes that in-kind transactions take place through a confidential brokerage account. A third proposed structure is for the issuer to disclose a range of portfolio data that represent, but do not wholly reveal, the contents of the ETF's portfolio on a daily basis.
Despite the US regulator's foot-dragging, proponents of non-transparent active ETFs in the US haven't given up hope.
"Perhaps the time is right for the SEC to consider a different approach to exemptive relief for non-transparent ETFs, one rooted largely in enhanced disclosures intended to ensure that investors understand the key distinctions between non-transparent and transparent ETFs and the manner in which they can be expected to trade in the marketplace," Stuart Strauss, a partner at US law firm Dechert, wrote in September 2017.
In Europe, in contrast to the US, there is no region-wide regulatory requirement for either index-tracking or active ETFs to disclose their holdings daily. However, index-tracking ETFs typically do this as a matter of course, usually via publication of their holdings on the issuer's web-site or via a portfolio composition file sent to authorised participants (APs).
According to a recent discussion paper published by the Irish Central Bank (ICB), ETF portfolio transparency in Europe is governed by the rules imposed by the stock exchange on which the ETF is listed or admitted to trading. There is, however, no consistency in these disclosure rules across Europe, with requirements varying from exchange to exchange (see figure 1).
According to law firm Dillon Eustace, the unevenness of European exchanges' disclosure rules in regard to active ETFs was highlighted by the fact that in the course of one week in late 2014, the ISE removed its requirement for daily portfolio disclosure, while the Borsa Italiana took the opposite tack, bringing in a rule requiring full daily disclosure.
And as a result, said Dillon Eustace, the LSE and Borsa Italiana, two exchanges owned by the same financial holding group, now have diametrically opposing ETF disclosure requirements.
In its discussion paper, the ICB makes it clear that it is keeping an open mind about the appropriate level of openness in active ETFs.
"The Central Bank understands that it may be possible for an ETF which does not publicly disclose portfolio holdings to reach an operational solution which still creates an incentive for traded prices to remain close to the ETF's net asset value," the ICB said.
"In essence, the ETF must ensure that APs have sufficient information to trade (both with the ETF and to provide an on-exchange price). The central bank has identified two different approaches which seek to ensure this. In one example there is full portfolio disclosure to a single or limited number of APs. Another uses an index or other proxy for the ETF's portfolio. There are interesting studies which appear to demonstrate that these approaches may in fact be more effective than full daily portfolio transparency."
Despite the absence of a legal requirement to do so, up to now it's been common practice in the small number of active European ETFs to opt for full daily disclosure. This policy no doubt reflects the fact that active ETFs are typically cross-listed across different European exchanges and so need to meet the standards of the exchange with the most stringent transparency requirements.
For example, in the prospectus for its actively managed PIMCO Source ETFs, fund provider Invesco Powershares commits to disclose each ETF's full portfolio holdings (as at the end of the previous dealing day) before the start of the next morning's trading session.
However, it's clear from the responses to the ICB's recent discussion paper that many market participants would prefer a regulatory regime sanctioning less frequent portfolio disclosure for active ETFs. In its paper, the ICB invited interested parties to comment on whether transparency is essential in order to achieve a liquid market in an active ETF and to facilitate efficiency in its pricing.
For example, BlackRock wrote to the ICB that "we believe that transparency with reference to the underlying securities held by the ETF and the ability to effectively arbitrage the ETF are the most effective means to ensure that the price of an ETF stays in line with the underlying holdings."
"However," the firm continued, "full transparency is strictly not required, given effectively operating an active ETF involves restricting access to portfolio transparency to the exchange (for the iNAV) and to a designated AP or APs. These parties are contractually bound to not divulge proprietary information."
In its submission to the ICB, Vanguard wrote that "disclosing a complete list of [an active ETF's] portfolio holdings on a daily basis may limit the ability to add alpha, as this would potentially provide information about the provider's views and future trading activity".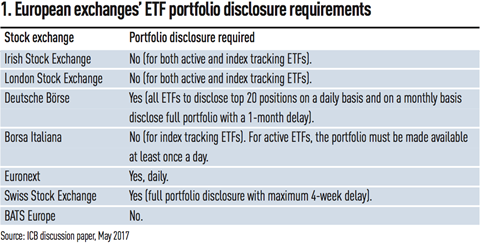 In addition, said Vanguard, "a requirement to disclose portfolio holdings on a daily basis may enable market participants to use a fund's list of portfolio holdings to reverse engineer its proprietary portfolio management and trading techniques, anticipate the amount of a particular security the fund must buy or sell, and profit by transacting in the security prior to the fund's transactions. This could harm the fund and its shareholders."
Market-maker FlowTraders told the ICB that there are inevitable trade-offs when constraining portfolio transparency in an active ETF.
"Delaying the disclosure of an ETF's composition limits investors in assessing the exposure they assume, at least temporarily," said FlowTraders.
"This is, however, not necessarily harmful to effective price discovery," FlowTraders said.
"As long as an actively-managed ETF has multiple liquidity providers and they simultaneously receive full and up-to-date composition information (whether or not under a non-disclosure agreement), any price differences will be arbitraged away. Nevertheless, investors would still be uncertain as to the exposures they actually face at any given moment. Here, too, interests need to be balanced."
ETF provider Lyxor told the ICB that purchasers of index-tracking ETFs and active ETFs have fundamentally different interests.
"The investment process in an actively managed fund is not intended to purchase a financial index," said Lyxor. "If that were the case, investors would opt for a cheaper ETF instead."
"Instead," said Lyxor, "investors purchase financial expertise, know-how and the perspective of absolute return. In that respect, providing investors with the transparency of an actively managed fund does not help in determining if the fund is suitable for investment.
"The transparency of index-replicating ETFs is intended at helping some investors making appropriate investment decisions," added Lyxor. "This is however not applicable to actively managed funds, because investments into such funds are not based on the same reasons."
A representative of market maker Jane Street tells IPE that a policy of offering less transparency for active ETFs means that the underlying ETF structure must be made more robust.
"In active, non-index-based ETFs the quality and design of the creation and redemption process plays an even more important role than in index-tracking ETFs, because there may be less than full transparency regarding the composition of the basket," says Jane Street's Slawomir Rzeszotko.
"Having competition amongst APs is critical to the cost of trading active ETFs," adds Rzeszotko.
"Despite the concerns about potential information leakage, we think issuers should prefer a multiple rather than a single dealer model."
Although there are clearly technical differences that need to be ironed out for a standard European active ETF model to emerge, issuers are placing great hopes on the market's prospects.
"Fidelity is known as an active asset manager and we're looking at active ETFs very closely," Nick King, head of ETFs at Fidelity International, told the audience at the 2017 Bloomberg Invest ETF conference in London.
"Undoubtedly the main challenge for both active equity and fixed income ETFs will be around portfolio disclosure," said King. "However, we're very encouraged to see regulatory steps to really look at what is required. Hopefully, we can see some real progress on the back of the discussions that are following this year's ICB paper."
"Active ETFs are a natural evolution for the ETF market," said Lisa Kealy, partner and leader of EY's European ETF practice, speaking at the same event.
"We've gone from the core indices to smart beta and now to active ETFs. It would be great if we could get a regulatory framework that accepts and understands the challenges involved in active ETFs. The potential for this market is really big."
"Active and self-indexed ETFs, especially in fixed income, offer a huge opportunity to improve on traditional index approaches," says Dan Draper, managing director for global ETFs at Invesco Powershares.
Historically, many active asset managers have relied on the traditional mutual fund distribution model, involving the maintenance of a central set of ownership records, the channelling of all daily subscriptions and redemptions through the fund's investment portfolio, plus a commission-based distribution model, involving payments to intermediaries and fund platforms. Compared to this, offering active ETFs will require a process of familiarisation, says Howie Li, CEO of the Canvas platform at ETF Securities.
"If active managers can get comfortable with the infrastructure and regulations underlying ETFs, there will be an opportunity for them to continue to articulate their house views and deliver their strategies in an ETF wrapper," says Li.