Two years ago, BlackRock's chief executive Larry Fink warned that structural problems with leveraged ETFs had the potential one day to "blow up" the industry. Leveraged ETFs use derivatives and debt in order to enhance returns, but like any leveraged product, losses as well as gains can be magnified. Fink's warning – issued at a Deutsche Bank investment conference in New York – made headlines in the financial press. But while the alleged explosion hasn't yet happened, does that mean the danger has gone away? Or is it still lurking?
Michael Iachini, managing director for mutual fund and ETF research at Charles Schwab Investment Advisory, says concerns are still very real. "It's not necessarily that the products do not have their place in a portfolio, it's more whether investors know how they work," he says.
Iachini points out that many investors are unaware of the fact that leverage within the ETFs is reset each day. This can have the effect of reducing the percentage gains that an investor is expecting. In December, the Securities and Exchange Commission (SEC) – the regulator for ETFs in the US – proposed regulations that would limit the amount of leverage an ETF or mutual fund could deliver to 150% of the fund's assets. These regulations could be enacted during 2016. Even so, Iachini says: "Leveraged ETFs are certainly not intended for long-term investors like pension funds."
Liquidity can disappear in a flash
While it may not have been the bombshell that Larry Fink had warned about, the US 'flash crash' of 2015 could perhaps be seen as a shot across the bows of the ETF sector. Following slumps in global stock markets the previous week, Monday 24 August 2015 saw panic selling on the New York Stock Exchange (NYSE), with many ETFs plummeting in price dramatically below their underlying net asset values. The sharp decline was blamed on a lack of liquidity.
To a certain extent, the impact of the crash was softened because the market halt system swung into action, stopping trading in some individual ETFs for minutes at a time to curb volatility. Halts were imposed on some securities several times in succession as prices slid. Iachini says: "After the first series of halts in ETF trades, things pretty much got back to normal, and the day ended with ETFs trading down 3% or 4%."
Even so, the US ETF industry wrote to the SEC last March proposing major overhauls to the regulations to help avoid future trading problems. One recommendation is to clarify and if necessary change the rules around "erroneous trading". During a flash crash, some trades are reversed by the exchanges.
But, argues Iachini, this hampers the ability of traders to use legitimate arbitrage tactics: "As a market participant during a crash, you may want to buy an ETF which has fallen by, say, 20%, and sell another similar ETF that hasn't fallen very much, with a plan to reverse those trades once the fallen ETF bounces back. But if your purchase of the cheap ETF is later cancelled, while your matching sale of the other ETF is not cancelled, you'd be left at risk."
And, he says, traders will not trade if they are not confident that their trades will stand, and that means there is no-one stepping in to halt a big price decline.
Meanwhile, in relation to Europe, Matthieu Guignard, global head of product development and capital markets at Amundi, says: "Our view is that last year's episodes of market turmoil demonstrated the efficiency of the rules currently regulating the operational mechanisms of European stock exchanges."
High yield concerns
Other aspects of ETFs are also causing concern: one is the level of liquidity of the high-yield sector. The potential risks were exemplified last December when the US asset manager Third Avenue Management closed down its high-yield bond fund – the $788m (€693m) Focused Credit fund – following losses and investor redemptions.
This appeared to confirm market fears that the corporate bond bubble was about to burst, in the light of rising indebtedness, an increase in defaults, and signs that the Federal Reserve had finally started to haul up interest rates.
However, the fund's demise does not necessarily mean that high-yield bond ETFs are super-risky, says Schwab's Iachini. "Generally, 90% of bonds in a high-yield ETF are rated BB or B, which is the highest credit quality among high-yield bonds," he says. "The fund invested in distressed debt, mostly in very low-rated C bonds, or even not rated. When the fund closed, high-yield bond ETF prices fell in an orderly manner, and only just a couple of per cent."
Iachini observes that market participants are worried that a follow-on credit crisis could herald greater discrepancies between prices of ETFs and of the underlying bonds. He says: "So far, ETFs are maintaining their price. High-yield ETFs are risky, but no more risky than in the past."
Jürgen Blumberg, head of capital markets at Source, says: "ETFs replicate an index and the liquidity within an ETF is the same as the liquidity of the underlying assets. In fact, because of the creation/redemption model and the additional liquidity layer in the broker network, an ETF can be more liquid and cheaper to trade than the underlying assets."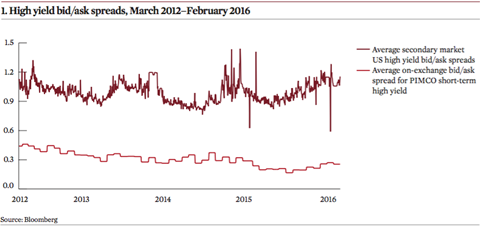 Blumberg adds that some ETFs, including high-yield, have gathered inflows into asset classes that have typically been hard to access for many investors. He says: "The additional inflows into these asset classes can have the effect of encouraging volatility if many investors want to sell at some point in time. But this problem is not based on the ETF or the ETF structure."
Guignard adds: "What is crucial for investors is to be aware that the liquidity of ETF vehicles is strictly related to the liquidity of the underlying indices, in all market conditions and asset segments. That means ETF providers must select the right indices and so offer investors a range of investment instruments exposed to the most liquid segments of each sector."
Synthetic replication
Meanwhile, the debate over the relative risks of physical and synthetic replication in ETFs continues. Unlike a physical ETF, a synthetic ETF does not hold the assets making up the index it tracks. Instead, it holds a basket of securities that may be completely unrelated to the index, entering into a swap arrangement with one or more counterparties that promise to pay the return on the index to the fund.
Synthetic ETFs are designed to be more effective than their physical counterparts at tracking their respective indices. Furthermore, they tend to have much lower total expense ratios. But following the financial crisis of 2008, synthetic ETFs have been criticised for exposing investors to unnecessary counterparty risk that is often not made clear.
However, Guignard is fairly sanguine about synthetic methodologies. He says: "The risks of synthetic, as opposed to physical, replication have been debated for a long time in Europe. Today, the efficiency and the quality of both replication techniques have become widely recognised by the regulator and by the industry."
And he says European Securities and Markets Authority (ESMA) guidelines on ETFs and other UCITS funds have helped conclude the debate: "Since then, no further issues have been raised by the European regulatory bodies about replication methods. As the understanding in Europe of both replication methods has improved, investors now simply choose the approach that best meets their needs."
The consensus seems to be that physical replication has won the battle, but synthetics still have a place because investors are demanding exposures in ETF structures that cannot be delivered through physical replication alone – for example, commodity exposures.
MiFID II delay
Not all regulatory guidelines are yet in place. A source of potential concern is the European Commission's recent decision to delay implementing the Markets in Financial Instruments Directive (MiFID II) by a further year (from 2017) to allow regulators to make the necessary changes to their systems. The directive will now apply from 3 January 2018.
This means a delay in the arrival of the consolidated tape, an electronic system that reports the latest price and volume data on sales of exchange-listed stocks and which is intended to provide transparency on pricing, liquidity and market depth, thereby helping develop the ETF market. It will cover all trades executed on trading venues as defined by MiFID, but this currently does not include over-the-counter (OTC) trades.
Stephen Fisher, managing director, government relations and public policy at BlackRock, says: "Trading venues are fragmented across Europe, with approximately 70% trading on the OTC market. So it is important that the end-investor has a consolidated view of different prices, because only then do you get a view of liquidity. We think it will make a positive difference to ETFs, and lead to more ETFs trading on exchanges as opposed to OTC."
He adds: "We would have liked it to come in even sooner than 2017. However, MiFID is extremely complex and any delay which results in better legislation and better calibration, especially in fixed income and derivatives, is worth the wait."
BlackRock expects the European Commission to put the pan-European tape in place in 2020 if a market-based solution does not emerge in the intervening period.
Source's Blumberg says: "As an ETF issuer, we have a lot of interest in fair and transparent ETF trading. We think that the transparency and reporting of trades will lead to a true picture of liquidity. So we are looking forward to seeing MiFID II being implemented." He adds that Source is already encouraging investors to place trades on an exchange and is talking to brokers and market makers in order to encourage them to report OTC trades.
Once an ETF has been traded, a further issue is that of settlement. The fragmented nature of European financial markets means that many of the ETFs listed across multiple exchanges in Europe must be settled in the respective central securities depository (CSD) of the trading venue where the trade is executed. This makes them more expensive to trade than their US counterparts.
Blumberg says: "Fragmentation in Europe led to the fact that we have different settlement regimes, and there is clearly potential for improvement. In the short term, this might mean an international settlement standard, and, in the longer term, blockchain."
To simplify trading and cut costs, BlackRock, Euroclear and Clearstream set up an international issuance and settlement structure last year. "A large portion of the cost of transactions in ETFs is incurred after the trade has been executed," says Fisher. "European legislation is not going to fix the problem any time soon but ETFs that are issued from and settle into a single international CSD will ultimately avoid the majority of the associated settlement costs."