Jean-François Boulier, president of Af2i outlines his association's activities and ambitions
Af2i is the French institutional investor association. In terms of the assets it represents, it is big. It counts insurance companies and various pension schemes and institutions among its more than 80 members, who collectively have more than €2trn of AUM.
Founded in 2002, it recently welcomed a new president. Jean-François Boulier, a water and forestry engineer by formal training, was elected president of Af2i last June. He took over from Jean Eyraud, whose mandate could not be renewed since he had already been in the role for six years. Af2i's board designated Eyraud as honorary president, however, and on Boulier's recommendation, adviser to the president. Dedicated to the cause, Eyraud can often be seen in Af2i's offices on rue de l'Arcade, in the eighth arrondissement of Paris.
After a period of consultation following Boulier's election, the association has what he describes as an ambitious, but doable plan.
At its core is a desire to stick with what it has been doing well so far – protecting long-term investors, and ensuring that social and environmental impacts are properly taken into account by investments.
On top of that, Af2i has ambitions in five areas. Boulier says that in some areas it is keeping up momentum, and in others it is "accelerating" activity.
A theme uniting several of its target areas is l'ouverture. The association wants to expand its reach, its network and its connections. It wants to do this geographically, for example, by building links with its counterparts in other European countries in a bid to exchange experience and knowledge.
There is also a generational aspect, in that it hopes a focus on digitalisation will help tie in younger generations as well as being useful for its members in other ways. It also has ambitions to reach out to the broader public in a bid to increase and shape its understanding of the investment industry, and investing per se. A weak investment culture is one of the big differences between France and the UK or the US, says Boulier.
Stepping up its survey activity and associated data collection, which has been a hallmark of the association, is another pillar of the three-year plan approved by Af2i's board at the end of 2017. For more than 10 years, the association has carried out a comprehensive survey of its members and published a report about the findings. This includes a breakdown of assets under management, asset allocation, information about views and relationships with asset managers, and more.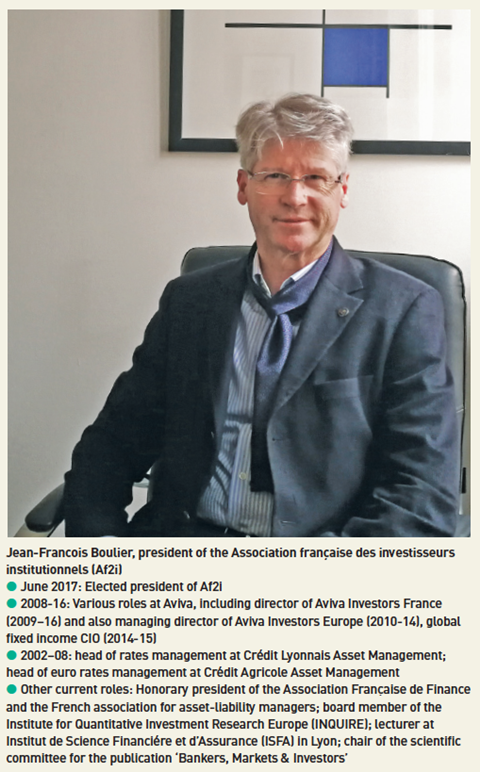 The data is one of the reasons that policymakers respect and value Af2i's input, says Boulier. Another reason is that the association is less partisan than some groups because it represents institutional investors as a whole, rather than one particular industry. "We are regularly consulted – more so than before," he says.
But in one particular area the association is frustrated that talks with regulatory authorities are not yielding satisfactory answers: Brexit. "Af2i has always said Brexit cannot be allowed to damage portfolio performance, including transparency," says Boulier. "We're very focused on the practical consequences, but we have difficulty being heard."
Still, he says that the inadequate replies coming from French regulatory authorities are understandable because of how political the Brexit negotiations are. "They can't speak openly," he says.
Very early on Af2i appreciated the implications of Brexit for French institutional investor portfolios managed by UK-domiciled managers, and has sought reassurance this would not be disrupted. It also wants to prepare its members for bad surprises, especially in case of a disorderly break.
It has the impression many UK-domiciled managers have contingency plans in case of a hard Brexit, but is still concerned that people are not prepared for what Boulier says is a list of smaller challenges – for example, questions about access to sales representatives of UK-domiciled asset managers.
"Af2i has always said Brexit cannot be allowed to damage portfolio performance, including transparency. We're very focused on the practical consequences, but we have difficulty being heard"

Jean-Francois Boulier
One of the association's big concerns is about the location of central clearing houses, which has become a political battleground between London and the EU. In Af2i's view, clearing of euro assets should be done on EU soil and it has been concerned by the lack of clarity on this, be it from the markets or regulatory authorities.
Another big political project that Af2i wants to be ready for and help shape is on home turf – president Macron's pension reform. The timetable for the reform plan has been pushed back, but in February Af2i set up a pensions investment committee to co-ordinate its work in this area and Boulier says the association is preparing its input.
Two other committees are also to be established to help Af2i fulfil its ambitions, one to do with professional training and links with academic research and the other with "ESG impacts".
Indeed, it is in relation to sustainable development and specifically climate change that Boulier says he has never seen such momentum. For its part, the association is preparing a "meta report" of the analyses that have been carried out of the first year of reporting under Article 173, the section of an environmental law that provides for climate change reporting by French institutional investors and disclosure of ESG integration more broadly.
"The French public is very tuned in to climate change, and Macron has had an accelerating effect," says Boulier. "The older generation has to adapt."
To adapt to and facilitate change is an ambition that Boulier has for the association and its members in many respects.
In Af2i's last newsletter of 2017, he wrote about the maelstrom of change and pressures investors were faced with – from digitalisation to Brexit, increased environmental awareness to political transformation in emerging markets – and said staying passive was not an option. "At the side of our members and their teams, we aspire to be actors of modernity," Boullier wrote.
Loi PACTE: Seeking workplace simplicity
1

2

Currently reading

Af2i: Open for business

3

4