Africa represents multiple opportunites both for returns and altruistic behaviour, yet it requires a long-term commitment from investors
Key points
Economics, morality and self-interest should drive investment in Africa
Generalisations do not work
Public markets are limited
Consumer growth is key factor
Requires systematic long-term commitments
President Trump's tirade towards African countries justifiably produced a critical response. Unfortunately, his comments only reinforce a prejudicial and uninformed view of what Africa represents for investors.
In an age when ESG issues are being seen to play a role in institutional investment strategy, creating environments that can sustain and enrich populations in a region represents not only an investment opportunity but also, arguably, a moral requirement.
The challenge for most African countries is to increase standard of living and social stability in the face of a rapidly growing population.
As experience has shown in Asia, and China in particular, the private sector holds the key to a transformational growth in living standards.
Park your prejudices
The most obvious point is that generalisations do not work in Africa. But there are clear geographic regions within it with cultural and economic links. Faisal Rafi, head of investment research at Riscura, sees seven distinct regions:
The Maghreb, including Egypt and Sudan, which have a commonality of trade through the Nile;
Francophone West Africa, which has a shared history as well as a shared language, and comparable legal and socio-political systems;
Nigeria stands on its own given its size – comparable to the Maghreb on an aggregated-GDP basis with a population of over 170m people;
East Africa, including Kenya, Uganda, Tanzania and Ethiopia with a population of over 100m is becoming more investor friendly;
Central Africa, centred around the Congo region;
Southern Africa excluding South Africa;
South Africa, with the largest GDP per capita of all the regions (double that of Nigeria), representing the copntinent's most advanced investment destination.

After South Africa, frontier Africa led by Nigeria, Kenya, Morocco and Egypt represent the second largest investment destination. A third segment, says Emre Akcakmak, portfolio adviser at East Capital, can be the less investable, or illiquid, markets of Rwanda, Zimbabwe and Tanzania, among others.
The commodity cycle has been a catalyst for change, with a divergence of growth between exporters and importers of commodities. For example, Nigeria and Angola together with Libya are oil exporters, while Zambia is a copper exporter. These countries, says Chris Newson of Investec Asset Management, have seen fragility and a lack of revenue diversity, leading to challenges, particularly foreign exchange liquidity.
The economies of Nigeria and South Africa dominate sub-Saharan Africa, while Egypt and Algeria dominate North Africa.
The South African economy is the most highly correlated to the developed world, so is affected by global growth trends. It has a liquid currency but is currently experiencing tough economic conditions combined with political upheaval.
The Nigerian economy is less dependent on oil than its impact on foreign exchange would suggest and while the second half of 2017 saw improvements, it faced challenges through the lack of foreign exchange availability because it is import dependent.
Looking ahead, Nigeria is economically recovering; Angola remains fragile; and South Africa is expected to experience an uptick. Other countries with high expected growth rates include Rwanda at 7.8%, Ghana at 7% and Ethiopia at 9%. Although Ethiopia faces socio-political challenges, the economy is transforming, according to Newson.
Public or private exposure
For investors, the key decision is between public and private markets. Egypt, South Africa, Nigeria and Kenya have the largest stock exchanges. Uganda has a number of companies listed in Kenya, and there is a West African Exchange. Ghana has a well-functioning stock exchange, while Botswana and Namibia are closely correlated to South Africa.
Sharat Dua, portfolio adviser at Fiera Capital, argues that public markets are the only way of accessing today's African champions. The banks, brewers and telecoms that have shown growth over the past 10-15 years, and dominate their local economies, are only accessible through public equities. They also offer exposure to the consumer environment in less developed markets. Shoprite and Nampak, South African listed stocks, are the only way of gaining exposure to the Angolan consumer, while Kenya's Equity Bank is expanding operations in neighbouring markets. But, points out Newson, the listed debt and equity markets outside the established markets are neither large nor diverse, and have inherent exchange rate risk.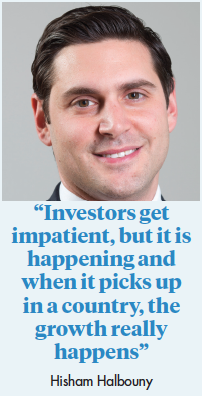 For example, there was a risk of devaluation in Nigeria through 2016 and early 2017, alongside liquidity constraints, so foreign investors have to build in an element of foreign exchange depreciation to portfolios. These local markets also lack liquidity. Moreover, as Akcakmak argues, while public markets are interesting, they represent the "older economy" with banks, telecoms and consumer staples dominating.
Newson says: "Principally, Africa should be seen as a long-term play. It needs patient capital, particularly in private markets as growth drivers are long-term in nature, cycles are a reality and it is difficult to provide liquidity." This can make it challenging for private equity funds. A significant amount of African private equity capital was raised in 2007-09 but it is now more mature and funds are looking to sell, which can be hard. "The most obvious place to exit has been through IPOs, but it is not a great option, so trade buyers and secondary PE deals are happening," Newson adds.
Africa has been an attractive investment for diversified firms such as the Egyptian Mansour Group. "We don't have an exit timetable for our investments and that is the only way of doing business in Africa," says Hisham Halbouny, managing director of the investment arm of the Mansour group, Man Capital. The firm sees itself as a long-term holder of good businesses: "As long as the businesses are producing compounded returns it would be stupid to sell them to then search for other good businesses to reinvest in," he adds.
The firm's investment focus is Africa's young and growing population. This population is underbanked and under-resourced in areas including healthcare and education, with fragmented retail distribution. Yet consumers are also sophisticated in terms of the internet, allowing certain businesses to be disrupted: key themes that are long-term drivers for any investor. Yet the pace of domestic consumer growth can be slow: "Investors get impatient, but it is happening and when it picks up in a country, the growth really happens," says Halbouny.
"The most obvious place to exit has been through IPOs, but it is not a great option, so trade buyers and secondary PE deals are happening"

Chris Newson
A focus for Mansour Group has been to take established developed world businesses and implant them into the continent. That means taking new businesses into countries where the group already has a presence, and taking existing businesses into neighbouring markets. What the firm is not prepared to do is to take a new business to a new market.
Institutional investors should engage more proactively with African opportunities, whether through listed markets, private equity, infrastructure or in collaboration with local experienced companies. Trump's attitude with regard to Africa is at variance with his two predecessors. But even as the US, like investors, blows hot and cold with regard to Africa, more sustained engagement is required.
Emerging Markets: Ballots ahead
1

2

Currently reading

African adventures

3

4

5