Restructuring the supplementary pension schemes will see greater centralised management and the increased use of passive strategies, according to Gilles Pouzin
One trend for asset managers following the announcement of an estimated 2023 funding shortfall of the Agirc-Arrco supplementary pension system is that consolidation is key.
Historically, Agirc and Arrco were federations grouping industry or sector retirement schemes, with parameters designed by social partners concerning contribution and accrual rates. As a result, hundreds of Agirc-Arrco schemes were scattered between specialised institutions.
Over the decades, the Agirc and Arrco schemes have been streamlined. Their total number is now 23 Arrco schemes and 14 Agirc counterparts managed by a dozen large social protection groups (GPS), or 17 including the smaller ones. This compares with 250 schemes managed by 110 institutions 20 years ago.
This pattern will continue as social partners push for greater concentration around the five largest social protection groups – AG2R La Mondiale, Humanis, Malakoff-Mederic, Klesia and Pro-BTP – which already account for 82% of Agirc-Arrco's total pension contributions.
AG2R has taken over Reunica, while Apicil is to join Humanis. However, the Alliance project involving Pro-BTP seems doubtful. Audiens, IRP Auto and Lourmel remain commited to merge, but B2V might be split between Pro-BTP and Humanis to match its professional specifics.
Agrica seems willing to target partners in its field, although it has nothing to do with Agirc-Arrco. It would like to group with Mutuelle Sociale Agricole (MSA), an institution managing social security health and retirement insurance in agricultural related fields, covering 5.4m people.
Agrica-Arrco merger
These mergers will concentrate larger asset pools in fewer hands. This means more competition for asset managers chasing larger mandates from fewer clients.
A further aspect of the consolidation trend is also catching the attention of managers. This is not the mergers between groups managing Agirc and Arrco schemes, but between the two schemes themselves. The idea is not new; social partners started studying it a year ago and by September 2014 were examining a plan to merge the two entities. As most retirement parameters have been harmonised between the two schemes, a merger looks attractive, even though unions warn of the risk of pension rights losses in the process.
The idea to merge Agirc with Arrco resurfaced following the recommendations of the Cour des comptes (Court of Auditors) in December 2014 and an official agreement between social partners should be announced within a few months.
But it might not be effective soon. A swift merger would help alleviate Agirc's funding problem if its reserves dry up by 2017. Of course, there is no question that Arrco beneficiaries would have to bear the cost of paying Agirc pensions but mutualising funds would solve certain problems. On the other hand, it would require a large-scale IT project and is unlikely anyway before 2019.
At a glance
Agirc-Arrco's planned reform of asset management and investment strategy will impact €50bn of long-term reserves.
More mergers are predicted between the social protection groups that manage Agirc-Arrco schemes.
Five leading groups manage 80% of Agirc-Arro retirement operations, and a third of reserves are managed by in-house subsidiaries.
Merging Agirc and Arrco could involve the public sector Ircantec scheme, which covers 4.7m public employees.
Restructuring questions the active equity bias, favouring centralised management, an ALM approach and index investing.
The proposed merger could form part of a larger plan, which would affect retirement institutions and asset managers. First, a new private sector retirement scheme could be enlarged to include public sector contract employees. These are currently covered by the Ircantec scheme, which is similar to Agirc-Arrco and covers 4.7m members.
Second, there is support for such groupings to get a better grip on retirement challenges. Cost cutting will accelerate. Agirc-Arrco had planned €300m of operational cost savings by 2018, but the Cour des comptes is more ambitious: the public finance magistrates recommend a 25% saving plan on operational costs by 2020, generating €450m in annual savings.
The greatest cost is missing contributions, as mistakes and fraud result in an annual €2bn shortfall in uncollected Agirc-Arrco contributions. A law was passed in 2007 to ensure better control on these missing contributions by Urssaf, the public agency in charge of collecting social security levies. However, the necessary decrees were never passed.
In November 2014, prime minister Manuel Valls asked the high counsel for social welfare financing (HCFi-PS) to examine whether Agirc-Arrco's contributions could be collected by Acoss, the French central agency covering social welfare bodies, including Urssaf.
Commercial ties
Retirement institutions will fight this public control on employer contributions as they consider the collection of retirement money to form part of their privileged relationship with companies, helping them to sell other insurance products. But their stance might not prevail as these commercial ties have aroused scrutiny.
Decentralised Agirc-Arrco retirement institutions are peculiar as they have no direct employees or assets and rely on the resources of their respective social protection groups. As the Cour des comptes explains, retirement institutions belong to social protection groups operating in the insurance market, selling health and life policies, retirement-savings products and personal insurance.
Insurance services sold by these groups to corporate clients can make up a high proportion of all the money they collect from companies, including their retirement contributions (see figure 1).

These large insurance groups also sell asset management services to Agirc-Arrco retirement institutions, especially those they manage. The weight of this business is not reflected in these calculations but can be big. Among the 49 managers of dedicated funds or mandates retained by Agirc-Arrco, seven belong to social protection groups controlling the decentralised Agirc-Arrco institutions (see figure 2).
These 'insiders' managed €17bn for Agirc-Arrco at mid-2014 or one-third of the dedicated funds and mandates market. The three largest 'in-house' fund managers were Federis (tied to the Malakoff-Médéric decentralised institution) managing €8.1bn of Agirc-Arrco money, Agicam (AG2R La Mondiale) managing €7.9bn and SMA Gestion (Pro BTP) managing €1.4bn. By comparison, the three largest external investment managers were Groupama AM, which manages about €6bn in Agirc-Arrco assets, HSBC Global Asset Management (€5.5bn) and Amundi (€3.9bn) (see figure 3).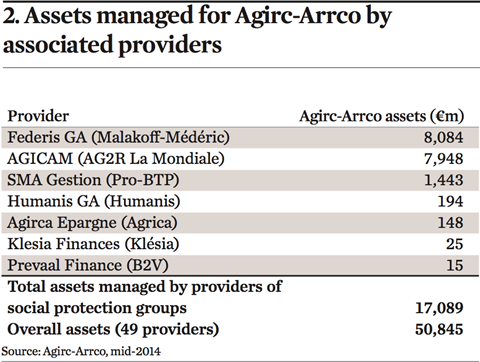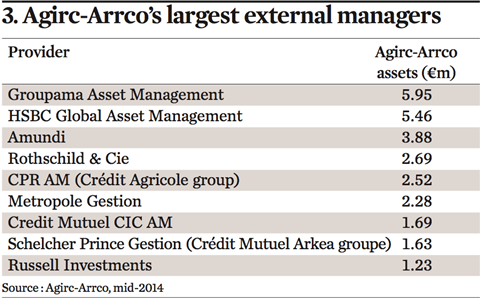 Impact on asset management
The restructuring of Agirc-Arrco will certainly challenge the status quo. In a June 2013 report on the investment control of compulsory retirement systems, the General Inspectorate of Social Affairs (IGAS) criticised Agirc-Arrco and other retirement institutions.
It questioned the predominance of active equity investments, pointing to higher fees and risk than a passive indexing approach. IGAS noted that active funds have a higher turnover, which generates costs and deprives institutions of returns they would otherwise receive if they bought and held equities as long-term investors.
More broadly, IGAS criticised strategic allocation choices, pointing out that they were lacking in coherence with investment objectives, because retirement institutions do not have the same solvency constraints as insurance companies. Agirc-Arrco has no asset liability management approach with a fixed investment horizon, as its schemes have no clear long-term liabilities due to the fact that second-pillar retirement rights are not immutable.
Answering these concerns, the Cour des comptes suggests that Agirc-Arrco define and maintain a floor target level for financial reserves, at a 15-year horizon, with a 25-year delay for reserve depletion, matching its forecasted deficits. This is easier said than done.
The Cour des comptes also recommends that Agirc-Arrco federations play a greater role in managing financial reserves with a real ALM approach. The first step is likely to be greater asset concentration by the GIE Agirc-Arrco central body. The process could change the active asset management and outsourcing approach that Agirc-Arrco has favoured until now.
France's Agirc-Arrco: Reform of last resort
1

2

Currently reading

Agirc-Arrco: Opening closed shops

3

4

5

6