A two-sided reform appears to have saved Agirc-Arrco, which is soon to become a unified regime, writes Gilles Pouzin. But the new national president will lead the direction of further reforms
At a glance
• A new set of pension reforms is expected following this year's elections.
• The new Unified Regime will replace Arrco-Agirc by 2019.
• Long term reserves restored to €65bn despite drawdowns to cover pay-as-you-go deficit.
• Funded pensions vehicles appearing with 2016 law allowing IORPs.
Further reforms are needed for France's pay-as-you-go retirement system, which is still facing huge demographic, economic and social challenges. This will depend on the presidential election and legislative elections of 7 May and 18 June (see box). But reforms are already happening surprisingly smoothly in comparison with the unrest that surrounds their discussion.
"It's rather a cross-fading than a leap into the unknown," comments François-Xavier Selleret, managing director of the GIE Agirc-Arrco central body, about its transformation into a Unified Regime (UR).
More than 30m people rely on the Arrco-Agirc complementary retirement regime for private sector employees – 18.2m active and 12.4m retired. Underlining the importance of this, Sellert refers to retirement as "the wealth of the non-wealthy".
Arrco-Agirc pays €75bn pensions each year, or a quarter of the overall €305bn retirement income from French pension schemes (see figure 1). The regime is financed through pay-as-you-go contributions and long-term reserves (the buffer represents less than a year of pension payments, about €65bn). Agirc was the complementary pension scheme for private sector executives, dating back to 1947, while Arrco started life in December 1961 as a general complementary pension scheme for private sector employees, including executives contributing to Arrco for the lowest part of their salary (up to €3,269 of gross monthly pay). With a growing population of lowly paid executives, the Arrco pension represents the majority of income for 70% of newly retired senior staff.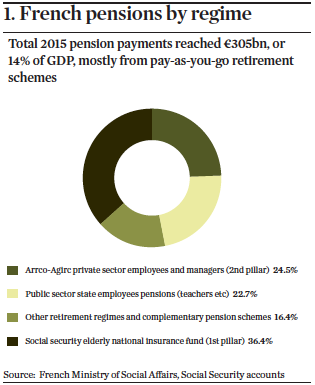 In the wake of the national agreement signed in October 2015, the merger of Agirc with Arrco to create a single complementary pension scheme – Unified Regime (UR) – is set to complete in 2019. It will not be a revolution.
"Pension parameters have been converging over the last 15 years, IT systems have been merged and the yield of pension points has been harmonised, which will help the merger work," Selleret said at a meeting with union representatives of French Confederation of Christian Workers.
A key concern for French trade unions, and even for the Confédération Européenne des Cadres, is that the UR will end the link between Agirc and executives status. As of 2019, the special status of managers will no longer be defined within the retirement system, and might disappear without further initiatives to define executive status.
The new regime will have a compulsory adjustment reserve (rather than a long-term reserve) with a floor of at least six months of pension payments. It will get off to a reasonable start given that Arrco-Agirc reserves have been preserved thanks to a mix of austerity, retirement reforms, and favourable market effects.
At the end of 2013 it was feared that reserves would dry up by 2017-20, despite previous reforms to preserve them, as deteriorating economic conditions hurt private sector employment, leading to lower contributions.
Instead, Agirc-Arrco's reserves were reborn, defying its gloomy fate. The total is estimated at about €65bn, which is higher than prior to the financial crisis, despite cumulative drawdowns of about €35bn to cover successive annual deficits. Final figures will be confirmed this May.
Cost cutting and consolidation
Trimming Agirc-Arrco's management costs is a further aspect of the last two reforms (March 2013 and October 2015) – in 2012, total management costs reached €1.9bn. The GIE Agirc-Arrco central body and its decentralised institutions have already reduced annual management cost by €210m, only €90m short of its initial goal of €300m. With a second saving plan agreed in 2015, targeting a further €300m of cuts by 2022, Arrco-Agirc will have cut its operational costs by a third.
A side effect of reform, efficiency drive and unification, has been an acceleration of mergers and acquisitions among the remaining social protection groups (GPS). These entities usually include a retirement institution (Agirc-Arrco), an insurance provider (institut de prévoyance, covering maternity leave, disability benefits and death insurance) and additional insurance coverage, including company health schemes.
To preserve the spirit of the original paritarian institutions, each GPS operates under its own legal identity, subject to an umbrella association. In practical terms, Agirc-Arrco consolidation has been a political tool to form large groups to compete with private insurance players, even though they do not really exist as consolidated entities.
This consolidation has already reduced the number of GPS from 110 in 1996 to 18 in spring 2014 and 16 today. This list is expected to shrink further to '4+1' – AG2R La Mondiale, Malakoff-Médéric, Humanis and Klesia, plus a group of smaller entities.
Points mean pensions
This year, an Agirc pension 'point' costs €5.6306 in contributions (plus a 25% premium, meaning you pay €125 to buy €100 of points at €5.6306 a point, or 17.76 points). The point yields €0.4352 in pension annuity (or 6.18% of its net cost). An Arrco point costs €16.1879 in contribution (gross, or €20.2349 with the 25% premium) and yields €1.2513 in annuity (or 6.18% of its net cost).
Instead of levying Arrco contributions on the lowest part of salaries (the A-tranche, below €3,269 per month) and Agirc contributions for executives on the higher part (the B-tranche, between €3,269 and €13,076 per month), from 2019 the Unified Regime will apply the two same contribution rates on all salaries, without a distinction between employees and managers.
To simplify merger calculations, Agirc points will be converted into Arrco points, which will serve as the 'pension currency' of the new regime, based on their annuity value. At 2017 rates, 2.875 Agirc points would be converted into one Arrco point, or 10 Agirc points converted in 3.478 Arrco points.
This final grouping includes social protection groups for professions with short-term salary status, such as freelance journalists or entertainment workers, and unites Audiens, Lourmel and B2V with their larger counterpart Pro-BTP. Financial institutions tied to the agricultural sector (Crédit Agricole, Groupama and Mutualité Sociale Agricole) proposed an alternative project with Agrica, but Agirc-Arrco leaders rejected this. They are back at the negotiation table with Alliance Pro and two of the main consolidators of retirement institutions – AG2R La Mondiale and Humanis.
What is there to negotiate for a non-profit pay-as-you-go retirement institution, managed by benevolant union and trade organisation board members? Agirc-Arrco institutions are not for sale, but their relationship with employers – from whom they collect retirement contributions and to whom they sell complementary health insurance – is of value.
For instance, Ircem, a small social protection group for home workers (maids, nannies, gardeners) has been courted by Humanis and AG2R La Mondiale, with an interest in taking over Ircem's two million members for insurance cross-selling purposes.
So what is in it for the merged institution decision makers? No money is at stake as they are not shareholders, the issue is about power between influential groups, unions and employer organisations as well as managing directors, to have or retain professional positions or commercial reach in the insurance sector.
The next frontier
For decades, industry commentators have been anticipating and advocating a funded pensions market but no model has proved attractive.
Emmanuel Macron, a presidential favourite, showed a commitment to develop pension funds 'à la française', when he served as minister of economy, from 2014 to 2016.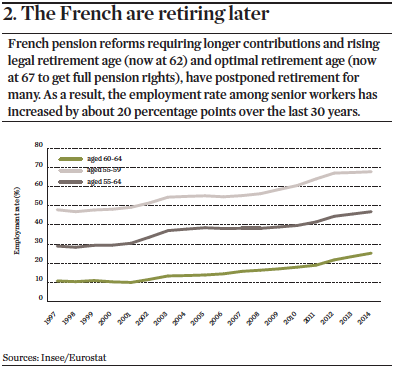 A former Rotshchild investment banker, Macron has a pragmatic approach to bolster the financial industry with new retirement products. His first law, dubbed Loi Macron, enacted in August 2015, included incentives for the collective retirement savings plan Perco (Plan d'épargne retraite collectifs), a retirement savings scheme in which employers match employees' payments by up to three times, with limited social contributions (20%).
With €117bn in assets as of June 2016, Perco has not achieved its anticipated success, although two provisions in the Loi Macron should help. The first allows employers to contribute to employees' Perco account without additional employee contributions. The second created the Perco Plus, with even lower social charges on employers' contributions (12%) in exchange for extra financing of small companies, as they will be required to invest at least 7% in private equity or small-cap start-ups.
Also inspired and announced by Macron in early 2016, was a provision in the Sapin-2 law, enacted in December 2016, which allows the government to create Institutions for Occupational Retirement Provision (IOPRs), or FRPS in France (Fonds de retraite professionnelle supplémentaire), complying with IORP directive 2003/41/CE but with a lighter prudential framework than Solvency II.
As of March 2017, 15 French institutions had registered with the European Insurance and Occupational Pensions Authority to operate as an IORP. One of them, Arial, is a 60/40 joint-venture between social protection group AG2R La Mondiale and life insurer CNP, claiming to overtake AXA as the leading French private pensions manager with a 25% market share, counting a million contributing clients and 300,000 annuity beneficiaries. This could be a decisive Trojan horse to insert a dose of funded pensions in French pay-as-you-go landscape.
The next president's pension reform: proposals in summary
While they may adjust their election manifestos before the final round of the presidential election on 7 May, and even more to foster strategic alliances before the parliamentary election on 18 June, here are the five main candidates' plans for retirement reforms:
François Fillon (right, Les Républicains) wants to raise the minimum legal retirement age from 62 to 65 years old by 2022 to help balance pay-as-you-go social security pensions and secure payments.
He also wants to raise the minimum elderly allowance by €300 per year for monthly pensions below €100 and by €600 for widows with low pensions. Whilst serving as minister of social affairs in the Jacques Chirac government and as prime minister in the Nicolas Sarkozy government, he orchestrated pension reforms in 2003 (the Fillon law) and in 2010 (the Woerth law), raising the legal minimum age from 60 to 62 with a provision to adjust retirement age by sharing life expectancy gains with higher retirement benefits and higher contributions.

Benoît Hamon (left, Socialist Party) wishes to maintain the minimum legal retirement age at 62 and raise the elderly allowance by 10% (3% of retirees benefit from this €800 monthly allowance). He is also promoting a 'pension rights transfer' option for couples when one has contributed sufficiently but not the other. He also proposes to improve retirement conditions for arduous work, which already lowers legal retirement age by up to eight quarters (that is, at 60 instead of 62) depending on the points earned for working in these conditions.

Emmanuel Macron (centre-right inspired former minister) is calling for a convergence between French retirement regimes and for the unification of pension rights under different working statuses so that every worker receives the same retirement rights for a given contribution. He promises an individual retirement account for all workers (public servants, private employees, independents and liberal professionals), while retaining the differences between the pension schemes. He is inspired by the Swedish notional-account retirement system.

Jean-Luc Mélenchon (far left, La France Insoumise) promises to restore the minimum retirement age of 60 with full pension rights for 40 years of contributions. The required contribution for full pension rights was 40 years until 1993, when it was increased to 41.5 years for the 1955 generation (reaching 62 this year) and up to 43 years for those born in 1973 and after, delaying retirement for many (see figure 2, main article). The legal retirement age was lowerered from 65 to 60 in 1982 by François Mitterrand, and raised by the Fillon law in 2010 to 62. The actual average retirement age is already 62-and-a-half in the private sector.

Marine Le Pen (far right, Front National) shares the promise of Melenchon to restore the minimum retirement age at 60 with full pension rights after 40 years of contributions. She also claims she will raise the elderly allowance and improve retirement conditions for arduous work – as do Mélenchon, Hamon, Macron and Fillon – but with a nationalist twist (favouring French citizens and long-term residents, contrary to European Union treaties).
Pensions In France: Why make it simple?
1

2

Currently reading

Agirc-Arrco: Towards a unified regime

3

4